GALLUP NEWS SERVICE
PRINCETON, NJ -- With National Rifle Association members now gathered in Houston for the NRA's 134th annual meeting, a recent Gallup Poll finds that public opinion of the nation's leading pro-gun lobby is fairly positive. Six in 10 Americans say they view the organization favorably, while about a third of Americans view it unfavorably.
Despite this positive tilt, favorable opinions of the NRA are relatively soft. Only 18% view the NRA "very" favorably, while an almost equal number, 15%, view it "very" unfavorably. People with a less intense feeling split 42% favorably to 19% unfavorably.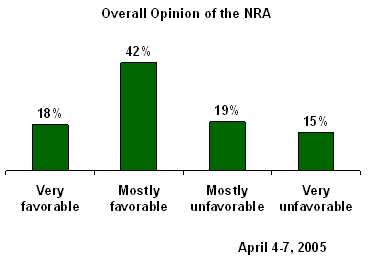 Positive ratings of the NRA are a bit more prevalent today than when previously measured, but that could be attributed to the fact that the NRA image question in the latest survey was preceded by a new series of questions about gun use. These questions may have enhanced the NRA's ratings by focusing respondents first on the self-defense aspect of guns.
In particular, Gallup found that 62% of Americans believe arming pilots with guns would make airplanes safer; only a third believe armed pilots would make planes more dangerous. Americans are more divided on the effect of arming judges in courtrooms, with 50% saying the measure would make courtrooms more dangerous versus 43% who say it would make the courts safer. Americans mostly agree, however, that arming school officials would make schools more dangerous (73%).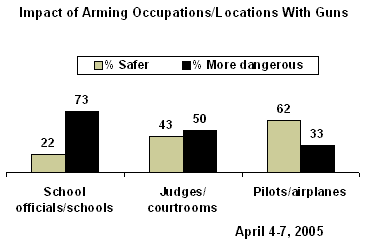 Recent high-profile crimes have propelled each of these proposals into the national spotlight. But as the data show, a majority of Americans believe the risks involved with arming judges and school officials outweigh the potential of those same officials being defenseless against the rare violent attacker. This is somewhat in line with Americans' attitudes about personal gun ownership. According to Gallup's 2004 Crime survey, 42% say having a gun in the house makes it a safer place to be, while 46% say it makes the home more dangerous.
Attitudes are different about pilots, possibly because pilots are already entrusted with their passengers' lives, and because the memory of the horrifying 9/11 terrorist hijackings is still vivid.
Incoming NRA President Sandra S. Froman recently proposed arming school officials as a way of lowering school violence. "I'm not saying that that means every teacher should have a gun or not, but what I am saying is we need to look at all the options at what will truly protect the students," she said. However, NRA Executive Vice President Wayne LaPierre told the Houston Chronicle the NRA is "...not backing national legislation to arm teachers."
NRA Viewed Positively in the Past
Although the latest NRA favorable rating could be somewhat inflated because of the question order, previous Gallup Polls on the NRA have generally showed a majority of Americans viewing it favorably. When last asked in May 2000, 52% had a favorable view of the NRA, while 39% had an unfavorable view. Similar results were found in April 1999. Only in June 1995 did Gallup find a slim majority of Americans (51%) feeling unfavorably toward the NRA.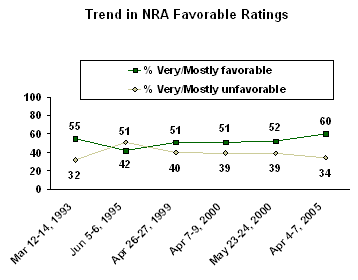 Favorable impressions of the NRA go beyond gun owners. The current 60% favorable rating is much higher than the 40% of Americans who told Gallup they have a gun in their home or on their property in an October 2004 survey.
Still, the demographic pattern of favorable views of the NRA is broadly similar to the pattern of gun ownership. Men, Southerners, rural residents, Republicans, and self-described conservatives are among the groups most likely to say they own guns, and are also among the most favorably disposed to the NRA.
The only obvious exception to this rule is older Americans. Although those aged 65 and older are among the most likely of any age group to own guns (45%), they show the least favorable attitudes toward the NRA of all age groups (49% favorable).
Democrats and liberals have a distinctly negative view of the NRA. A majority of Americans falling into these groups (53% and 60%, respectively) view the organization unfavorably.
Gun Ownership vs. Favorable Views of NRA
by Demographic Subgroups

Own a Gun

Favorable to NRA

(Oct 11-14, 2004)

(Apr 4-7, 2005)

%

%

National adults

40

60

Men

49

70

Women

33

51

Aged 18 to 29

30

64

Aged 30 to 49

41

65

Aged 50 to 64

45

60

Aged 65 and older

45

49

East

27

57

Midwest

40

62

South

50

67

West

40

51

Urban

29

56

Suburban

40

57

Rural

56

73

Republican

53

78

Independent

36

62

Democrat

31

41

Conservative

49

77

Moderate

38

57

Liberal

29

38
Survey Methods
These results are based on telephone interviews with a randomly selected national sample of 1,010 adults, aged 18 and older, conducted April 4-7, 2005. For results based on this sample, one can say with 95% confidence that the maximum error attributable to sampling and other random effects is ±3 percentage points. In addition to sampling error, question wording and practical difficulties in conducting surveys can introduce error or bias into the findings of public opinion polls.
Turning to something else,
Q.45-47 ROTATED
45. Do you think courtrooms would be safer places or more dangerous places if judges were armed with guns?

Safer

More
dangerous

DEPENDS
(vol.)

No
opinion

2005 Apr 4-7

43%

50

2

5

(vol.) = Volunteered response
46. Do you think schools would be safer places or more dangerous places if school officials were armed with guns?

Safer

More
dangerous

DEPENDS
(vol.)

No
opinion

2005 Apr 4-7

22%

73

2

3

(vol.) = Volunteered response
47. Do you think airplanes would be safer places or more dangerous places if pilots were armed with guns?

Safer

More
dangerous

DEPENDS
(vol.)

No
opinion

2005 Apr 4-7

62%

33

2

3

(vol.) = Volunteered response
On another subject,
48. What is your overall opinion of the National Rifle Association, also known as the NRA -- is it very favorable, mostly favorable, mostly unfavorable, or very unfavorable?
Very
favorable

Mostly
favorable

Mostly
unfavorable

Very
unfavorable

No
opinion

Total
favorable

Total
unfavorable

%

%

%

%

%

%

%

2005 Apr 4-7

18

42

19

15

6

60

34

2000 May 23-24

19

33

21

18

9

52

39

2000 Apr 7-9

15

36

20

19

10

51

39

1999 Apr 26-27

14

37

22

18

9

51

40

1995 Jun 5-6

14

28

25

26

7

42

51

1993 Mar 12-14

22

33

18

14

13

55

32