Faith may unite congregations, but friendship, it appears, sustains them. A new study* commissioned by Group Publishing, Inc., and administered by The Gallup Organization, examined the role friendship plays in the relationships congregation members have with the rest of their congregation and with God. The study provides strong evidence that congregation members are able to live out their faith more fully in an atmosphere that fosters fellowship, rather than isolation. And friendship -- best friendship in particular -- is the tie that binds.
Church Attendance
Among the questions the study posed to respondents was this: "Aside from members of your family, does the person you consider your best friend in your local community attend the same congregation as you, or not?" Thirty-nine percent of congregation members say their best friend attends the same church, while 59% say he or she does not.
What does that mean for religious leaders? Maybe plenty, in terms of attendance. Congregation members whose best friends attend their church tend to behave differently from the rest. Seventy-two percent of members who say their best friend is in their congregation attend church at least once a week, compared with 51% of those who don't.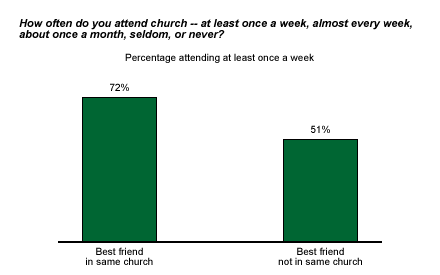 Belonging and Best Friendship
People with best friends in their congregations seem to feel a stronger sense of belonging than those without. Eighty-nine percent of those with best friends say their pastor knows their name, while 80% of those without best friends make that claim. Eighty-four percent of those with best friends at church "strongly agree" their congregation makes them feel like they belong, compared with 71% of those who do not have a best friend at church. And 82% of those with a best friend "strongly agree" that the spiritual leaders of their congregations care for them as people, compared with 67% of those without a best friend.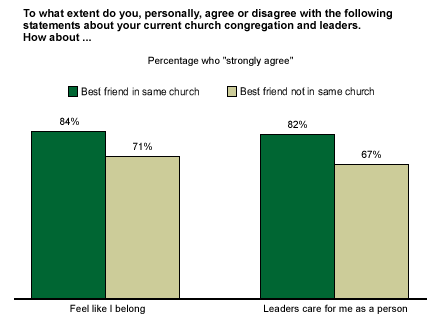 Spiritual Commitment
Having a best friend in one's congregation appears to be linked to one's individual spiritual commitment as well. More than 8 in 10 (82%) of those with best friends "strongly agree" they are spiritually committed individuals; 74% "strongly agree" their faith is involved in every aspect of their lives; and 69% spend time in worship or prayer every day.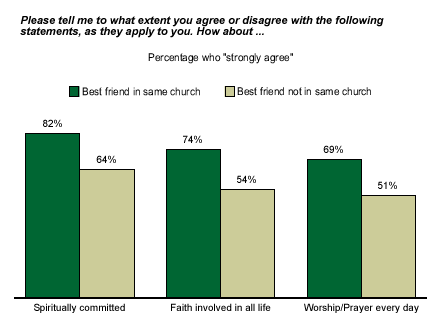 Bottom Line
Sometimes the power of a personal relationship reaches beyond the bounds of the relationship itself. The relationship between best friends in a congregation seems to bind those friends more tightly to the spiritual community, strengthening their relationships with others. The "best friend" bond also seems to be related to members' connection with God, as congregation members with best friends in their churches express a deeper spirituality than those without best friends.
*The survey was conducted by The Gallup Organization, and based on 1,002 telephone interviews with a national sample of adult church members aged 18 and older. Interviewing was conducted by telephone from Sept. 2-Oct. 2, 2004. For results based on samples of this size, one can say with 95% confidence that the maximum error attributable to sampling and other random effects is ±3 percentage points.