Who doesn't dread going to the dentist? For many Americans though, that fear and loathing may not be related to physical pain and suffering, but cost. Many Americans have inadequate or nonexistent dental insurance coverage. A surgeon general's report on oral health, released in May 2000, states that for every U.S. adult aged 19 and older who lacks medical insurance, three lack dental insurance.
A recent Gallup Poll Panel study* of nearly 5,000 Americans confirms the relatively low incidence of dental insurance. Only about three in five survey respondents (59%) said they have dental insurance, leaving 39% who pay all potential expenses out-of-pocket. By comparison, 89% of respondents have at least one form of health insurance, whether it's private insurance, Medicare or Medicaid.
Seniors Least Likely, Wealthy Most Likely Insured
Seniors are by far the least likely to have dental insurance, with only 32% covered. That's not surprising, because many individuals lose their dental coverage when they retire, and public programs designed for the elderly, such as Medicare and Medicaid, exclude dental coverage or make it optional. This finding is more troubling because older Americans have high incidences of poor oral health, according to the surgeon general's report.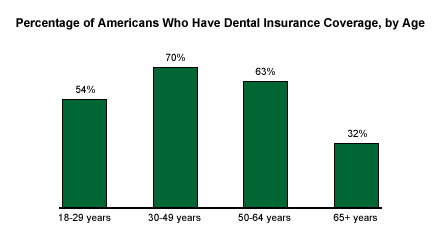 Income also seems related to incidence of dental insurance, with the likelihood of coverage steadily increasing with annual household incomes. Again, this finding probably reflects the high premiums of many dental insurance plans.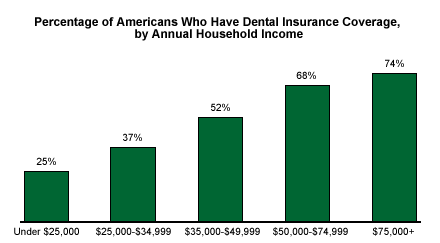 Less Than Half Are Satisfied With Their Dental Insurance Plans
Less than half of respondents who have dental coverage (45%) said they are satisfied with their primary dental insurance plan (rate it a '4' or '5' on a 5-point scale). This percentage is slightly lower than the percentage of respondents with healthcare coverage (52%) who say they are satisfied with their healthcare insurance plans.
Dental Insurance Is Separate From Healthcare Insurance Coverage
According to the American Dental Association (ADA), dental insurance coverage is one of the most sought-after employee benefits, and is often provided separately from healthcare coverage. Gallup asked panel respondents with dental coverage whether their dental insurance is included as part of their health insurance plan, and only 36% said yes. Sixty-one percent said their dental insurance is a separate plan. Respondents 65 and older who have dental coverage were more likely to say that their health and dental plans are combined, at 52%.
Does having one plan that combines both health and dental coverage make things go more smoothly? There's no evidence of that here; whether people have their health and dental plans combined doesn't appear to affect satisfaction with dental coverage.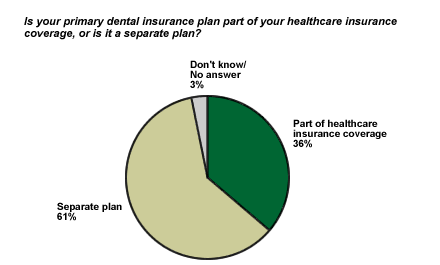 Bottom Line
The surgeon general's report emphasizes the link between dental insurance coverage and rates of dental disease. Further, the report stresses that dental health is strongly associated with general well-being. Despite that, Gallup data suggest that a significant percentage of Americans are living without dental insurance.
*These results are based on telephone interviews with a randomly selected national sample of 4,984 adults in the Gallup Poll Panel of households, aged 18 and older, conducted Nov. 16, 2004 to Jan. 5, 2005. For results based on this sample, one can say with 95% confidence that the maximum error attributable to sampling and other random effects is ±1.5 percentage points. In addition to sampling error, question wording and practical difficulties in conducting surveys can introduce error or bias into the findings of public opinion polls.