Most people love a good ghost story, especially one that takes place in a haunted house. The 1979 horror classic, Amityville Horror -- in which a family moves into a large house with malevolent ghostly inhabitants -- spawned a remake released this spring. Among this year's other supernatural offerings are Dark Water, a tale about a haunted New York apartment, and Boogeyman, about a man who is forced to face the dark demons in his childhood home.
In a June 6-8 poll*, 37% of Americans told Gallup they believe in haunted houses, while 46% say they don't, and 16% aren't sure.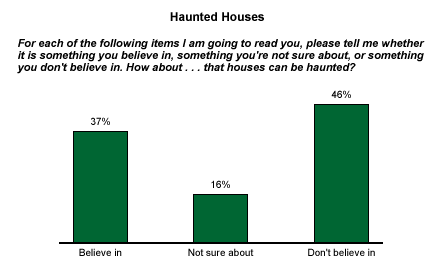 Belief in haunted houses declines with age. Fifty-six percent of young adults between the ages of 18 and 29 believe in them, but belief drops to 39% among 30- to 49-year-olds, to 30% among those between the ages of 50 and 64, and to just one in four (26%) among Americans 65 and older.
Many people not only believe in haunted houses, they actually seek them out on vacations, according to Danica Shurlan, front desk manager at the Concord (Mass.) Colonial Inn. "Room 24 is the big attraction -- we call it our "room with a view-ing," she says. It's haunted, according to local lore -- and to the many guests who have witnessed strange happenings while sleeping in it. One legend holds that the resident apparition is a Revolutionary War surgeon who cared for wounded soldiers at the inn in 1775. "It's always either/or," says Shurlan, "People either ask for the room specifically or ask to be put far, far away from it."
Ghost Stories
Haunted houses and otherworldly inhabitants go hand in hand, so it makes sense that a similar proportion of Americans believe in ghosts as believe in the houses they haunt. About a third (32%) say they believe in ghosts, while nearly half (48%) do not. About a fifth (19%) say they aren't sure about the existence of spirits.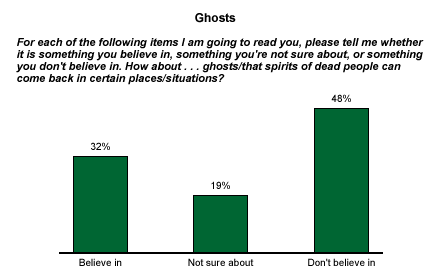 As with haunted houses, belief in ghosts declines with age. Forty-five percent of Americans between the ages of 18 and 29 believe, compared with 35% of 30- to 49-year-olds and 27% of 50- to 64-year-olds. Just 22% of respondents aged 65 and older believe.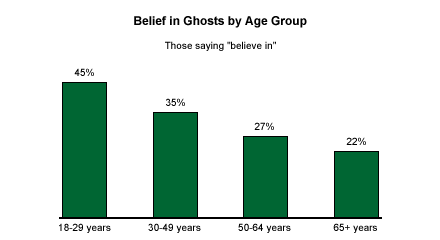 The tendency to believe in some paranormal occurrences varies by ideology -- political conservatives appear significantly more skeptical than either moderates or liberals. Twenty-eight percent of conservatives believe in haunted houses versus 42% of moderates and 42% of liberals. Similar patterns emerge with respect to ghosts -- 25% of conservatives believe in ghosts, compared with 35% of moderates and 42% of liberals. Age could partly explain the ideological differences -- younger adults tend to identify more as liberals than older adults do, and younger adults are more likely to believe.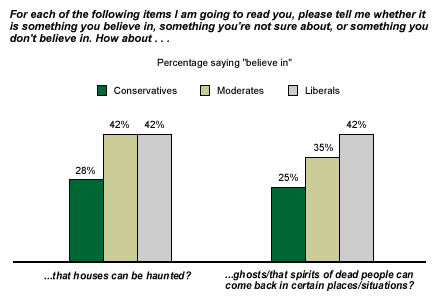 Ghostly Sightings
It is apparent to one woman that younger people are more receptive to encounters with spirits than are older people. Suzanne Scanlan, 60, wasn't even aware that she had a ghost in her 100-year-old house in Canton, Miss., until her daughter, Jessica, moved back home at age 24. "She was sleeping in the middle bedroom at the top of the stairs when she saw a black shadow moving up and down the stairway," she says. "Jessica has never slept in that room again -- in fact, none of my children have." Although there was no mention of a ghost when the family bought the house in 1991, they have since been told that an old woman died in the kitchen many years ago.
John Ridge, one of Scanlan's neighbors, is among the three-quarters of 50- to 64-year-olds who do not believe in ghosts. Ridge, 59, recently bought a 153-year-old house in Canton that reportedly has its own live-in ghost -- one Susan Nelson Priestley, the wife of the original owner. Neighbors say they often see her at night, sitting by the window in the bedroom where she died from Yellow Fever in 1858. "The real estate broker told me it was a haunted house right from the start," Ridge says, "but since I don't really believe in ghosts, it didn't bother me." Ridge reports no sightings yet, but he did have a close call the first night he spent in his new old house. "I got up in the middle of the night and passed through a very cold air patch in the hallway. I thought 'uh-oh,' but when I calmed down enough to look around, discovered I was standing under an air conditioning vent. It was a great relief -- at least for now."
*Results are based on telephone interviews with 1,002 national adults, aged 18 and older, conducted June 6-8, 2005. For results based on the total sample of national adults, one can say with 95% confidence that the margin of sampling error is ±3 percentage points.