Forbidden fruit is always the most tempting. With so much of it -- R-rated movies, Mature-rated video games, and CDs slapped with parental advisory labels -- dangling before teens' eyes, it's not astonishing that they don't want parents or guardians to keep it off the menu.
The movie, video game, and music industries voluntarily issue dietary guidelines of a sort. Movies with mature themes -- usually sex or violence -- garner an R rating and children under 17 aren't admitted without an adult; the M for Mature rating is the counterpart of 'R' for video games. Music CDs with strong language and descriptions of violence, sex, or drug abuse usually carry a parental advisory sticker. More than 6 in 10 teen respondents in the latest Gallup Youth Survey* said parents and guardians should not keep teens from watching, playing, or buying these "restricted" movies, video games, or CDs.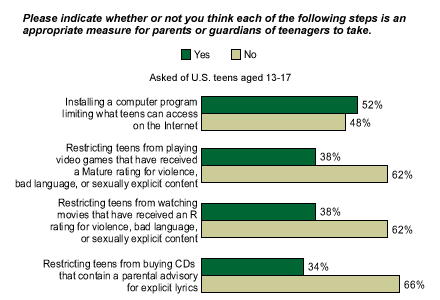 Teens' objections to limits in these cases may stem from their human propensity to want what they can't or shouldn't have, or from their budding desire to make their own choices. Or perhaps teens don't necessarily see a reason to avert their eyes. In a 2003 Gallup Youth Survey, 73% of teens said they don't believe there is too much violence in the movies, and 59% don't believe there is too much sex.
Teens appear more willing to accept limitations on another form of media -- the Internet. When asked whether parents and guardians should install computer programs that limit what teens can access on the Internet -- teens were far more divided than they were on the other questions, with a slim majority favoring controlled access. This may reflect teens' awareness of the potential dangers lurking on the Web. The dangers aren't fictional, like many movie and video game plots. According to the Ad Council and the National Center for Missing and Exploited Children, one in five kids were sexually solicited online in the United States last year.
Who Would Cede Control?
The movie, video game, and music industries frequently come under fire from religious groups and both sides of the political aisle for marketing violent and sexual content to teens. Last week, New York Sen. Hillary Rodham Clinton called for a federal investigation into an Internet download that introduces pornographic sequences into the popular video game, Grand Theft Auto: San Andreas. She is also driving legislation that would make it more difficult for children to get their hands on sexually explicit and violent video games.
Teens who said they would vote Republican when they are old enough are more likely to favor parental restrictions on the different media than teens who align themselves with the Democratic Party. A slim majority of Republican teens favor restrictions on R-rated movies and M-rated video games. Two-thirds of Republican teens (67%) said installing Internet monitoring and filtering software is appropriate.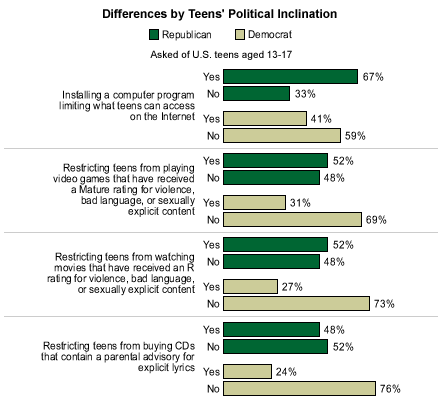 Similarly, churchgoing teens (those who have attended in the past seven days) are more likely than nonchurchgoers to sanction restrictions, though usually less than a majority of religious teens said they support parents or guardians limiting what they have access to. Party affiliation and religiosity are related among teens, so it is unclear which is the more important factor in determining teens' willingness to accept restrictions on certain media content.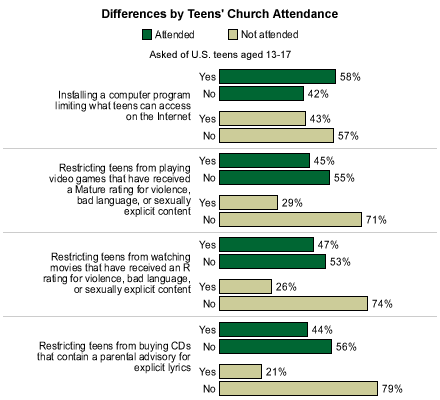 Bottom Line
With the exception of limiting Internet access, most teen respondents don't think parents or guardians should keep mature-themed media out of their reach. Some may already be getting their wish. According to a recent Kaiser Family Foundation study of media in the lives of 8- to 18-year-olds, 23% of 7th- to 12th-graders say their parents have rules about what they can do on the computer; 16% say their parents set limits on the type of music they listen to; and only 12% restrict the type of video games they can play.
The makers and retailers are often blamed for unsuitable content winding up in children's hands, but are parents heeding industry advisories? According to the Kaiser survey, only 25% of 7th- to 12th-graders with a computer at home say it has a filter or parental controls on it; 14% say their parents check parental advisories on music, and 10% say their parents pay attention to advisories on video games.
*These results are based on mail and Web surveys with a randomly selected national sample of 549 teenagers in the Gallup Poll Panel of households, aged 13 to 17, conducted April 15 to May 22, 2005. For results based on this sample, one can say with 95% confidence that the maximum error attributable to sampling and other random effects is ±5 percentage points. In addition to sampling error, question wording and practical difficulties in conducting surveys can introduce error or bias into the findings of public opinion polls.