Story Highlights
Satisfaction with personal life back to prerecession levels
Satisfaction with U.S. surges nine points since December
32% satisfied with direction of U.S.; among highest in eight years
WASHINGTON, D.C. -- After falling during the economic downturn, Americans' satisfaction with the way things are going in their personal lives has recovered to 85%. Meanwhile, Americans' satisfaction with the direction of the country surged nine percentage points since December to 32%, one of its best readings in the last eight years.
Large majorities of Americans have expressed satisfaction with their personal lives in each poll since Gallup began asking the question in 1979. The percentage of Americans satisfied with their personal lives reached a low of 73% in July 1979 amid the U.S. energy crisis, while it peaked at 88% in 2003. The latest 85% reading is significantly higher than the previous 78% to 80% figures recorded since President Barack Obama's 2008 election.
Consistent with their tendency to rate their own situations, or local conditions, more positively than national conditions, Americans are much less likely to be satisfied with the way things are going in the U.S. On average, satisfaction with personal life is 43 points higher than satisfaction with the country's direction. The difference between the two was as low as 14 points in the months after 9/11, and as high as 70 points after the 2008 election. Americans' satisfaction with U.S. conditions fell below 30% in March 2006, and has rarely been above that level since the spring of 2007, only surpassing it early in President Obama's first term, around the time of his 2012 re-election and in the current month.
Satisfaction With U.S. Trajectory Continues to Vary by Party Identification
While Americans of different political identifications rate their satisfaction with their personal lives about the same, their satisfaction with the direction of the U.S. varies quite a bit, with those supporting the president's party giving a rosier assessment than others.
As has been the case since Obama's 2008 election, Democrats remain the most satisfied (50%), followed by independents (30%) and Republicans (16%).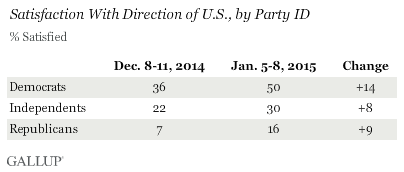 For Republicans, the 16% reading in January -- up nine points from last month -- tops the 3% to 15% range they have stayed within since Obama's election.
Independents' eight-point bump from December's poll nearly matches their previous Obama-era high of 32% in May 2009.
Democrats, meanwhile, climbed 14 points from last month, reaching their highest satisfaction figure since November 2012.
Bottom Line
While the usual political differences persist, Americans' overall increase in satisfaction in January is likely due to economic growth in the U.S. and good news from the stock market. This increased satisfaction is reflected in Americans' growing economic confidence.
All the while, Obama's approval rating has also showed positive momentum in recent months. And while the nation has a host of issues to deal with, 2014 was void of the hyperpartisan drama that sent economic confidence plummeting the year prior. This culmination of positive economic and political factors certainly has helped boost Americans' overall satisfaction with the nation's course.
Survey Methods
Results for this Gallup poll are based on telephone interviews conducted Jan. 5-8, 2014, on the Gallup U.S. Daily survey, with a random sample of 804 adults, aged 18 and older, living in all 50 U.S. states and the District of Columbia. For results based on the total sample of national adults, the margin of sampling error is ±4 percentage points at the 95% confidence level. All reported margins of sampling error include computed design effects for weighting.
Each sample of national adults includes a minimum quota of 50% cellphone respondents and 50% landline respondents, with additional minimum quotas by time zone within region. Landline and cellular telephone numbers are selected using random-digit-dial methods.
View complete question responses and trends.
Learn more about how Gallup Poll Social Series works.