PRINCETON, N.J. -- The San Francisco metropolitan area has the highest percentage of the adult population who identify as lesbian, gay, bisexual or transgender (LGBT) of any of the top 50 U.S. metropolitan areas, followed by Portland, Oregon, and Austin, Texas.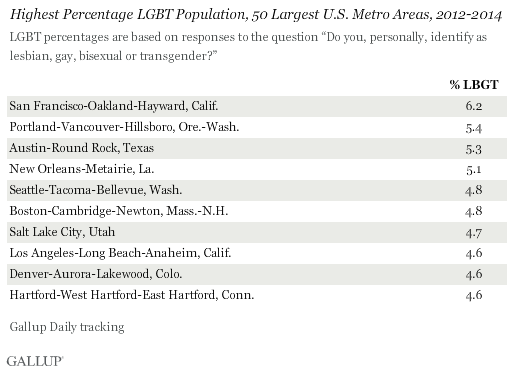 Variation in the percentage who identify as LGBT across the largest metro areas is relatively narrow, with San Francisco's percentage just 2.6 percentage points higher than the national average of 3.6%, and the lowest-ranked metro area -- Birmingham, Alabama -- one point below the national average.
The top 10 includes metro areas from every region of the country except the Midwest. Given the long history of a visible and politically active LGBT community in San Francisco, the city's ranking at the top of this list is not surprising. Similar to San Francisco, Metropolitan Statistical Areas (MSAs) like Portland, Seattle and Los Angeles in the West, and Boston in the Northeast, are known for their progressive social and political climates and active LGBT communities. Hartford is the capital of Connecticut, which has permitted same-sex couples to legally marry longer than every state except Massachusetts.
MSAs like Austin and New Orleans in the South, and Denver in the Rocky Mountain region, all have reputations as socially progressive cities within states and regions that are much more conservative, perhaps making them regional hubs for the LGBT population.
The ranking of Salt Lake City in the top 10 may seem surprising because Utah is one of the most conservative states in the country. However, the state recently passed a law prohibiting discrimination based on sexual orientation and gender identity in employment and public accommodation, the first state to do so since 2007. The majority of states still do not have such laws on the books.
These results are based on responses to the question, "Do you, personally, identify as lesbian, gay, bisexual or transgender?" -- included in more than 374,000 Gallup Daily tracking interviews conducted between June 2012 and December 2014. This is the largest ongoing study of the distribution of the LGBT population in the U.S. on record, and the first time a study has had large enough sample sizes to provide estimates of the LGBT population by MSA.
The number of interviews conducted in each MSA between June 2012 and December 2014 is large enough to allow for estimates of each of the 50 largest metro areas' LGBT population. Each MSA except two had at least 3,000 interviews, with the lowest sample size of 2,674 for New Orleans and the largest of 36,947 for New York. The LGBT percentage, along with the number of completed interviews conducted in each MSA is presented in the accompanying table.
Birmingham Has Lowest Percentage of LGBT
Birmingham, Alabama, with 2.6% LGBT identity, has the lowest percentage of LGBT adults of any of the 50 largest metro areas, followed by Pittsburgh and Memphis, Tennessee. Other MSAs with low percentages of LGBT adults include San Jose, California; Raleigh, North Carolina; Cincinnati; and Houston.
Explanations are likely varied for the particularly low percentages of LGBT adults in some MSAs. Eight of the 10 MSAs with the lowest percentages are in the South or Midwest, the two regions of the country where LGBT identification among adults tends to be lowest and where social stigma toward LGBT people can be relatively high. Alabama, home to Birmingham, has made news lately as its state Supreme Court has resisted implementation of a federal court order to allow same-sex couples to marry. Among the ranked MSAs, Pittsburgh has the highest proportion of seniors in the population. Gallup research has shown that LGBT identity tends to be lower among seniors.
San Jose may be the most surprising metro area to be among the 10 lowest, because it is home to the Silicon Valley and many technology companies that have been among the most vocal supporters of LGBT rights in corporate America. For example, Apple, Google and Facebook all recently signed a friend-of-the-court brief submitted to the U.S. Supreme Court, supporting legalizing marriage for same-sex couples. The low ranking could mean that many LGBT individuals who work in the Silicon Valley choose to live closer to San Francisco and its vibrant LGBT social scene.
Implications
The distribution of LGBT identity across the largest metro areas in the U.S. is relatively narrow, with a range of 3.6 percentage points from the highest to the lowest MSA among the top 50. This mirrors previous analyses of the distribution of the LGBT population across states, which show similarly fairly even distribution, at least in comparison to the many other pronounced geographic differences found on race, ethnic, political and ideological variables.
The lack of sharp distinctions could reflect in part that the geographic MSAs used in this research are large, and for most areas, include significant suburban populations around center cities. The sample sizes involved do not allow for an analysis of center cities per se, but perhaps the LGBT percentage is larger in these areas than in the metropolitan area as a whole.
At the same time, the variation across MSAs does provide interesting information about LGBT identification and its possible relationship to the ideological and legal climate in different metropolitan regions. Certainly, a metropolitan area such as San Francisco has a different history and culture relating to the LGBT population than does Birmingham, and those differences appear in LGBT identification among the areas' residents.
These rankings at least partly may be an indication of where LGBT adults choose to live. But a survey conducted in 2013 showed that only 12% of LGBT adults considered the levels of LGBT social acceptance in a city as a major factor in their decisions about where to live. These rankings could also reflect differences across metro areas in the willingness of residents to identify as LGBT to interviewers. LGBT people who live in MSAs where they experience greater levels of social acceptance and often the legal protections that come with that may be more likely to identify themselves as such compared with LGBT adults living in areas in which there is less acceptance of people of differing sexual orientations. While San Francisco may be one of the most desirable areas in the country for LGBT people to live, it also may be an area where residents feel more comfortable in identifying themselves as LGBT.
Gary J. Gates is Blachford-Cooper Distinguished Scholar and Research Director at the Williams Institute, UCLA School of Law. A national expert in LGBT demographics, he has a Ph.D. in public policy from Heinz College, Carnegie Mellon University.
Survey Methods
Results for this Gallup poll are based on telephone interviews conducted from June 2012-December 2014, on the Gallup U.S. Daily survey, with a random sample of 374,325 employed adults, aged 18 and older, living in all 50 U.S. states and the District of Columbia. For results based on the total sample of workers, the margin of sampling error is ±1 percentage point at the 95% confidence level.
For results based on MSA-level data, the margin of sampling error is no more than ±1 percentage point at the 95% confidence level for each MSA. Respondents are assigned to a metro area using the federal Office of Management and Budget definitions of metropolitan statistical areas. Gallup assigns respondents to metro areas using the definitions for Metropolitan Statistical Areas developed by OMB. Each MSA sample is weighted to ensure it represents the population of that metro area.
All reported margins of sampling error include computed design effects for weighting.
Each sample of national adults includes a minimum quota of 50% cellphone respondents and 50% landline respondents, with additional minimum quotas by time zone within region. Landline and cellular telephone numbers are selected using random-digit-dial methods.
Learn more about how Gallup Daily tracking works.