Improved productivity has been a key characteristic of the economic recovery in recent years. Productivity gains have allowed the economy to expand while keeping wage costs in check. Combined with job outsourcing to foreign countries, increased productivity has also slowed the job market demands traditionally associated with an expanding economy.
Normally, people associate increased productivity with large companies and their ability to leverage economies of scale. A recent Wells Fargo/Gallup Small Business Index survey* suggests, however, that smaller companies have also enjoyed increased productivity because of technological change. That's good news for small-business owners and the economy as a whole.
Electronic and Communications Devices
Three in four small-business owners say they own cellular telephones. Half own cellular phones that allow them to send and receive text messages, and about the same percentage own a laptop computer. Only 1 in 10 own BlackBerrys or other personal data-manipulation devices, and a similar percentage own pagers.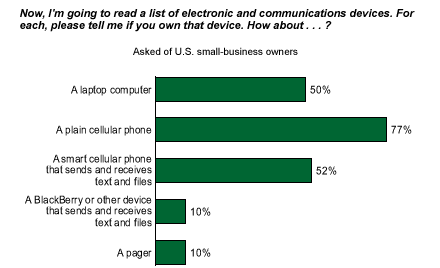 Advantages and Disadvantages of Technology
Small business-owners cite a variety of advantages to recent technological advances in computers and telephones in the workplace. In response to an open-ended question, one in four (26%) say recent technological advances made their jobs easier and/or allowed them to do more work with fewer people. About the same percentage say such advancements have: improved communication (25%), increased availability/accessibility (25%), and increased timeliness/speed (23%). About 1 in 20 small-business owners say these advances have: increased efficiency/accuracy (6%), increased convenience (5%), and increased flexibility/mobility (5%).
Gallup also asked small-business owners to list any disadvantages of recent technological advancements in computers and telephones. About 1 in 20 point to cases in which the new technology is unreliable and there is no backup (7%), the added cost of technology (5%), and/or their companies' lack of education or manpower needed to use the new technology effectively (5%).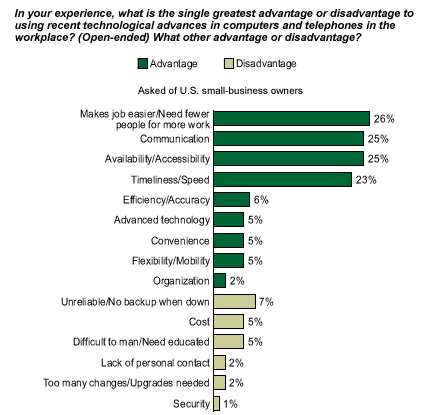 Potential Productivity Increases
These poll results offer an encouraging picture of the competitiveness of small businesses when it comes to incorporating new technology -- but they also suggest significant opportunities for future productivity increases. As small-business owners and their future employees become more experienced with new computers and cellular technology, they will find more opportunities to substitute high-tech replacements for more costly, low-tech processes. Falling prices and rising availability will speed this development along.
Most importantly, technological advances may make it possible for small businesses to compete more effectively on an international basis. Already, many small-business owners use Web-based technology to buy and sell around the world; combined with the forces of globalization, the fact that even "the little guy" increasingly has access to a vast worldwide network of consumer data should provide more and more American small-business entrepreneurs with a truly global market.
*Results for the survey are based on telephone interviews with 607 small-business owners, conducted June 7-10, 2005. For results based on this sample of small-business owners, one can say with 95% confidence that the margin of sampling error is ±4 percentage points.