ДОРОГО. Most Americans can't decipher this word, but many citizens of Moscow probably utter it on a regular basis -- it means expensive. The Russian capital is widely recognized as one of the world's most expensive cities to live in. While most Muscovites are satisfied with Moscow as a place to live (see "Muscovites Upbeat About Life in Russian Capital" in Related Items), the escalating cost of living has likely made many cynical about their financial well-being. Gallup's recent poll of Moscow* asked Muscovites for their opinions about economic conditions and found that, in this respect, their optimism lags.
Economic Conditions Uncertain in Moscow
It has been less than 10 years since Russia's last major financial crisis in 1998, but Moscow residents seem to be trying to put those times behind them. Overall, 43% of Muscovites rate the city's current economic conditions as good; while 13% rate them as bad (44% give them a neutral rating or have no opinion).
Muscovites' positive ratings of economic conditions have faltered since they were last asked this question, however. In 2003, a slim majority of respondents (53%) said Moscow's economic conditions were good.
Thanks in part to Russia's status as the second-largest oil producer in the world, the Russian economy continues to rebound from the catastrophe of 1998, when the ruble was devalued amid prolonged upheaval in President Boris Yeltsin's government. But Muscovites are ambivalent about the future of economic conditions in the city. Thirty-seven percent say conditions are getting better, and about the same percentage (35%) feel conditions are staying the same. Nearly a quarter (23%) of Moscow residents feel the economy is worsening. The outlook was much rosier in 2003, when 60% of Muscovites said conditions were getting better, 19% thought things were staying the same, and only 14% felt conditions were worsening.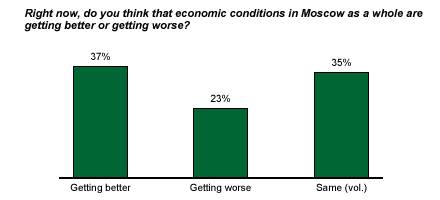 Moscow Families Feeling the Pinch
Generally, Muscovites' financial well-being is improving, with an increase in the percentage of people who own things such as household appliances, imported cars, and personal computers, according to a Comcon study. However, Moscow residents may be tightening their belts on major purchases like those; 85% say now is not a good time to make major purchases such as cars or household appliances. At the same time, economic hardship is not uncommon in Moscow. A quarter of Muscovites say there have been times in the last year when they did not have enough money to buy food, clothing, or healthcare they or their families needed.
More generally, when asked about their financial situations compared to a year ago, about 3 in 10 Moscow residents say they and their families are better off financially and about a quarter (24%) say they are worse off. Almost half (47%) say they are neither better nor worse off than they were last year.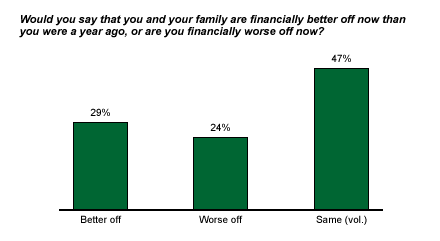 Again, Muscovites were more positive on this question two years ago. In 2003, 43% of residents said they and their families were better off financially than they were the previous year; 17% said things were worse and 38% said conditions were the same.
On the other hand, Muscovites are more likely to say their financial situation at home will be better one year from now (38%) than say it will be worse (15%). Thirty-seven percent say it will be the same.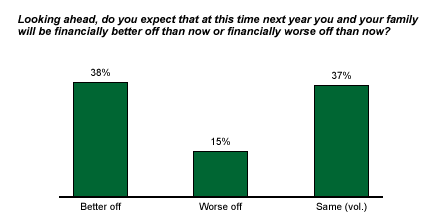 *Results based on interviews with 1,008 Moscow residents, aged 18 and older, conducted in January and February 2005. For results based on this sample, one can say with 95% confidence that the margin of sampling error is ±3 percentage points.