More than 100 years have passed since Tchaikovsky composed the music for the world-famous ballet, The Nutcracker, which companies still perform throughout the world. Russians such as Rachmaninoff, Stravinsky, and Shostakovich, among others, join Tchaikovsky in the annals of celebrated composers from a country that claims a long history of cultural and artistic accomplishments.
That tradition continues in Moscow, where residents relish the artistic and athletic opportunities available in Russia's capital city. Gallup's poll of Moscow* reveals the populace is proud and supportive of its arts and entertainment.
Pride in Moscow's Culture and Athletics
Nearly 9 in 10 Moscow residents (88%) rate the availability of cultural opportunities such as theater, museums, and music as good, with a majority rating them as very good. And three-fourths (76%) say they are proud of the city's commitment to culture and the arts, including 45% who say they are very proud.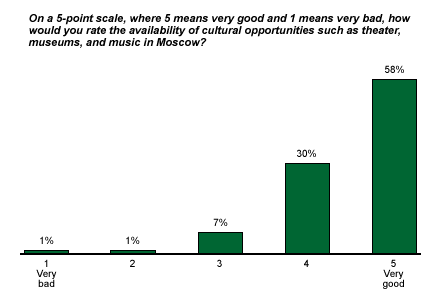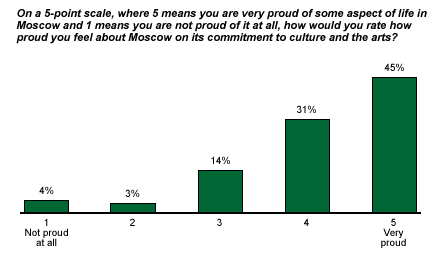 Muscovites' level of pride in the city's sports teams doesn't approach their level of pride in the arts, but a slim majority (53%) of Muscovites say they are proud of their sports teams. The city is home to Luzhniki (formerly Lenin) Stadium, which was the chief venue for the 1980 summer Olympics. However, athletics don't have the profile in modern-day Russia that they did in the former Soviet Union -- which, for example, often came away from the Olympic Games with the most medals of any participating country.
Cultural Participation in Moscow
Does pride in Moscow's cultural offerings spur ticket sales in Moscow? According to the poll, half of Muscovites have snatched up tickets at their local box offices or music halls. The percentage of residents attending cultural events has increased slightly since 2003.
Moscow boasts numerous museums and art galleries, ranging from large collections at the Tretyakov Gallery and Pushkin Museum of Fine Arts to smaller, more modern studios throughout the city. Half of Muscovites say they've visited one of the city's museums or galleries in the last year, up from 40% in 2003.
Half of Moscow residents also say they have attended performances at the capital's live theaters in the last year, up from 44% in 2003. Less than half (46%) of Moscow's residents say they attended a live concert in the last year, little changed from 43% in 2003.
Majorities of young Muscovites peruse famous works of art or listen to Tchaikovsky, but they're also busy enjoying some of Moscow's contemporary culture. Sixty-four percent of 18- to 24-year-old Muscovites have partied in night clubs or dance clubs in the past year, a significantly higher percentage than any other age group. A quarter of all Muscovites have attended night clubs or dance clubs in the last year.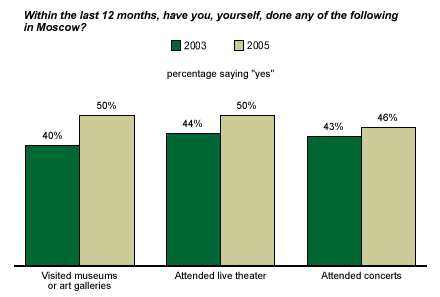 *Results based on interviews with 1,008 Moscow residents, aged 18 and older, conducted in January and February 2005. For results based on this sample, one can say with 95% confidence that the margin of sampling error is ±3 percentage points.