Story Highlights
Trust on domestic issues at 38%
Trust on international issues slightly above record low at 45%
Republicans show equally low trust in both areas
PRINCETON, N.J. -- Americans' trust in the federal government's ability to handle domestic problems has fallen further to 38%, a new low. Americans are a bit more likely to trust the government to handle international problems, but at 45%, this is scarcely better than last year's 43% record low.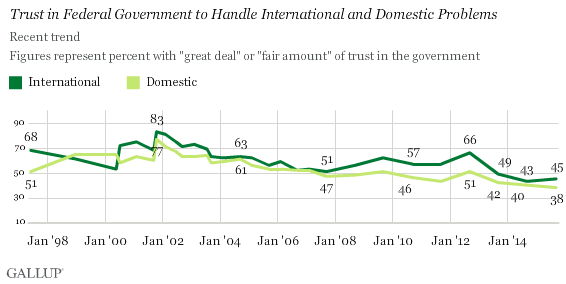 From 1972 through 2004, an average 69% of Americans had trust in the government to handle international problems and 62% to handle domestic problems. That period included the record-high 83% trust on international matters and 77% on domestic matters, measured in October 2001, shortly after the 9/11 terrorist attacks.
The results are based on Gallup's annual Governance poll, conducted Sept. 9-13. The poll also finds Americans' trust in each of the three branches of the federal government sits at or near record lows.
Although trust naturally declined after the 2001 peak, it had leveled off a bit near the end of President George W. Bush's first term. However, in Bush's second term, in which he averaged an anemic 37% job approval, the averages were 56% trust to handle international problems and 52% to handle domestic problems.
President Barack Obama's first term brought renewed trust in the government's ability to tackle international challenges as he wound down the wars in Iraq and Afghanistan. However, the still-struggling economy further eroded Americans' trust in the government to deal with domestic problems. During Obama's first term, which included a spike in both international and domestic trust immediately after the 2012 Democratic convention, Americans' trust on international matters averaged 61%, while it was 48% on domestic problems.
Obama's second term has seen a series of international challenges, including his plans to take military action against Syria in 2013, the recent rise of the Islamic State in Iraq and Syria, and increased tensions with Russia. International trust has averaged 46% during his second term, while domestic trust has averaged 41%.
While the trajectory of these trust measures can be related to the president and his performance, it is important to note that confidence in all three branches of government has been declining in recent years, with 32% trust in the legislative branch the lowest of the three currently.


Democrats More Trusting in Government
Typically, Americans with a party preference express greater trust in the federal government when a president from their favored party is in power. And this year is no exception; Democrats express much greater trust than Republicans in the federal government's ability to handle both domestic and international problems. The fact that the Republican Party controls Congress appears to make little difference in how much Republican identifiers trust the federal government.
Notably, Republicans make no distinction in the government's ability to handle domestic or international problems -- 25% say they trust it in each sphere. This was also the case last year, but in the first five years of the Obama presidency, Republicans were significantly more trusting of the government to deal with international matters than domestic ones.
Currently, independents, and Democrats especially, show more trust in the government on international matters than domestic ones. That has been the case throughout Obama's administration, although the size of the gap has varied during that time.
Implications
Trust in the government is a foundation of representative democracy. Citizens must have faith in their elected leaders to address the issues facing the country. Right now, Americans' trust in the government's ability to handle domestic problems has never been lower in Gallup's trends, which stretch back to the 1970s. Their trust in its ability to handle international problems is only slightly above the historical low.
A sobering reality is that Americans' trust in the government in those two areas was significantly better during the Watergate era. In April 1974, four months before Richard Nixon resigned as president, 51% of Americans trusted the government to handle domestic problems, 13 points higher than today. Trust on international matters at that time was 73%, even after the divisive Vietnam War, although it fell to 56% the next time the question was asked in 1976. The Watergate scandal was the obvious reason trust in government declined in the 1970s.
Now the issues seem to be more related to frustration with the government's inability to solve the problems the nation is facing. To a large degree, that reflects the realities of divided government during the Bush and Obama administrations, but also a more partisan environment in Washington than was the case decades ago. Each president had a time of unified party control but also directed his efforts during that time to issues, namely the Iraq war and healthcare reform, that were arguably not as central to Americans' concerns at the time and served to exacerbate partisan conflict in Washington and among the American public.
The future for trust in government cannot be known. Improvement in the economy over the last several years appears to have done little to reverse the recent decline in trust. From a historical perspective, Americans' trust in the government was eventually restored after Watergate, and a similar comeback in future years and decades cannot be ruled out.
Historical data are available in Gallup Analytics.
Survey Methods
Results for this Gallup poll are based on telephone interviews conducted Sept. 9-13, 2015, with a random sample of 1,025 adults, aged 18 and older, living in all 50 U.S. states and the District of Columbia. For results based on the total sample of national adults, the margin of sampling error is ±4 percentage points at the 95% confidence level.
All reported margins of sampling error include computed design effects for weighting.
Each sample of national adults includes a minimum quota of 60% cellphone respondents and 40% landline respondents, with additional minimum quotas by time zone within region. Landline and cellular telephone numbers are selected using random-digit-dial methods.
View survey methodology, complete question responses and trends.
Learn more about how Gallup Poll Social Series works.