Story Highlights
Favorable rating of 70% up 11 points from July
Ratings up across religious/ideological demographics
Francis' ratings higher than Benedict's, lower than John Paul II's
WASHINGTON, D.C. -- Pope Francis enjoyed a double-digit boost to his favorability after his September visit to the U.S. Seventy percent of Americans now view him favorably -- up from 59% in July. The latest rating is closer to the 76% measured in early 2014.
The pope's visit to a trio of East Coast cities last month, which included addresses to Congress and the United Nations General Assembly, was his first to the U.S. While some observers politicized his calls for action on several controversial issues, his visit was widely celebrated by Catholics and non-Catholics alike. The latest bump in his favorable rating suggests that he successfully connected with Americans during his trip.
After being elected leader of the 1.2 billion-member Roman Catholic Church in 2013, Francis enjoyed great popularity in American news media, including being named Time's 2013 Person of the Year. By early 2014, his favorability had swelled to 76%.
The pope's favorable rating fell from its previous high when Gallup next measured opinions about him, in July 2015. It's possible that many Americans forgot about him after that initial burst of positive publicity; the percentage not having an opinion of the pontiff rose from 16% to 25%. But his unfavorable rating also climbed during this time, from 9% to 16%, after he weighed in on a variety of issues that are controversial to Americans, including immigration and climate change.
Francis' favorability has rebounded in the latest poll, as more Americans than before are now familiar with him, but there has been no change in his unfavorable rating.
Pope Francis Regains Footing Among Several Demographics
In July, the pope experienced his largest drop in favorability among conservatives, although his favorable ratings among liberals and Catholics themselves also fell substantially. In the latest poll, conducted Oct. 7-11, Francis regained much of his standing with these groups.
Since July, the pope's favorability among conservatives has increased 18 percentage points, higher than the 11-point increase among all Americans. Ratings are also more positive among the other ideological groups, but they have not increased to the same degree. The proportionately larger increase among conservatives partly reflects their lower ratings in the prior poll, meaning conservatives had more room to improve than moderates or liberals. Less than half of conservatives viewed the pope favorably over the summer, while a majority (63%) now have a favorable view of him.
Nearly nine in 10 of the pope's fellow Catholics view him favorably -- a 16-point increase from July and nearly back to the 89% from 2014. His favorable rating among Protestants and other Christians is up 15 points to 67%.
Francis' Ratings Still Higher Than Benedict's, Lower Than John Paul's
Generally speaking, Americans rate popes much more positively than negatively. Francis remains markedly more popular than his predecessor, Pope Benedict XVI, whose resignation in 2013 led to Francis' election. Benedict's ratings were middling after his ascension to the papacy in 2005. His favorability climbed to its peak at 63% in 2008 before dropping sharply to 40% in 2010.
Pope John Paul II, however, was the most popular among the three most recent popes, with favorable ratings that ranged from a low of 61% in 2002, after the Catholic priest sex abuse scandal broke, to a high of 86% in 1998.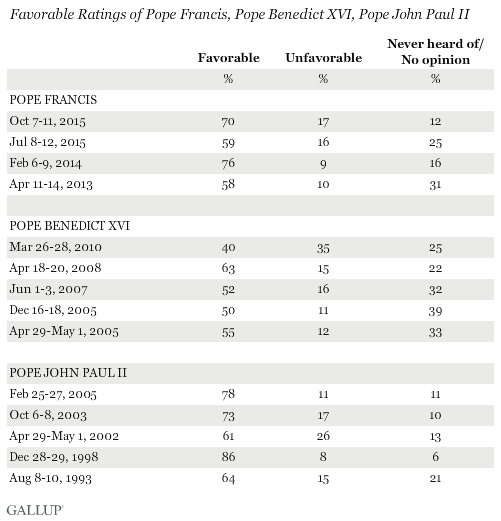 Bottom Line
By and large, most Americans view Francis favorably, as they have past popes. Among the relatively small percentage of Americans who don't have a positive opinion of Francis, nearly half of them simply don't know who he is or don't have an opinion of him.
Though his recent visit clearly influenced how Americans view him, solid majorities viewed him favorably even before he came to the U.S. And like popes before him, his ratings have fluctuated and likely could continue to fluctuate, depending on his prominence in the news as well as the policies and calls to action he issues as leader of the church.
Francis has made bold statements in his short time in the papacy, and ones that have rankled some U.S. conservatives. And while some people's views of the pope may ebb and flow as a result of the statements he makes, his core favorable rating remains sturdy.
Historical data are available in Gallup Analytics.
Survey Methods
Results for this Gallup poll are based on telephone interviews conducted Oct. 7-11, 2015, on the Gallup U.S. Daily survey, with a random sample of 1,015 adults, aged 18 and older, living in all 50 U.S. states and the District of Columbia. For results based on the total sample of national adults, the margin of sampling error is ±4 percentage points at the 95% confidence level. All reported margins of sampling error include computed design effects for weighting.
Each sample of national adults includes a minimum quota of 60% cellphone respondents and 40% landline respondents, with additional minimum quotas by time zone within region. Landline and cellular telephone numbers are selected using random-digit-dial methods.
View survey methodology, complete question responses and trends.
Learn more about how Gallup Poll Social Series works.