GALLUP NEWS SERVICE
PRINCETON, NJ -- What scares Americans most? It isn't the dark, or thunder and lightning, or even flying on an airplane.
No, what really strikes fear in the hearts of many Americans are snakes. A recent Gallup poll that asked adults what they were afraid of reveals that more people -- 51% -- fear snakes than any other suggested possibility, including speaking in public in front of an audience (40%) and heights (36%). And while children are reputed to fear the dark, only 5% of surveyed adults do. Just 11% of adults fear thunder and lightning.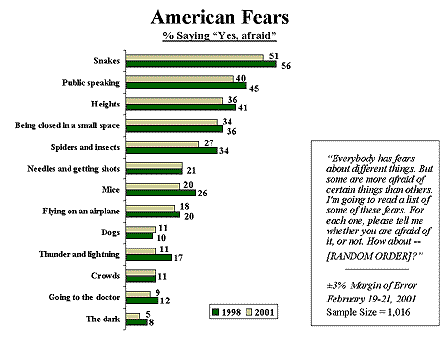 In fact, adults appear to be slightly less fearful of certain things today than they were in the last Gallup "fears" survey, in November 1998. According to that survey, 56% of adults cited a fear of snakes, compared with 51% today. (This fear still topped all other possibilities.) Forty-five percent said they feared speaking in public, compared with 40% today, while 41% feared heights, compared with 36% today. The only suggested category that saw an increase from the 1998 survey was fear of dogs, up only 1% to 11% today.
While the occasional airplane crash or threat of terrorism make for big news, only 18% of Americans say they're afraid of flying on an airplane. This despite the fact that 36% of respondents fear heights and 34% of respondents fear being closed in a small space. Americans' fear of flying is essentially the same as it was in November 1998: 20% cited fear of flying then.
When it comes to fears -- or at least admitting to them -- clear gender differences emerge. The survey reveals that women are more likely than men to be fearful of most of the situations tested, but in particular, women disproportionately fear reptiles, rodents and insects:
2001 Feb 19-21
(based on % "yes, afraid")



Men



Women


Gender Gap (Men – Women)

%

%

%

Mice

6

33

-27

Snakes

38

62

-24

Spiders and insects

15

38

-23

Being closed in a small space

25

42

-17

Heights

31

41

-10

Thunder and lightning

6

16

-10

Flying on an airplane

14

22

-8

Public speaking in front of an audience

37

44

-7

Dogs

7

14

-7

The dark

2

8

-6

Crowds

10

12

-2

Needles and getting shots

20

21

-1

Going to the doctor

11

8

3
As can be seen, 62% of women say they fear snakes, while just 38% of men claim to share this fear. Other living creatures frighten women more, too: 38% of women say they are afraid of spiders and insects, compared with 15% of men. Mice really scare women a lot more: 33% fear these rodents, compared with just 6% of men. The only creatures that don't inspire fear in too many people are dogs: 14% of women fear canines and just 7% of men fear the animals famously said to be their best friends.
There is also a significant 17-percentage-point difference by gender in fear of being closed in a small space, with 25% of men and 42% of women saying they fear such situations. At the same time, men and women are roughly tied in their fear of needles and getting shots, with only a 1-percentage-point difference. Interestingly, although more men than women fear going to the doctor (11% vs. 8%, respectively), there is nothing on the list of "fears" that men aresignificantlymore afraid of than women.
There are also interesting disparities among people who fear specific things, such as public speaking. Only 34% of nonwhites are afraid of public speaking, compared to 43% of whites. Perhaps not surprisingly, people with less education are more likely to be afraid to speak in front of an audience than are those with more education. In the poll, 52% of those with a high school education or less fear speaking in public, compared to only 24% of college graduates.
People of different ages also differ in their fear of dogs. The poll finds that 21% of adults aged 65 or older fear dogs, while only 7% of Americans aged 18-29 say they are fearful of canine quadrupeds.
Survey Methods
The results reported here are based on telephone interviews with a randomly selected national sample of 1,016 adults, 18 years and older, conducted February 19-21, 2001. For results based on this sample, one can say with 95 percent confidence that the maximum error attributable to sampling and other random effects is plus or minus 3 percentage points. In addition to sampling error, question wording and practical difficulties in conducting surveys can introduce error or bias into the findings of public opinion polls.
Everybody has fears about different things. But some are more afraid of certain things than others. I'm going to read a list of some of these fears. For each one, please tell me whether you are afraid of it, or not. How about -- [RANDOM ORDER]?
Flying on an airplane

| | | | |
| --- | --- | --- | --- |
| | Yes, afraid | No, not afraid | No opinion |
| | | | |
| 2001 Feb 19-21 | 18% | 80 | 2 |
| | | | |
| 1998 Nov 20-22 | 20% | 77 | 3 |




Crowds

| | | | |
| --- | --- | --- | --- |
| | Yes, afraid | No, not afraid | No opinion |
| | | | |
| 2001 Feb 19-21 | 11% | 89 | * |
| | | | |
| 1998 Nov 20-22 | 11% | 88 | 1 |




Thunder and lightning

| | | | |
| --- | --- | --- | --- |
| | Yes, afraid | No, not afraid | No opinion |
| | | | |
| 2001 Feb 19-21 | 11% | 89 | * |
| | | | |
| 1998 Nov 20-22 | 17% | 83 | 1 |




Spiders and insects

| | | | |
| --- | --- | --- | --- |
| | Yes, afraid | No, not afraid | No opinion |
| | | | |
| 2001 Feb 19-21 | 27% | 73 | * |
| | | | |
| 1998 Nov 20-22 | 34% | 65 | 1 |




Mice

| | | | |
| --- | --- | --- | --- |
| | Yes, afraid | No, not afraid | No opinion |
| | | | |
| 2001 Feb 19-21 | 20% | 80 | * |
| | | | |
| 1998 Nov 20-22 | 26% | 74 | * |




Dogs

| | | | |
| --- | --- | --- | --- |
| | Yes, afraid | No, not afraid | No opinion |
| | | | |
| 2001 Feb 19-21 | 11% | 88 | 1 |
| | | | |
| 1998 Nov 20-22 | 10% | 90 | * |




Snakes

| | | | |
| --- | --- | --- | --- |
| | Yes, afraid | No, not afraid | No opinion |
| | | | |
| 2001 Feb 19-21 | 51% | 49 | * |
| | | | |
| 1998 Nov 20-22 | 56% | 44 | * |




Being closed in a small space

| | | | |
| --- | --- | --- | --- |
| | Yes, afraid | No, not afraid | No opinion |
| | | | |
| 2001 Feb 19-21 | 34% | 65 | 1 |
| | | | |
| 1998 Nov 20-22 | 36% | 64 | * |




Going to the doctor

| | | | |
| --- | --- | --- | --- |
| | Yes, afraid | No, not afraid | No opinion |
| | | | |
| 2001 Feb 19-21 | 9% | 91 | * |
| | | | |
| 1998 Nov 20-22 | 12% | 88 | * |




The dark

| | | | |
| --- | --- | --- | --- |
| | Yes, afraid | No, not afraid | No opinion |
| | | | |
| 2001 Feb 19-21 | 5% | 95 | * |
| | | | |
| 1998 Nov 20-22 | 8% | 92 | * |




Needles and getting shots

| | | | |
| --- | --- | --- | --- |
| | Yes, afraid | No, not afraid | No opinion |
| | | | |
| 2001 Feb 19-21 | 21% | 79 | * |
| | | | |
| 1998 Nov 20-22 | 21% | 79 | * |




Heights

| | | | |
| --- | --- | --- | --- |
| | Yes, afraid | No, not afraid | No opinion |
| | | | |
| 2001 Feb 19-21 | 36% | 63 | 1 |
| | | | |
| 1998 Nov 20-22 | 41% | 59 | * |




Public speaking in front of an audience
| | | | |
| --- | --- | --- | --- |
| | Yes, afraid | No, not afraid | No opinion |
| | | | |
| 2001 Feb 19-21 | 40% | 59 | 1 |
| | | | |
| 1998 Nov 20-22 | 45% | 54 | 1 |
* Less than 0.5%