A minimum level of trust is one of the basic criteria for a well-functioning community -- lack of trust can potentially undo business deals, make child rearing more difficult, and chip away at people's sense of safety. So it may be worrisome that according to a large Gallup Panel study* conducted this summer, relatively few respondents place a lot of trust in specific community groups.
Trust Makes Good Neighbors?
Just slightly more than a third of respondents say they have "a lot" of trust in the people in their neighborhoods. Another 49% have "some trust" in their neighbors, while 13% have just a little and 3% don't trust their neighbors at all.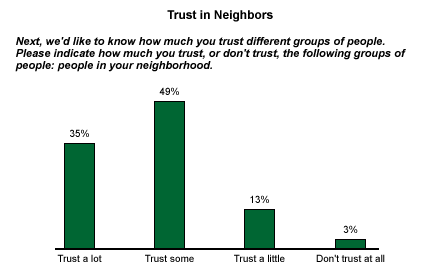 Responses to a general trust question differed between white panel members and black panel members, with whites more likely to express trust than blacks (see "Gallup Panel: People Can't Be Trusted" in Related Items). Thirty-seven percent of whites say they trust their neighbors a lot, and only 13% of blacks say the same.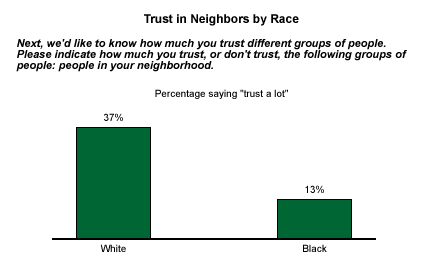 Police Get High Marks Overall, Low Marks From Blacks
Overall, trust in the police is highest of the three community-based groups tested. Forty-four percent of respondents say they have a lot of trust in their local police, another 43% have some trust, and just 13% say they have little (10%) or no (3%) trust in local law enforcement.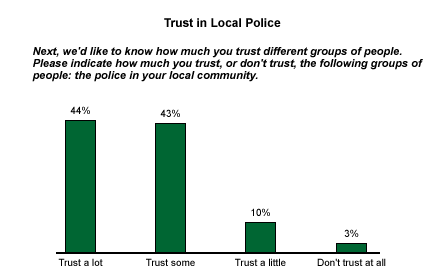 Again, there is a large gap between black respondents and white respondents with regard to trust in the local police. Forty-six percent of white respondents trust their local police a lot, while 19% of black respondents say so.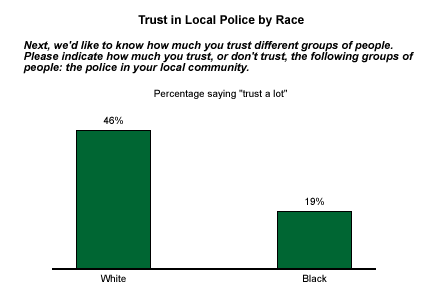 Trust in Local Retailers
Just one in five respondents (21%) say they have a lot of trust in the people who work in the stores where they shop -- the lowest figure among the three community groups tested. Fifty-seven percent say they have some trust, 19% have little trust, and 3% have no trust.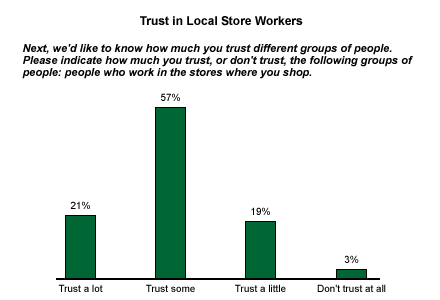 Shopkeepers are sometimes accused of locking blacks out of their stores or following them around as they shop. This may partially explain the reason for a lack of trust in storekeepers and clerks among blacks. Twelve percent of black respondents say they trust people in their local stores a lot, compared with 21% of white respondents.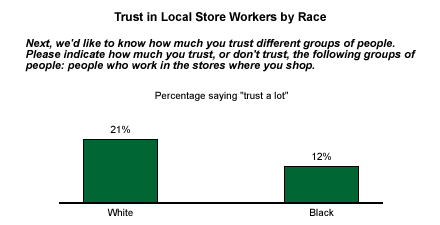 *These results are based on mail and Web surveys with a randomly selected national sample of 11,849 adults in the Gallup Poll Panel of households, aged 18 and older, conducted June 21, 2005, to Aug. 3, 2005. For results based on this sample, one can say with 95% confidence that the maximum error attributable to sampling and other random effects is ±1 percentage point. In addition to sampling error, question wording and practical difficulties in conducting surveys can introduce error or bias into the findings of public opinion polls.