Most Americans who were lucky enough to unwrap a new computer, iPod, DVD player, or other high-tech gift this holiday likely won't wait too long -- if at all -- to use their new toys. According to a recent Gallup survey*, most Americans say they are typically "excited" (34%) or "comfortable" (38%) when they first use a new technology device. But a quarter of Americans say they typically react negatively on first use -- 20% say they are "nervous" and another 5% say they are "panicked."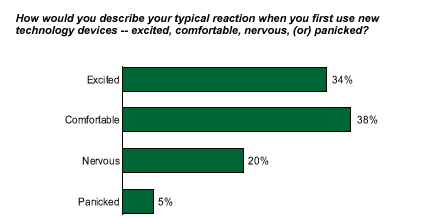 Younger Americans are far more likely than older Americans to say they feel excited or comfortable when first using a new tech gizmo. Virtually all those in the 18 to 49 age group are excited or comfortable, while far fewer of those aged 50 and older say they typically react that way. In fact, 43% of those 50 and older say they are nervous, including 9% who are downright panicked.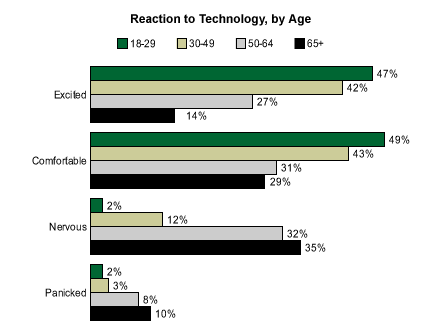 "I started out just being 'nervous,' but quickly moved to the 'panicky' stage when I didn't catch on to the computer right away," says Jackie Nicoll, a 72-year-old retired theater director from Pittsburgh who has been getting computer lessons from her daughter this month. "It's 'machine against woman' and the machine is definitely winning," she jokes. Nicoll, however, is absolutely serious about learning to log on so she can e-mail her friends and family. "It's intimidating," she says, "but if I don't have too much information pressed on me all at once, I'm confident I will learn how to use it."
Technology is second nature for Phil Henken, a 27-year-old digital multimedia assistant from New Jersey. He says for the most part he's "comfortable" with new technology, but his reaction can quickly turn to "excited" when it comes to "a video game console, a souped-up new computer, a high-end DVD player, or plasma TV."
User Problems
Getting new technology up and running isn't always easy; a majority of respondents admit having problems figuring out how to use their new tech gadgets at least some of the time. Six percent say they have problems all of the time, 14% say most of the time, and 45% admit to problems some of the time. One-third of the population, though, is luckier than most -- 35% of Americans say they rarely (28%) or never (7%) have problems getting started.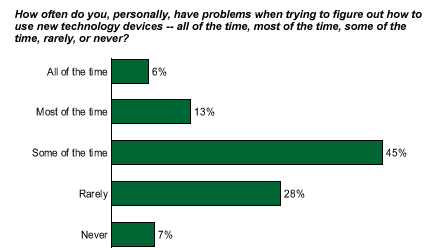 The youngest Americans, 18- to 29-year-olds, are the least likely to say they have problems figuring out new technology, in fact, a majority of them say they rarely or never have problems. Only 41% say they have problems at least some of the time, compared with 63% of 30- to 49-year-olds, 76% of 50- to 64-year-olds, and 73% of those 65 and older.
Computer Frustration Tops the List
Computers, perhaps because of their ubiquitous nature, are a common source of anxiety. In an open-ended question asking respondents which new or recent technology device has caused them the most frustration, computers clearly topped the list. Vera Martz, an 88-year-old Pennsylvania retiree, related her extreme computer frustration. "My daughter drove my grandson's old computer halfway across the country for me. I sat through two lessons and understood absolutely nothing. As soon as she went home, I unplugged the computer, put a blanket over it, and called my nephew to come and take it away. That thing really defeated me."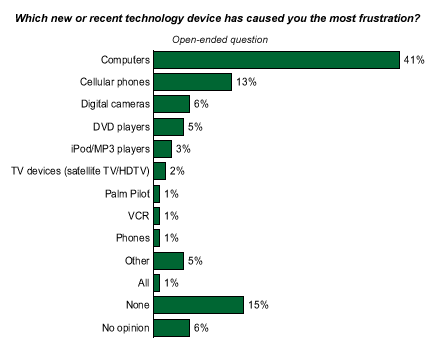 Bottom Line
Technology is here to stay, and learning to live with it -- and even love it -- is now a fact of life. "Technology is intriguing and complicated for everyone," says Henken. "Even though I grew up with it, I still can't believe how advanced and complex things have gotten in such a short time."
*Results are based on telephone interviews with 1,004 national adults, aged 18 and older, conducted Aug. 5-7, 2005. For results based on the total sample of national adults, one can say with 95% confidence that the margin of sampling error is ±3 percentage points.