The complex web of political and economic ties between Taiwan and China is difficult to fully grasp, even for those directly caught up in it. Though Taiwan is self-ruled, China has claimed sovereignty over the island state since 1949, when the Communists took control of the mainland and the Kuomintang (KMT) fled to Taiwan. Today, Taiwan has a democratic system governed by the Democratic Progressive Party. President George W. Bush recently praised Taiwan as an example of a "free and democratic Chinese society," but voters handed the DPP defeats in the local government elections in December 2005.
And that's just the political situation. In addition, globalization has made China and Taiwan increasingly economically interdependent, particularly as parts of the same manufacturing chain for the world's computers and other consumer electronics. In his recent book, The World Is Flat, New York Times columnist Thomas Friedman notes that economics may trump politics in the minds of Taiwanese voters, as they may view regional stability and an amicable relationship with the mainland as good for business growth in Taiwan. Similarly, President Chen Shui-bian of the DPP and new KMT Chairman Ma Ying-jeou have both made it clear that peaceful development is the top priority for cross-strait relations.
According to several surveys over the past many years in Taiwan, the vast majority of Taiwanese agree, and hope to maintain the status quo peacefully. Taiwan may not have much to gain in terms of economic partnerships from de jure independence from China. A recent multinational Gallup study* conducted for the Taipei Economic and Cultural Office reveals that, even though Taiwan has no formal diplomatic ties with the five countries surveyed, most people in the United States, Japan, the United Kingdom, France, and Germany already view Taiwan and China as two separate, sovereign countries. In the United Kingdom, 81% hold this view, and nearly three-quarters of Japanese and Americans do. What's more, among separate samples of "opinion leaders" in each of those countries, majorities of at least 6 in 10 say they view China and Taiwan as separate countries.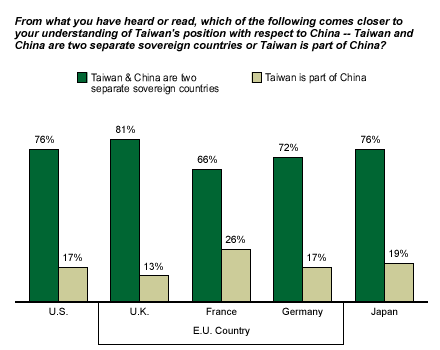 What would be the point of disrupting the status quo to establish de jure independence? The idea that China poses a direct threat to Taiwan's democratic system may be worth risking economic instability. That's an overriding concern for many. The recent pro-democracy protests in Hong Kong demonstrated that the Chinese government remains loath to permit political reform in its own territory.
But if China tries to use non-peaceful means to infringe on Taiwan's autonomy, it would be risking global condemnation. In each of the five countries surveyed, more than 8 in 10 people say they oppose the anti-secession law (as it was described in the survey) the Chinese government passed last March. As the survey mentioned to respondents, the anti-secession law states China may consider going to war to impose its rule on Taiwan if Taiwan declares formal independence from China, or if China decides for other reasons that peaceful reunification with Taiwan is not possible.
What if China does decide to attack Taiwan? Respondents were asked how they think their respective countries should respond, whether they should defend Taiwan militarily or diplomatically, or do nothing. In every country except the United States, a majority favored diplomatic efforts. In the United States, a 42% plurality favors defending Taiwan through diplomatic means only, although significant proportions say they favor using both military and diplomatic efforts (23%), or favor doing nothing at all (26%).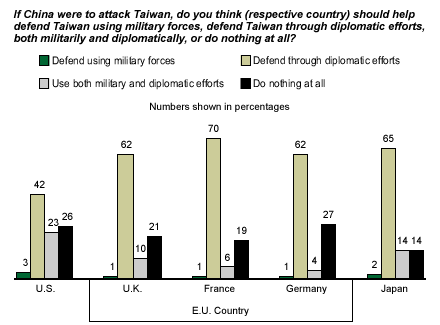 *For the general population study conducted in May and June of 2005, results are based on the sample sizes of approximately 1,500 in each country are subject to an error attributable to sampling and other random effects of ±3 percentage points at the 95% confidence level or the general population survey. In all cases, only one person from each household screened was included in the survey. Results based on the sample size of 200 opinion leaders are subject to an error attributable to sampling and other random effects of ±8 percentage points. The sampling method and subsequent weighting procedures were designed to reinforce the projectability of the data.