GALLUP NEWS SERVICE
PRINCETON, NJ -- On Jan. 23 voters in Canada will go to the polls to choose a prime minister, after Liberal Party leader Paul Martin was ousted from that position by a vote of no confidence in parliament last November. The architect of that maneuver is also the frontrunner to win Monday's election: Conservative Party leader Stephen Harper.
A recent New York Times article describes Harper as an American-style conservative whose beliefs range from opposition to gay marriage and the Kyoto global warming treaty, to support for the U.S.-led Iraq war. Harper is reportedly keeping those more controversial views under wraps, instead running his campaign on a platform of cutting the national sales tax, establishing child-care benefits for families, implementing longer prison sentences, and championing a variety of "anti-corruption measures" designed to highlight the political scandals that have plagued Martin's Liberal Party in recent years.
Martin attacked Harper during a recent debate for being too "American" in his views on tax cuts and government spending. According to one report, "Martin said Harper would create a 'fend-for-yourself' society, while the Liberals would look out for everyone with programs like child care and massive tuition relief for students."
However, it is easy to see how that strategy may backfire on Martin. A Gallup Canada poll conducted last spring found nearly three-quarters of Canadians (73%) complaining that their federal income taxes are too high. This contrasts with only 54% feeling this way in Great Britain, and 51% in the United States.
When given the choice, a majority of Canadians say they would rather have a reduction in income taxes than an increase in social benefits by the government.
At the same time, Canadians appear ready for a leader who will devote more resources to the nation's military. As of April 2005, a majority of Canadians (53%) said too little was being spent for national defense and military purposes. This contrasts with only about one-third feeling this way in the United States and Great Britain.
Harper's promise to increase sentencing for criminals also appears on target, as 82% of Canadians believe the country's criminal justice system is "not tough enough." Only 1% of Canadians say it is too tough, while 16% say it is about right.
Social Views Are Strongly Liberal
Those attitudes all sound conservative -- along the lines of the political climate that swept Ronald Reagan into office in 1980 and Margaret Thatcher in 1979. But are Canadians ready for a full-blown conservative revolution, or will Harper have to temper his social views if he's elected prime minister?
Gallup has conducted three polls per year in Canada since 2003 as part of the Gallup Poll Social Series, with parallel surveys conducted in the United States and Great Britain to provide direct comparisons.
On a variety of social issues -- gay rights, abortion, the death penalty, and religion -- Canada is clearly more liberal than the United States. And on most of these, their liberalism matches or exceeds what Gallup finds in Great Britain.
A majority of Canadians (53%) consider abortion morally acceptable, similar to the 49% seen in Great Britain, but distinguishing them from the majority of Americans who consider abortion morally wrong.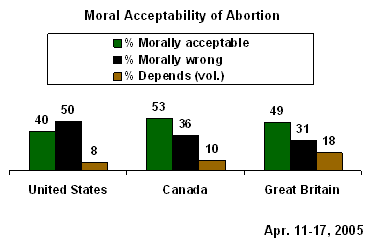 Most Canadians say homosexuality should be considered an acceptable alternative lifestyle, and a majority believes gay marriages should be legally valid. These views put Canada much closer to Great Britain in their beliefs than to Americans (who are much more conservative as a group).
While no religion dominates, Canada is a heavily Catholic country: 42% are Catholic, 31% are Protestant, 6% are other Christian, 1% are Jewish, and 2% are Muslim. In terms of their religiosity, Canadians fall between the high level of religious attachment expressed by Americans, and the low level seen in Great Britain. Perhaps most notably, nearly two-thirds of Americans say they went to church in the past six months, compared with 43% in Canada and 27% in Great Britain.
Summary of Religious Views
2005

Religion "very important"

Member of church or synagogue

Attended place of worship in past six months

%

%

%

Canada

28

44

43

United States

55

66

66

Great Britain

19

28

27
A 2004 Gallup inventory of attitudes about moral issues finds Canadians consistently more liberal than Americans on many issues. They are less supportive of the death penalty and more supportive of abortion, homosexuality, embryonic stem cell research, and having a baby out of wedlock. And while the vast majority of people in all three countries say extramarital affairs are morally wrong, the small percentage who disagrees is higher in Canada and Great Britain than in the United States. Canada and Great Britain tend to be similar in their outlook on all of these issues.
On a few other issues, however, Canadians are less liberal than the British. They are more likely to support medical testing on animals and the use of animal fur in clothing; they are less likely to support suicide, gambling, and sex between unmarried partners.
% Calling Each Issue "Morally Acceptable"
2004

United
States

Canada

Great
Britain

%

%

%

Issues Where Canada is as Liberal as Great Britain

Divorce

66

78

82

The death penalty

65

51

49

Doctor assisted suicide

53

59

56

Having a baby outside of marriage

49

73

74

Homosexual behavior

42

60

61

Abortion

40

53

49

Medical research using stem cells obtained from human embryos

54

61

57

Cloning animals

32

30

26

Cloning humans

9

8

11

Married men and women having an affair

7

16

19

Issues Where Canada is Less Liberal than Great Britain

Medical testing on animals

62

58

48

Buying and wearing clothing made of animal fur

63

57

30

Suicide

15

22

31

Gambling

66

58

67

Sex between an unmarried man and woman

60

78

85
Canadians Like Kyoto, Frown on Iraq War
Foreign policy may be another area where there is considerable distance between Harper and the Canadian public. While Harper opposes the Kyoto protocol on global warming and has previously said he supports the U.S. invasion of Iraq, the majority of Canadians feel differently. Gallup's April 2005 Canada poll found 65% holding a favorable impression of the Kyoto global warming treaty, and 73% in favor of Canada abiding by the provisions.
A majority of Canadians (54%) told Gallup in December that they believe Iraq is better off than before the U.S. and British invasion, but only 21% believe it has made the world safer from terrorism (70% say it has made the world less safe) and only 30% favor the invasion.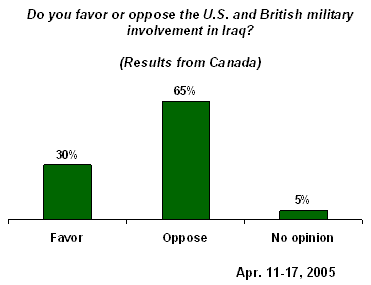 The Economy a Plus for Martin
Martin points to the nation's economy as one of his strongest credentials in this campaign, and Gallup's ongoing polling of consumer attitudes in Canada finds some support for this. According to Gallup's December 2005 survey, 61% of Canadians described current economic conditions as "excellent" or "good." That is the highest level of positive consumer views among Canadians recorded by Gallup in two years.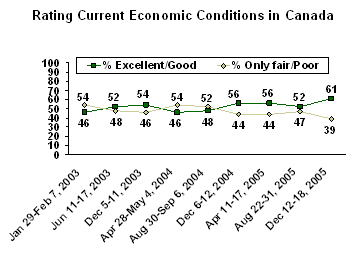 The positive views of the economy may have been more than offset by the corruption scandal, as Martin's approval rating for his performance as prime minister fell to 38% in December, the lowest measure since he took office in June 2004.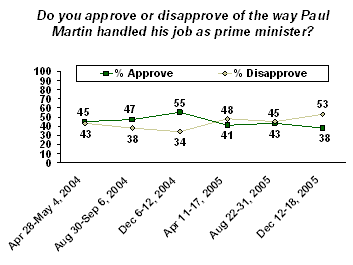 Survey Methods
The latest Canada results are based on telephone interviews with a randomly selected national sample of 1,003 adults, aged 18 and older, conducted Dec. 12-18, 2005. For results based on this sample, one can say with 95% confidence that the maximum error attributable to sampling and other random effects is ±3 percentage points. In addition to sampling error, question wording and practical difficulties in conducting surveys can introduce error or bias into the findings of public opinion polls.