GALLUP NEWS SERVICE
PRINCETON, NJ -- The basic structure of the American public's mood is as negative as it has been in more than a decade. Congressional job approval hasn't been this low since 1994. President George W. Bush's job approval rating is at the low point of his administration and his rating is also lower than any president's since 1993. Fewer Americans now identify with the Republican Party. There is a strong tilt toward the Democratic Party when voters are asked for whom they will vote in the November elections. Democrats are decidedly more enthusiastic about voting this year than are Republicans.
Bush and the Republicans are being hit by a perfect storm of sorts: perceived failure on the foreign policy/international front and "in your face" economic woes exemplified by $3-per-gallon gas.
What can change? Republicans almost always have a turnout advantage in midterm elections, and they may become uniquely energized as Election Day approaches. Karl Rove is back on the case, presumably ready to pull every lever he can to stave off a Republican disaster. Redistricting has made it harder for House seats to change hands regardless of national shifts in mood. And Democrats may not be able to take advantage of the situation if they cannot create what appear in voters' minds to be viable policy alternatives.
Plus, there can be real-world changes. The stock market can continue to boom, legislation can solve healthcare problems, and Iraq can emerge as a viable democracy that stabilizes the whole Middle East region. Most importantly, since the run-up in gas prices is a big part of Americans' current dissatisfaction, a major drop at the pump would almost certainly cool negativity.
Still, we have to go back to 1994 to find a time when indicators looked this bad for the incumbent party. The real question is not whether the GOP will lose seats in the House and Senate, but how many.
Here is a Gallup review of several key indicators:
1. Presidential Job Approval
President Bush's job approval rating is at the low point of his administration -- 36%.
If Bush's job approval rating remains in the 30% range this fall, it would be the lowest presidential job rating in any midterm election since Harry S. Truman in 1950. Richard Nixon had lower ratings in the summer of 1974, but he resigned in August of that year.
Generally speaking, lower presidential job approval ratings are associated with higher seat losses for the party of the president.
Gallup Analysis: Presidential Job Approval
and Midterm Seat Gain/Loss

Year

Party
controlling House

Party
of the president

Presidential
approval

Seat
gain/loss, president's party

%

2002

Rep.

Rep.

63

+6

1998

Rep.

Dem.

66

+5

1994

Dem.

Dem.

46

-53

1990

Dem.

Rep.

58

-8

1986

Dem.

Rep.

63

-5

1982

Dem.

Rep.

42

-28

1978

Dem.

Dem.

49

-11

1974

Dem.

Rep.

54 (Ford took office in August 1974; Nixon's final rating in
August 1974 was 24%)

-43
2. Congressional Job Approval
Congressional job approval is at 23%. This is a 12-year low. The last time congressional job approval was this low was just before the 1994 midterm elections, which resulted in a major turnover in control of Congress.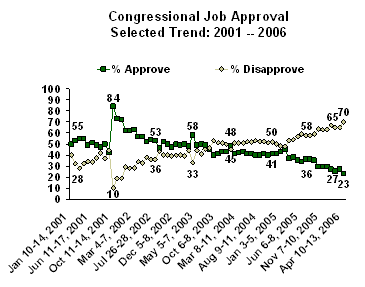 Republicans control both houses of Congress. But even rank-and-file Republicans across the country are down on Congress. Only 37% of Republicans approve of the job Congress is doing. This lack of support could dampen GOP turnout.
Low congressional approval ratings have been associated with greater shifts in the partisan composition of the U.S. House of Representatives in recent midterm elections.
When voters are dissatisfied with the way Congress is doing its job, they tend to vote for a change:
In the five midterm elections since 1974 in which Congress' approval rating was below 40%, the average net change in U.S. House seats from one party to the other was 29 seats.
In the three midterm elections in which congressional approval ratings were above 40%, the average change was just five seats.
Gallup Analysis: Congressional Approval Rating and
Partisan Shifts of U.S. House Seats
Recent Midterm Elections

Year

Congress
approval

Net seat change from
one party to the other

%

2002

50

6

1998

44

5

1994

23

53

1990

26

8

1986

42

5

1982

29

28

1978

29

11

1974

35

43
What's more, the direction of the net change is tied closely to the party controlling the White House. The party of the president tends to do badly. That, too, does not bode well for the Republicans this year.
3. Satisfaction With the Way Things Are Going in the U.S.
Americans' expressed satisfaction with the way things are going in the country, now at 27%, is the lowest it has been in more than a decade. Satisfaction has dropped a total of 17 percentage points from just before Bush's re-election in 2004.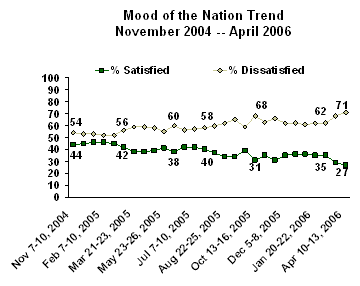 Satisfaction is usually an important predictor of midterm election outcomes. The current level of satisfaction is similar to what Gallup measured in 1992, when the elder George Bush was denied a second presidential term, and in 1994, when Republicans took control of Congress in Bill Clinton's first presidential term.
4. Party Identification
There has been a net drop in the percentage of Americans identifying as Republicans over the last year and a half, while Democratic identification has remained stable.
Gallup Analysis: Average Party Identification
GallupPolls, recent quarters

Democrat

Independent

Republican

%

%

%

2006-I

33

34

32

2005-IV

33

34

32

2005-III

34

34

31

2005-II

33

32

33

2005-I

33

31

35

2004-IV

34

29

36

2004-III

34

30

36
The net result: Republicans have gone from a two-point advantage over Democrats to a one-point deficit. These quarterly estimates involve thousands of interviews, making small changes statistically significant.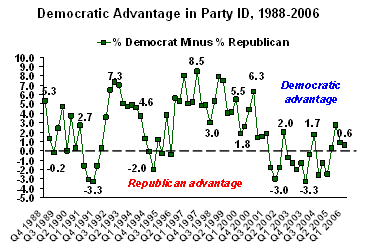 Democrats have a further advantage because more independents say they "lean" toward the Democratic Party than toward the Republican Party. This is significant. Independents who lean toward a political party tend to share similar attitudes and voting patterns with those who identify with the party.
Gallup Analysis: Average Party Identification (Including Leaners)
GallupPolls, recent quarters

Democrat +
Lean Democrat

Independent
(no leanings)

Republican +
Lean Republican

%

%

%

2006-I

49

9

42

2005-IV

49

9

42

2005-III

49

9

42

2005-II

47

10

43

2005-I

46

8

46
The precise effect of party identification on midterm election outcomes is not clear. But the fact that Republicans have gone from a net parity in the first quarter of 2005 to a seven-point deficit in terms of party identification (including leaners) cannot auger well for the GOP.
5. The Vote
The most direct way to measure the potential outcome of the midterm congressional elections is simply to ask Americans for which party they will vote in their congressional district. This has proven to be a highly accurate predictor of the congressional vote in past elections.
This "generic ballot" now shows that the Democratic Party leads the Republican Party 52% to 42% among registered voters.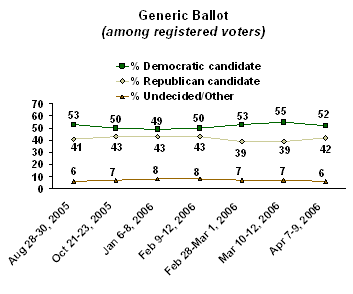 Republicans typically have a significant turnout advantage in midterm elections. This means a registered voter lead for Democrats is usually diminished when the dust settles and the final votes are counted.
But this year, the Democrats maintain their lead even among regular voters -- a group calibrated at just 50% of registered voters. This suggests the possibility of Democratic gains even factoring in a GOP turnout advantage.
Gallup Analysis: Generic Ballot Among Three Voter Groups

Democratic
candidate

Republican
candidate

Undecided/
Other

Regular voters *

2006 Apr 7-9

51%

44

5

Registered voters

2006 Apr 7-9

52%

42

6

National adults

2006 Apr 7-9

53%

40

7

*Regular voters are based on those who are registered to vote, who voted in the last midterm election, and who say they always vote.
The Democrats may have an unusual advantage based on voter motivation. An April Gallup Poll showed that 48% of Democrats say that compared with previous elections, they are more enthusiastic about voting this year than usual. Only 33% of Republicans are more enthusiastic than usual. A fired-up Democratic voter base and a depressed GOP voter base could significantly affect the election outcomes.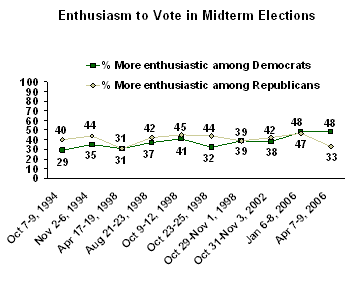 Final Word and Caveats
Republicans' usual ace in the hole is disproportionately high turnout, which can and has overcome a Democratic advantage in party loyalty in the general population.
As is well known, recent redrawing of U.S. House districts has resulted in an increasing proportion of "safe seats" for both parties. It's hard to dislodge incumbents, regardless of the national mood. But if the political environment does not improve for the Republicans between now and November, Republican members of Congress will find out if even their safe districts are safe enough to insulate them from a possibly strong Democratic tide.
There is the "course of events" caveat. There are about six months between now and the November elections, and events relating to Iraq, terrorism, and the economy can, in theory, substantially change the election landscape.
All of these caveats are reminders that a great deal can change over the course of an election year.
Current Gallup assessments of public opinion, however, are positive for Democrats. That the generic ballot tilts so Democratic, and that both congressional and presidential approval ratings are low is particularly ominous for the Republican Party. The current situation is similar to the political environment in 1978 and 1994, when Democrats controlled both the legislative and executive branches, and when both branches were unpopular. Those elections resulted in net gains for the Republican Party of 11 and 53 seats, respectively.
Survey Methods
Results are based on telephone interviews with at least 1,000 national adults, aged 18 and older, conducted in 2005 and 2006. For results based on the total sample of national adults, one can say with 95% confidence that the margin of sampling error is ±3 percentage points for each survey. In addition to sampling error, question wording and practical difficulties in conducting surveys can introduce error or bias into the findings of public opinion polls.