GALLUP NEWS SERVICE
PRINCETON, NJ -- Gallup's annual poll on Values and Beliefs delved into the subject of marriage this year. An earlier analysis showed the vast majority of Americans have been married or plan to get married some day, most believe it is very important for committed couples to get married, but many feel it is less important for unwed couples to marry specifically because of having a child. New data being released from that poll finds that the average American believes that 25 is the ideal age for a woman to get married, while the ideal age for men is 27. Americans' views of the best age for marriage have shifted greatly in the past 60 years, more so for women than for men.
Best Age for Marriage
The May 8-11, 2006, poll asked Americans for their opinion on the ideal ages for men and women to get married. For women, the average age given is 25 years, while it is 27 years for men.
| | | |
| --- | --- | --- |
| | For Women | For Men |
| | % | % |
| Age 21 or younger | 20 | 11 |
| Aged 22 to 25 | 42 | 33 |
| Aged 26 to 29 | 16 | 20 |
| Age 30 or older | 12 | 30 |
| | | |
| No opinion | 10 | 7 |
| | | |
| Mean | 24.9 | 27.4 |
| Median | 25 | 26 |
Overall, 20% of Americans favor a very young age for women to marry (by age 21), while 12% favor an older age of 30 years or more before tying the knot. Only 11% of Americans say men should be married by age 21, while nearly one in three believe men should celebrate their 30th birthday before their wedding.
Gallup asked a similar question in 1946. The results of that survey show opinions have shifted significantly over time. Americans are much more likely now than they were 60 years ago to believe it is appropriate for men and women to wait until a later age to get married. In 1946, the median ideal age for women to marry was 21, compared to the median age of 25 today. In 1946, half of Americans said women should be married by age 21, while only 4% said they should be over the age of 25.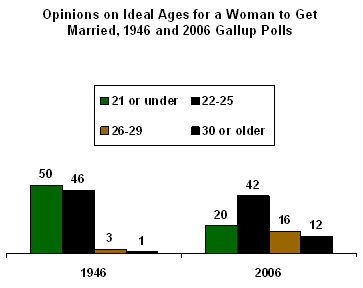 There has been less change in Americans' perceptions of the ideal age for a man to marry. The median reported ideal age for men to marry was 25 years in 1946, compared with the median of 26 years today (the current mean age of 27 is slightly higher than the median because some respondents reported very high ages for men).
In 1946, 70% of Americans believed men should be married by age 25, compared with 44% who say that today. There has been a near tripling in the percentage of Americans that believe the best age for men to marry is after their 30th birthday (from 11% in 1946 to 30%) today.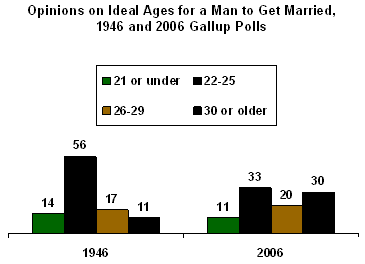 Despite the shifts since 1946, the belief that men should marry at a later age than women has been consistent over time.
Opinions of the best ages of marriage do not vary substantially according to respondent gender, age, or religiosity.
There is a notable difference in the perception of the ideal age for a woman to get married by educational attainment. Those with a high school education or less are four times more likely than those with at least some college education to say that a woman should be married by age 21.
The two educational groups do not differ much in their views of the age at which a man should marry.
The data suggest that self-identified liberals favor later ages for both men and women to marry than moderates or conservatives. There are only minor differences by party affiliation.
Survey Methods
These results are based on telephone interviews with randomly selected national samples of approximately 500 adults, aged 18 years and older, conducted May 8-11, 2006. For results based on these samples, one can say with 95% confidence that the maximum error attributable to sampling and other random effects is ±5 percentage points. In addition to sampling error, question wording and practical difficulties in conducting surveys can introduce error or bias into the findings of public opinion polls.