GALLUP NEWS SERVICE
PRINCETON, NJ -- A weekend USA Today/Gallup poll finds no sign that the violence between Israel and Hezbollah in the Middle East, nor the Bush administration's reaction to the conflict, is affecting U.S. public opinion of President George W. Bush. According to the July 28-30 survey, 40% of Americans now approve of the job Bush is doing as president, while 56% disapprove. This is statistically unchanged from the previous four readings in June and July, when Bush approval ranged from 37% to 40%.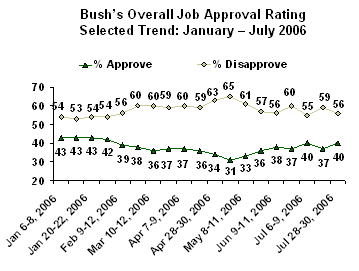 Bush's average job approval score for the second quarter of 2006 (from April 20 to July 19) was 36%, slightly lower than his current rating, primarily because of poor ratings in May when he reached his all-time low approval of 31%. That quarter ranks as the worst of Bush's presidency, and among the worst for all presidents in the past six decades. Only Harry Truman, Jimmy Carter, Richard Nixon, and George H. W. Bush, in the worst periods of their presidencies, scored lower quarterly averages.
Bush's current rating is similar to the 39% average recorded in the first quarter of the year, although still slightly below the 43% high mark of the year recorded in a January poll.
No Change in Demographic Patterns
Not only is Bush's overall job approval rating holding steady, but the current pattern of support for the president within demographic and geographic subgroups of the population is quite consistent with his subgroup ratings for all of 2006.
Bush tends to be more highly rated by men than by women -- a reflection of the fact that more women than men tend to be Democratic in their political affiliation. (Bush is rated equally well by men and women within the Republican ranks.)
The same pattern is seen on a much greater basis with race, as whites are more positive about Bush than the much more Democratic-oriented population of non-whites.
Young adults are consistently less supportive of Bush than are older Americans -- a reflection of the fact that young adults are less likely than older adults to be Republican, and more likely to call themselves independents.
Bush is rated best in the South, where 49% currently approve of the job he doing. Bush's approval rating is slightly lower in the West and Midwest regions, and is worst in the East.
So far in 2006, approximately 8 in 10 Republicans approve of the job Bush is doing on average, compared with only about 1 in 10 Democrats. Bush has averaged 29% approval among independents this year, but is rated slightly higher among this group in the current poll (35%).
Bush Approval by Demographic Subgroup

July 28-30, 2006

2006 Average

%

%

Total

40

38

Men

46

42

Women

34

34

18- to 29-year-olds

33

32

30- to 49-year-olds

40

40

50 years old or older

42

38

East

31

31

Midwest

40

37

South

49

44

West

35

37

Republican

82

79

Independent

35

29

Democrat

9

10

Conservative

66

61

Moderate

34

31

Liberal

9

10
Survey Methods
These results are based on telephone interviews with a randomly selected national sample of 1,007 adults, aged 18 and older, conducted July 28-30, 2006. For results based on this sample, one can say with 95% confidence that the maximum error attributable to sampling and other random effects is ±3 percentage points. In addition to sampling error, question wording and practical difficulties in conducting surveys can introduce error or bias into the findings of public opinion polls.
Do you approve or disapprove of the way George W. Bush is handling his job as president?

Approve

Dis-approve

No
opinion


Approve

Dis-approve

No
opinion

2006

%

%

%

2005

%

%

%

2006 Jul 28-30

40

56

4

2005 Sep 8-11

46

51

3

2005 Aug 28-30

45

52

3

2006 Jul 21-23

37

59

4

2005 Aug 22-25

40

56

4

2006 Jul 6-9

40

55

5

2005 Aug 8-11

45

51

4

2006 Jun 23-25

37

60

3

2005 Aug 5-7

45

51

4

2006 Jun 9-11

38

56

6

2005 Jul 25-28

44

51

5

2006 Jun 1-4

36

57

6

2005 Jul 22-24

49

48

3

2006 May 8-11

33

61

6

2005 Jul 7-10

49

48

3

2006 May 5-7

31

65

5

2005 Jun 29-30

46

51

3

2006 Apr 28-30

34

63

3

2005 Jun 24-26

45

53

2

2006 Apr 10-13

36

59

5

2005 Jun 16-19

47

51

2

2006 Apr 7-9

37

60

3

2005 Jun 6-8

47

49

4

2006 Mar 13-16

37

59

5

2005 May 23-26

48

47

5

2006 Mar 10-12

36

60

4

2005 May 20-22

46

50

4

2006 Feb 28-Mar 1

38

60

2

2005 May 2-5

50

45

5

2006 Feb 9-12

39

56

4

2005 Apr 29-May 1

48

49

3

2006 Feb 6-9

42

55

4

2005 Apr 18-21

48

49

3

2006 Jan 20-22

43

54

4

2005 Apr 4-7

50

45

5

2006 Jan 9-12

43

53

4

2005 Apr 1-2

48

48

4

2006 Jan 6-8

43

54

3

2005 Mar 21-23

45

49

6

2005

2005 Mar 18-20

52

44

4

2005 Dec 19-22

43

53

4

2005 Mar 7-10

52

44

4

2005 Dec 16-18

41

56

3

2005 Feb 25-27

52

45

3

2005 Dec 9-11

42

55

3

2005 Feb 21-24

51

45

4

2005 Dec 5-8

43

52

5

2005 Feb 7-10

49

48

3

2005 Nov 17-20

38

57

5

2005 Feb 4-6

57

40

3

2005 Nov 11-13

37

60

3

2005 Jan 14-16

51

46

3

2005 Nov 7-10

40

55

5

2005 Jan 7-9

52

44

4

2005 Oct 28-30

41

56

3

2005 Jan 3-5

52

44

4

2005 Oct 24-26

41

56

3

2004

2005 Oct 21-23

42

55

3

2004 Dec 17-19

49

46

5

2005 Oct 13-16

39

58

3

2004 Dec 5-8

53

44

3

2005 Sep 26-28

45

50

5

2004 Nov 19-21

55

42

3

2005 Sep 16-18

40

58

2

2004 Nov 7-10

53

44

3

2005 Sep 12-15

45

52

3

Approve

Dis-approve

No
opinion


Approve

Dis-approve

No
opinion

2004

%

%

%

2003

%

%

%

2004 Oct 29-31

48

47

5

2003 Aug 4-6

60

36

4

2004 Oct 22-24

51

46

3

2003 Jul 25-27

58

38

4

2004 Oct 14-16

51

47

2

2003 Jul 18-20

59

38

3

2004 Oct 11-14

48

49

3

2003 Jul 7-9

62

34

4

2004 Oct 9-10

47

49

4

2003 Jun 27-29

61

36

3

2004 Oct 1-3

50

48

2

2003 Jun 12-15

63

33

4

2004 Sep 24-26

54

44

2

2003 Jun 9-10

62

34

4

2004 Sep 13-15

52

45

3

2003 May 30-Jun 1

64

32

4

2004 Sep 3-5

52

46

2

2003 May 19-21

66

30

4

2004 Aug 23-25

49

47

4

2003 May 5-7

69

28

3

2004 Aug 9-11

51

46

3

2003 Apr 22-23

70

26

4

2004 Jul 30-Aug 1

48

49

3

2003 Apr 14-16

71

24

5

2004 Jul 19-21

49

47

4

2003 Apr 7-9

69

26

5

2004 Jul 8-11

47

49

4

2003 Apr 5-6

70

27

3

2004 Jun 21-23

48

49

3

2003 Mar 29-30

71

26

3

2004 Jun 3-6

49

49

2

2003 Mar 24-25

69

27

4

2004 May 21-23

47

49

4

2003 Mar 22-23

71

25

4

2004 May 7-9

46

51

3

2003 Mar 14-15

58

38

4

2004 May 2-4

49

48

3

2003 Mar 3-5

57

37

6

2004 Apr 16-18

52

45

3

2003 Feb 24-26

57

37

6

2004 Apr 5-8

52

45

3

2003 Feb 17-19

58

37

5

2004 Mar 26-28

53

44

3

2003 Feb 7-9

61

34

5

2004 Mar 8-11

50

47

3

2003 Feb 3-6

59

35

6

2004 Mar 5-7

49

48

3

2003 Jan 31-Feb 2

61

35

4

2004 Feb 16-17

51

46

3

2003 Jan 23-25

60

36

4

2004 Feb 9-12

51

46

3

2003 Jan 20-22

58

36

6

2004 Feb 6-8

52

44

4

2003 Jan 13-16

61

34

5

2004 Jan 29-Feb 1

49

48

3

2003 Jan 10-12

58

37

5

2004 Jan 12-15

53

44

3

2003 Jan 3-5

63

32

5

2004 Jan 9-11

59

38

3

2002

2004 Jan 2-5

60

35

5

2002 Dec 19-22

61

32

7

2003

2002 Dec 16-17

63

33

4

2003 Dec 15-16

63

34

3

2002 Dec 9-10

63

32

5

2003 Dec 11-14

56

41

3

2002 Dec 5-8

64

29

7

2003 Dec 5-7

55

43

2

2002 Nov 22-24

65

28

7

2003 Nov 14-16

50

47

3

2002 Nov 11-14

66

26

8

2003 Nov 10-12

51

45

4

2002 Nov 8-10

68

27

5

2003 Nov 3-5

54

43

3

2002 Oct 31-Nov 3

63

29

8

2003 Oct 24-26

53

42

5

2002 Oct 21-22

67

28

5

2003 Oct 10-12

56

40

4

2002 Oct 14-17

62

31

7

2003 Oct 6-8

55

42

3

2002 Oct 3-6

67

28

5

2003 Sep 19-21

50

47

3

2002 Sep 23-26

68

26

6

2003 Sep 8-10

52

43

5

2002 Sep 20-22

66

30

4

2003 Aug 25-26

59

37

4

2002 Sep 13-16

70

26

4

Approve

Dis-approve

No
opinion


Approve

Dis-approve

No
opinion

2002

%

%

%

2001

%

%

%

2002 Sep 5-8

66

30

4

2001 Dec 14-16

86

11

3

2002 Sep 2-4

66

29

5

2001 Dec 6-9

86

10

4

2002 Aug 19-21

65

28

7

2001 Nov 26-27

87

8

5

2002 Aug 5-8

68

26

6

2001 Nov 8-11

87

9

4

2002 Jul 29-31

71

23

6

2001 Nov 2-4

87

9

4

2002 Jul 26-28

69

26

5

2001 Oct 19-21

88

9

3

2002 Jul 22-24

69

24

7

2001 Oct 11-14

89

8

3

2002 Jul 9-11

73

21

6

2001 Oct 5-6

87

10

3

2002 Jul 5-8

76

18

6

2001 Sep 21-22

90

6

4

2002 Jun 28-30

76

19

5

2001 Sep 14-15

86

10

4

2002 Jun 21-23

73

21

6

2001 Sep 7-10

51

39

10

2002 Jun 17-19

74

20

6

2001 Aug 24-26

55

36

9

2002 Jun 3-6

70

23

7

2001 Aug 16-19

57

34

9

2002 May 28-29

77

17

6

2001 Aug 10-12

57

35

8

2002 May 20-22

76

17

7

2001 Aug 3-5

55

35

10

2002 May 6-9

76

19

5

2001 Jul 19-22

56

33

11

2002 Apr 29-May 1

77

20

3

2001 Jul 10-11

57

35

8

2002 Jun 7-8

74

18

8

2001 Jun 28-Jul 1

52

34

14

2002 Apr 22-24

77

17

6

2001 Jun 11-17

55

33

12

2002 Apr 8-11

75

20

5

2001 Jun 8-10

55

35

10

2002 Apr 5-7

76

19

5

2001 May 18-20

56

36

8

2002 Mar 22-24

79

17

4

2001 May 10-14

56

31

13

2002 Mar 18-20

79

16

5

2001 May 7-9

53

33

14

2002 Mar 8-9

80

14

6

2001 Apr 20-22

62

29

9

2002 Mar 4-7

77

18

5

2001 Apr 6-8

59

30

11

2002 Mar 1-3

81

14

5

2001 Mar 26-28

53

29

18

2002 Feb 8-10

82

14

4

2001 Mar 9-11

58

29

13

2002 Feb 4-6

82

14

4

2001 Mar 5-7

63

22

15

2002 Jan 25-27

84

13

3

2001 Feb 19-21

62

21

17

2002 Jan 11-14

83

13

4

2001 Feb 9-11

57

25

18

2002 Jan 7-9

84

12

4

2001 Feb 1-4

57

25

18