GALLUP NEWS SERVICE
PRINCETON, NJ -- President Bush will address the nation Wednesday night, and according to most reports, he will announce plans for a "surge" or escalation in the number of American troops in Iraq.
The exact way in which the American public reacts to the president's speech is unknown at this point. It will depend on the specific content of Bush's speech, the persuasiveness of his case, and the way in which the media coverage of the speech plays out in the hours and days that follow it.
Going into the speech, however, it is known that the American public in general opposes the concept of an increase in troops in Iraq. A number of polls have shown that when given a choice between a set of alternative ways of handling the troop situation in Iraq, only about 10% of Americans opt for the alternative of increasing troops. The rest opt for withdrawal of troops either immediately, within a 12-month timeframe, or by taking as much time as needed.
At the same time, it would not be unusual to find that support for the president's probable call for more troops in Iraq -- once the proposed policy shift is made public -- will be higher than this baseline minimum. This assumption is based on the fact that the action will no longer be hypothetical, but will have the institutional weight of the presidency behind it after the Wednesday night speech. A surge will, in essence, have become the stated policy of the country. It is particularly likely that Republicans will increase their support for the policy after the president's announcement.
A new USA Today/Gallup poll conducted Jan. 5-7, 2007, provides support for this possibility. The poll finds that only 12% opt for a troop increase using the traditional four-alternatives question, little changed from past polling. But the poll included a separate question that summarized a possible "surge" announcement, and found that 36% support the idea of such an increase, while 61% oppose it.
The Anticipated Surge
The exact specifics of what the president will announce in his speech have been leaked to reporters over the last several weeks, a typical process that allows the administration to get an early read on reactions to the speech and to fine tune the speech before it becomes official.
Still, what Bush actually ends up proposing in his Wednesday night speech, and the way in which he says it, will not be known for sure until the speech itself is delivered.
Thus, the weekend USA Today/Gallup poll included an approximation of what news accounts indicate is the most likely scenario, phrased as follows: "As you may know, the Bush administration is considering a temporary but significant increase in the number of U.S. troops in Iraq to help stabilize the situation there. Would you favor or oppose this?"
This wording includes several salient features: 1) it emphasizes that this will be an administration policy, 2) it points out that the surge would be "temporary," and 3) it indicates that the surge would have a specific purpose ("to help stabilize …").
The results are as follows: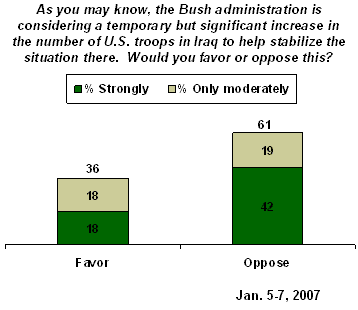 This pattern of response can be compared to an update on the more general question about what to do next in Iraq that Gallup has been asking for several years, a question that provides four alternatives.
Here are four different plans the U.S. could follow in dealing with the war in Iraq. Which ONE do you prefer -- [ROTATED: withdraw all troops from Iraq immediately, withdraw all troops by January 2008 -- that is, in 12 months' time, withdraw troops, but take as many years to do this as are needed to turn control over to the Iraqis, (or) send more troops to Iraq]?
| | | | | | |
| --- | --- | --- | --- | --- | --- |
|   | Withdraw immediately | Withdraw in 12 months' time | Withdraw, take as many years as needed | Send more troops | No opinion |
|   | % | % | % | % | % |
| 2007 Jan 5-7 | 15 | 39 | 31 | 12 | 2 |
|   |   |   |   |   |   |
| 2006 Oct 20-22 | 20 | 34 | 35 | 9 | 2 |
| 2006 Sep 15-17 | 17 | 31 | 42 | 9 | 2 |
| 2006 Jul 28-30 | 19 | 36 | 35 | 6 | 3 |
| 2006 Jul 21-23 | 19 | 33 | 38 | 7 | 2 |
| 2006 Jun 23-25 | 17 | 33 | 41 | 8 | 1 |
| 2006 Jun 9-11 | 17 | 32 | 42 | 6 | 3 |
| 2006 Mar 10-12 | 19 | 35 | 39 | 4 | 3 |
| 2005 Nov 11-13 | 19 | 33 | 38 | 7 | 3 |
Given these four alternatives, only 12% of Americans opt for the "send more troops" alternative. This is up very slightly from previous surveys in which this question was included.
Thus, it appears that support for a troop surge in Iraq, at this point, ranges from between 12% and 36% -- depending on the circumstances in which the question is asked and the way in which it is phrased.
It is possible, of course, that support may rise even higher than 36% after the president's speech, if -- for example -- he does a particularly effective job of laying out the rationale for a surge and if the media coverage the next morning is particularly positive.
Still, the weekend data suggest that it will be a difficult challenge for the president to move the support numbers for a surge above the majority point, making it likely that his proposed course of action will be opposed by a majority of his constituents (that is, the American public).
Support From the Base
It should be noted that the current poll measures Bush's overall job approval rating at 37%. This suggests that the core support for the pending announcement of a surge essentially mirrors the size of the president's core base.
In fact, analysis shows that the 36% support for the surge option is based primarily on strong support from loyal Republicans, two-thirds of whom support it. About a third of independents support it, compared to only 12% of Democrats: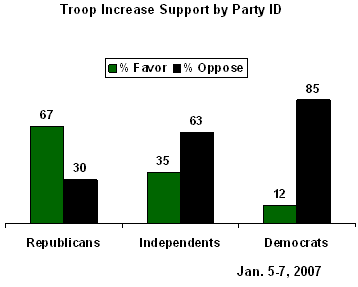 The weekend poll included one additional question pertinent to the president's pending recommendations on Iraq.
Which comes closest to your view -- [ROTATED: the U.S. can only achieve its goals in Iraq if it increases the numbers of troops it has there, the U.S. can achieve its goals in Iraq without sending more troops there, or the U.S. cannot achieve its goals in Iraq regardless of how many troops it has there]?
| | | | | |
| --- | --- | --- | --- | --- |
|   | Can only achieve by increasing number of troops | Can achieve without sending more troops | Cannot achieve goals regardless of troop numbers | No opinion |
|   |   |   |   |   |
| 2007 Jan 5-7 | 23% | 25 | 47 | 5 |
Here we see that only about one-quarter of Americans agree with what is likely to be a core component of the president's speech on Wednesday, the argument that the United States can only achieve its goals in Iraq by increasing the number of troops there. About half say that U.S. goals can never be achieved regardless of the number of troops the United States has in Iraq, while another quarter say that U.S. goals can be achieved without sending more troops.
Bottom Line
If, as expected, Bush announces a surge in U.S. troops in Iraq in his speech this Wednesday night, he will be doing so despite the fact that a majority of Americans oppose such an action. Support for a surge in troops appears likely to be in the one-third range, consisting primarily of the president's political base.
Survey Methods
These results are based on telephone interviews with a randomly selected national sample of 1,004 adults, aged 18 and older, conducted Jan. 5-7, 2007. For results based on this sample, one can say with 95% confidence that the maximum error attributable to sampling and other random effects is ±3 percentage points. In addition to sampling error, question wording and practical difficulties in conducting surveys can introduce error or bias into the findings of public opinion polls.