GALLUP NEWS SERVICE
PRINCETON, NJ -- In scooping up almost half the votes in Turkey's general elections last month, the ruling AK party has re-established its mandate to implement political and economic reforms. At the top of the government's agenda is the drafting of a new constitution that will better reflect Turkey's democratic realities than the present constitution. On the international front, a renewed focus on U.S.-Turkish relations and a push for EU integration are likely.
According to a Gallup World Poll conducted in May 2007, few Turks view the United States positively. When asked to express their favorability, just 5% of Turks say they have either a very favorable or somewhat favorable opinion of the United States; two-thirds perceive the United States negatively. Turkish men are particularly likely to express negative views of the United States -- 72% do so, vs. 62% of Turkish women. None of the other countries tested in this poll of Turks comes close to the United States in the percentage of unfavorable ratings, including France (45% very or somewhat unfavorable), Great Britain (36%), Germany (21%), and Saudi Arabia (18%).
When asked about their opinions of people from the United States, Turks are somewhat less likely to respond negatively than when asked more generally about the United States, suggesting that at least some differentiate between the U.S. public and the U.S. government. However, even here just 7% of Turks express a positive opinion, while a small majority (54%) hold a negative view. Again in this case, men are more likely than women to respond negatively (59% vs. 49%, respectively). Regarding people of other nationalities, 34% of Turks voice negative opinions of the French, 31% of the British, 17% of Germans, and 16% of Saudis.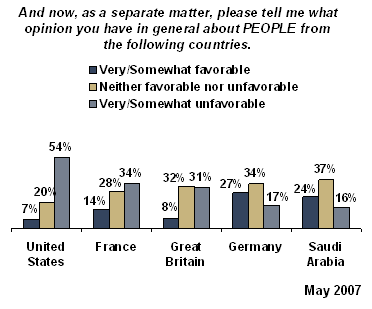 Observers point out that a lack of concrete U.S. support to quell the Kurdistan Workers Party's (PKK) violent actions in the country has put a damper on U.S.-Turkish relations. In a July 31 speech at the Brookings Institution, Soli Ozel, professor of international relations at Bilgi University in Istanbul, said the United States needs to take tangible actions against the PKK to "dissipate the ill feelings about the United States inside the country."
However, it should also be noted that the United States is not the only Western entity that Turks tend to view with suspicion. The World Poll also asked respondents how much they trust the European Union. Only 4% of Turks say they trust the EU "a lot," while 21% say they place "some" trust in the institution. Twenty-three percent say they trust the EU "only a little" and a full 40% say "not at all." Turks' awareness of the reticence of some EU countries with respect to Turkey's integration into the EU may help explain this low level of reported trust.
Survey Methods
Results are based on face-to-face interviews with 1,001 adults in Turkey, aged 15 and older, in May 2007. For results based on the total sample of national adults, one can say with 95% confidence that the maximum margin of sampling error is ±3 percentage points. In addition to sampling error, question wording and practical difficulties in conducting surveys can introduce error or bias into the findings of public opinion polls.