GALLUP NEWS SERVICE
Princeton, NJ -- An Australian federal judge will decide next week whether or not to review a decision by the Australian government to revoke the work visa of Mohamed Haneef, a 27-year-old physician from India. Haneef was arrested in early July 2007 on suspicion of terror-related activities in connection with the June 30, 2007, attack at the Glasgow International Airport, when a car filled with propane canisters was driven through the doors of the main terminal and set on fire. Haneef is the second cousin of two of the suspects, Kafeel and Sabeel Ahmed, but the Australian government could not provide any evidence that Haneef was involved. His detention without charges -- the longest in the country's history -- has generated consternation in a country that, according to recent Gallup World Poll results, has great tolerance for immigrants and members of religious and ethnic minorities.
A February 2007 Gallup World Poll survey finds that 88% of Australians say the city or area where they live is a good place for immigrants from other countries, tied with New Zealand for the highest percentage recorded thus far in the 102 countries Gallup has surveyed using this measure (though Canada is statistically similar, at 86%). Moreover, 89% of Australians say their communities are good places for racial and ethnic minorities to live, and 78% say their communities are good places for religious minorities. And more than two-thirds (68%) of Australians say their communities are good places for gay or lesbian people, also among the highest percentages recorded worldwide.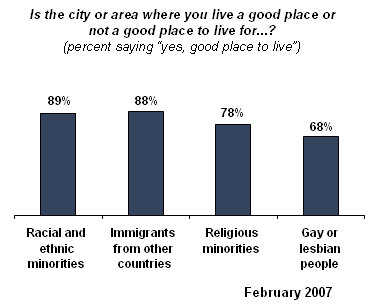 Australia's law enforcement authorities released Haneef on July 27, nearly a month after detaining him (including 12 days of detention without charges). He voluntarily left Australia two days later. The Australian courts expressed doubt about the government's decision to cancel Haneef's visa, with one judge calling it "suspicious." The Australian Greens Party is moving on a motion in the country's parliament for an investigation into Haneef's detention and visa reinstatement request.
Whatever the outcome, many Australians are bound to remain skeptical. Overall, only a slight majority -- 54% -- say they have confidence in the country's national government, and about half (48%) say they have confidence in its judicial system.
Survey Methods
Results are based on face-to-face interviews with a nationally representative sample of 1,221 adults, aged 15 and older, in Australia conducted in February 2007. For results based on the total sample of national adults, one can say with 95% confidence that the maximum margin of sampling error is ±3 percentage points. In addition to sampling error, question wording and practical difficulties in conducting surveys can introduce error or bias into the findings of public opinion polls.