Story Highlights
50% now say their taxes are too high, only slightly above recent average
Still, 55% consider what they pay to be fair, while 43% disagree
Majorities of all income groups expect their taxes to rise in coming year
WASHINGTON, D.C. -- Heading into this year's delayed tax filing day, half of Americans think their taxes are too high, while 44% consider them about right and 4% too low. The 50% calling them too high is up slightly from an average 45% over the prior three years, while similar to most of Gallup's yearly measurements since 2003.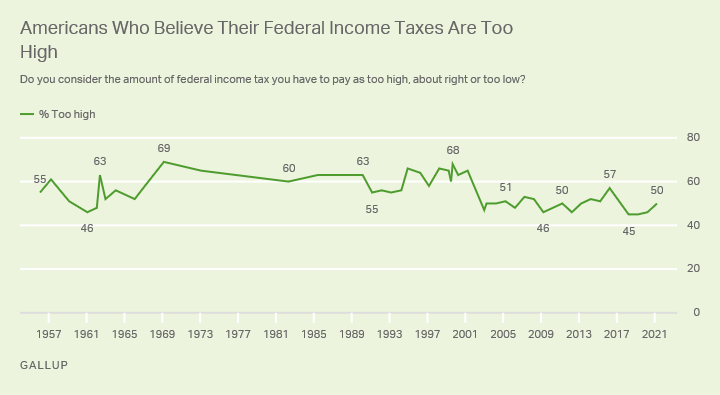 Line graph. Trend from 1956 to 2021 in percentages of Americans describing the amount they have to pay in federal income tax as too high. The percentage has ranged from a high of 69% in 1969 to a low of 45% in 2018 and 2019, and is currently 50%.
Americans' concern that their taxes are too high was much more prevalent before the implementation of President George W. Bush's first round of tax cuts in 2001. From 1982 to 1999, between 55% and 68% of U.S. adults described their taxes as too high.
The latest results are based on a Gallup poll conducted April 1-21. This was before President Joe Biden's address to Congress on April 28, in which he called for raising taxes on corporations and the wealthiest 1% of Americans, while pledging not to raise taxes on people making less than $400,000.
Majority of All Income Groups Call Their Own Taxes "Fair"
Separately, Gallup asks Americans whether they regard the taxes they have to pay as fair. Currently, 55% say they are fair, while 43% disagree.
The percentage describing their taxes as not fair has consistently been lower than the percentage saying they pay too much in taxes, meaning some taxpayers' criticism of their taxes is more nuanced than others'. That pattern exists this year as well, with 50% saying their taxes are too high, but a smaller 43% viewing them as unfair.
The 55% who now deem their taxes as fair is down slightly from the 57% to 61% range recorded over the four years of Donald Trump's presidency, from 2017 to 2020.
Americans' view of the fairness of their taxes has tended to vary by the party of the sitting president, averaging at least several points higher when Republicans are in office (including 60% during George W. Bush's presidency and 60% under Trump) than when Democrats are in office (including 48% in 1997 and 1999 under Bill Clinton and 56% under Barack Obama). Bush and Trump both cut taxes while in office. However, Americans' satisfaction with their taxes increased under both presidents even before those actions were taken.
Obama did not raise income taxes on Americans until his second term, when some temporary income tax cuts passed under Bush were not extended for upper-income Americans, and new taxes passed as part of the Affordable Care Act went into effect.
Line graph. Trend from 1997 to 2021 in the percentage of Americans who regard the federal income tax they pay as fair. The percentage has ranged from a high of 64% in 2003 to a low of 45% in 1999, and is currently 55%.
​ ​In addition to the slight difference in this sentiment over time based on the party of the president, there is a distinct partisan flavor to public attitudes about their taxes today, with 65% of Democrats (including independents who lean Democratic) calling them fair, versus 46% of Republicans and Republican leaners. By contrast, a year ago, with Trump in office, Republicans (58%) were nearly as likely as Democrats (61%) to say their taxes were fair.
At the same time, there is little difference in perceptions of fairness by household income, with just over half of all major income groups calling what they pay in taxes fair, a pattern seen through most of Gallup's trend since at least the early 2000s.
Recent trend by party and household income
Apr 2020
Apr 2021

%

%

U.S. adults
59
55
Party ID
Democrats/Democratic leaners
61
65
Republicans/Republican leaners
58
46
Household income
$100,000 or more
55
57
$40,000 to $99,999
59
56
Less than $40,000
61
54
Gallup
Just as there are partisan differences in perceived fairness of taxes, Republicans and Democrats differ on whether their taxes are too high, with Republicans and leaners consistently since 2008 being more likely than Democrats and leaners to say they are.
Since 2009, Democrats' opinions have been fairly flat, while the movement seen in U.S. adults' attitudes during this period has largely been confined to Republicans.
Line graph. Trend from 2001 to 2021 in percentages of Republicans/Republican leaners and Democrats/Democratic leaners who consider the amount they pay in federal income tax too high. Among Republicans, the percentage has ranged from a high of 72% in 2016 to a low of 46% in 2019, and is currently 60%. Among Democrats, the trend has ranged from a high of 60% in 2001 to a low of 37% in 2010 and 2014, and is currently 39%. The partisan gap on this has been wider in the years since 2007 than it was from 2001 through 2007.
When it comes to tax fairness, Democrats' opinions have moved more in the past decade than they have on whether their taxes are too high. Still, Republicans' views have been much more variable, with significant shifts tied to changes in presidential administrations, including this year, before Biden has implemented any tax changes.
Line graph. Trend from 2001 to 2021 in views among Republicans/Republican leaners and Democrats/Democratic leaners on whether the income taxes they pay are fair. The percentage of Republicans viewing their taxes as fair has ranged from a high of 67% in 2004 to a low of 38% in 2016 and is currently 47%. The percentage of Democrats viewing their taxes has fair has ranged from 70% in 2010 to 57% in 2019 and is currently 65%.
Nearly Six in 10 Predict Their Taxes Will Rise
When asked what will happen to their taxes in the next 12 months, 57% of Americans predict they will become higher than they are now. Most of the rest, 33%, think they won't change, while 8% expect them to be lower.
The majority of all income groups expect their taxes to rise, including 54% of those in the $100,000-plus category, 63% of those earning between $40,000 and $99,000, and 54% of those earning less than $40,000. Most of the rest think they will stay the same, although a larger proportion of the lowest-income group (12%) than the upper- (5%) and middle-income (7%) categories expects them to go down.
Bottom Line
As a new Democratic presidential administration takes the reins in Washington, D.C., Republicans' discomfort with the amount and fairness of their taxes is predictably rising, even before Biden's proposed policies take effect, while Democrats' views are steadier, as they typically have been, regardless of partisan leadership.
Although not updated this year, Gallup has periodically asked Americans whether each of several types of taxpayers is paying too much, their fair share or too little. In line with Biden's goal of increasing taxes on wealthier Americans and raising the corporate tax rate, Gallup's latest measure, from 2019, found majorities of Americans believing both of those groups are paying too little. At the same time, the public was divided over whether middle-income people pay their fair share (48%) or too much (43%); only 7% said they paid too little. The plurality thought lower-income people pay too much (48%), while 33% said they pay their fair share and 17%, too little.
The 2019 poll found partisan differences in these ratings, but with solid majorities of Democrats and independents believing the wealthy and corporations pay too little, and close to half of Republicans agreeing with the latter.
View complete question responses and trends (PDF download).
Learn more about how the Gallup Poll Social Series works.