GALLUP NEWS SERVICE
PRINCETON, NJ –
Have all of the events of recent weeks and the extraordinary media coverage of the Middle East brought about any change in Americans' support for either side in the conflict?
Americans continue to be more likely to express sympathies for the Israelis than the Palestinians. The latest poll shows that exactly half of Americans express sympathies with the Israelis, while just 15% have more sympathy toward the Palestinians.
Middle East Sympathies Trend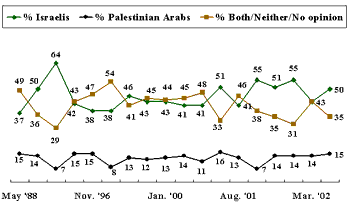 While the percentage of Americans who favor the Israelis has varied considerably in recent years, from a low of 38% to a high of 55%, the percentage favoring the Palestinians has varied within a fairly narrow range: from 7% to 16%. During the Gulf War, in February 1991, the ratio in favor of the Israelis was the highest recorded by Gallup, 64% to 7%. The second highest ratio was recorded just days after the Sept. 11 terrorist attacks, when Americans favored the Israelis over the "Palestinian Arabs" by 55% to 7%.
But, from a broad, long-range perspective, there has been little substantive change in the basic pattern of Israel receiving more positive sentiment on this measure than the Palestinians.
There are other indications underscoring the basic finding that Americans lean toward the Israelis in the conflict with the Palestinians, although not always by a wide margin.
By 49% to 41%, Americans say Israeli actions against the Palestinians are justified.
Only 22% of Americans say Palestinian actions against the Israelis are justified, while 66% say they are not justified.
Are Israeli/Palestinian Actions Justified?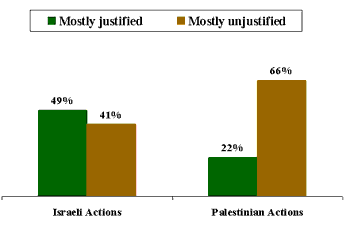 April 5-7, 2002
Similarly, Americans are more likely to say that Israeli actions in the past several days have been legitimate acts of war, while Palestinian actions have been acts of terrorism.
By 70% to 24%, Americans say that the recent violence committed by the Palestinians against the Israelis can be described as acts of terrorism rather than legitimate acts of war.
In contrast, by 53% to 39%, Americans say that Israeli violence against the Palestinians can be described as legitimate acts of war, rather than acts of terrorism.
Are Israeli/Palestinian Actions Terrorism or War?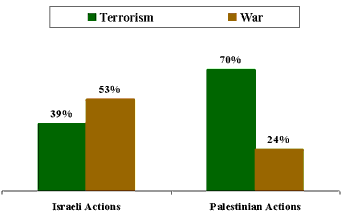 April 5-7, 2002
What are the fault lines in American public opinion on the Middle East? Who is most supportive of Israel and who is most supportive of the Palestinian position?
Gallup polling finds more sympathy for Israel than for the Palestinians among all major subgroups of Americans, including among men, women, whites, non-whites, liberals and conservatives.
Variation is seen in the degree of support for Israel among different segments of society, however, with the sharpest differences existing along political lines. As the following table shows, Republicans tend to be more supportive of Israel than either political independents or Democrats.
There is a two-to-one margin of support for Israel over the Palestinians among Democrats, compared to a nearly three-to-one margin among independents and an eight-to-one margin among Republicans.
April 5-7, 2002

Republicans

Independents

Democrats

Middle East Sympathies:

%

%

%

Israel

67

43

45

Palestinians

8

16

21
It also appears that Republican and independent attitudes have grown more pro-Israel over the past month while Democrats' sympathies have been more stable.
Margin of Support for Israel -- March vs. April

(Data shown is % favoring Israel minus % favoring the Palestinians)

Republicans

Independents

Democrats

%

%

%

April 5-7

59

27

24

March 8-9

41

16

27
Consistent with differences by party identification, respondents in the South and political conservatives are most supportive of Israel, while those in the East and West as well as liberals are less so.
Gallup also finds attitudes about the Israeli-Palestinian conflict to be related to racial background. Whites are more sympathetic to Israel than are non-Whites (including blacks, Asians, Native Americans and other racial minorities), as well as compared to Blacks specifically. An aggregate of Gallup surveys taken in March and April illustrates these racial gaps in attitudes toward the two sides:
March-April 2002

Whites

All Non-Whites

Blacks

%

%

%

Israel

50

37

31

Palestinians

12

23

23

Both/Neither/No opinion

38

40

45
Women show slightly less support for Israel than do men, but this is primarily due to the fact that men are more likely to express no preference, rather than because they are more sympathetic to the Palestinians.
April 5-7, 2002

Men

Women

%

%

Israel

54

47

Palestinians

15

16

Both/Neither/No opinion

31

37
Gallup continues to find young adults to be slightly less sympathetic to Israel than those over the age of 30, but this pattern is less strong today than it was earlier this year.
Percentage Who Sympathize with Israelis in Arab-Israeli Dispute

18-29

30-49

50+

%

%

%

April 2002

46

53

50

March 2002

34

47

40

February 2002

46

57

58

December 2001

38

60

49
According to Gallup's latest polling, no notable differences in sympathies for the two sides are seen on the basis of Americans education or income.
What do Americans think the ultimate goal should be in the Middle East, particularly in terms of an autonomous Palestinian state?
A review of the data related to this issue suggests that one answer to this question might be that Americans are willing to be led on the issue, particularly if the leader is an American president they trust to the high degree that they trust George W. Bush.
Two questions asked by different polling organizations within the past six months best illustrate this. A Newsweek survey conducted March 21-22 simply asked respondents whether or not the United States should support the creation of a Palestinian state. Responses to this question were mixed; with 39% saying the United States should favor such a state and 44% opposed, with 17% unsure. However, a November 2001 survey conducted by the University of Maryland framed the issue in terms of Bush's support of the concept saying: "President Bush has said that there ought to be a Palestinian state, provided that it recognizes the right of Israel to exist. Do you support or do you oppose this position?" The answer to this was far different than the Newsweek poll, with 77% of Americans saying they supported the president's position in favor of a Palestinian state. Only 13% were opposed.
More generally, questions that ask Americans whether they favor or oppose the establishment of an independent Palestine state -- with no information provided in the question -- produce a mixed picture, similar to the Newsweek poll cited above. This is the case with Gallup's basic question on this subject worded this way: "Do you favor or oppose the establishment of an independent Palestinian state on the West Bank and the Gaza strip?" When Gallup last asked this in July 2000, 40% of Americans favored the idea of an independent Palestine, 24% were opposed, and 36% had no opinion.
In contrast to generally worded questions, questions about a Palestinian state that include the premise that Palestine would be sanctioned by Israel or would be created in exchange for normalizing Arab relations with Israel, find majority support for the proposal.
Recently the issue of a Palestinian state has been tied to a peace plan proposed by Crown Prince of Abdullah of Saudi Arabia, supported by the Arab League, in which all of the Arab nations would recognize Israel's right to exist and establish normal diplomatic and trade relations with Israel, in exchange for Israel supporting a free Palestinian state encompassing the West Bank, Gaza and East Jerusalem.
An April 3-7 ABC News measured support for the Saudi plan with this question: "Would you support or oppose a plan in which Israel would withdraw from the territories it occupied in the 1967 Arab-Israeli war, and in exchange the Arab nations would recognize Israel's right to exist?" The poll found 53% of Americans in favor of the plan, 22% opposed and 26% unsure.
Consistent with this, in describing the results of a recent NBC/Wall Street Journal poll, MSNBC.com reports that three fifths of Americans believe "the United States should pressure Israel to give back the lands it seized in the 1967 Middle East War if Arab countries would fully normalize relations with Israel."
How optimistic are Americans that efforts to bring about peace in the Middle East will be successful?
Americans tend to be pessimistic that there will ever be a time when Israel and the Arab nations will settle their differences and live in peace. Currently, just 36% of Americans are optimistic about this, while 61% are pessimistic.
Will There Come a Time When Israel and the Arab Nations Can Live in Peace?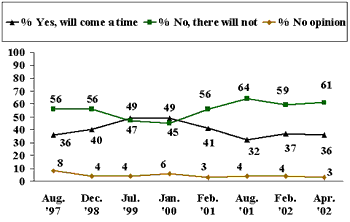 As the chart shows, over the past decade and a half that Gallup has been asking this question, Americans have tended to be more pessimistic than optimistic. One exception came in the last two years of the Clinton presidency, in the midst of intensive efforts by the administration to broker a Middle East peace agreement, At that time, Americans were slightly more optimistic than pessimistic.
Today, Americans are also pessimistic that Secretary of State Colin Powell, who left for the Middle East last Sunday, will be able to negotiate a peace agreement. Just 39% say it is likely he will be successful in these efforts, while 59% disagree.
Likelihood of Colin Powell Negotiating a Peaceful Resolution?

April 5-7, 2002
How important is it for the United States to try to achieve peace in the Middle East?
The latest CNN/USA Today/Gallup poll finds 58% of Americans saying the development of a peaceful solution to the Palestinian/Israeli situation should be a very important U.S. foreign policy goal, while an additional 32% say it is somewhat important.
The percentage who describe this as very important has climbed steadily, from 32% in January 2000 and 43% in February 2001 to the current 58%, which is the highest Gallup has ever measured on this question, dating back to 1991.
Few foreign policy goals have been ascribed this much importance since Gallup began asking this question about international problems in 1991. In late March, 60% of Americans thought that the removal of Saddam Hussein from power in Iraq should be an important goal, but this has fallen in recent weeks as the importance of the Israeli-Palestinian conflict has intensified.
Forty-seven percent of Americans believe that resolving the conflict between India and Pakistan should be an important U.S. foreign policy goal, and only 21% say this about the situation in Northern Ireland.
In 1995, 44% of Americans said that developing a peaceful solution in Kosovo should have been an important U.S. foreign policy goal. In the mid-1990s only about three in 10 said that the development of a peaceful solution in Bosnia should have been an important U.S. goal, and only 28% said this about Somalia in 1993. Only about one in five have said this about Northern Ireland historically.
What do Americans want their government to do in this situation?
A majority of Americans want their government to be involved in helping find a solution to the Middle East situation. As noted above, about six out of ten Americans now say "the development of a peaceful solution to the Palestinian/Israeli situation in the Middle East" should be a very important foreign policy goal of the United States.
Americans also clearly support the U.S. government's use of "economic and diplomatic pressure" against both Israel and the Palestinians to try to reach a peaceful solution. Seventy-four percent agree about the use of this type of pressure against Israel, and 80% agree in terms of this type of pressure brought against the Palestinians.
Still, a poll conducted on April 3 showed that just a third said that President Bush should become personally involved in finding peace in the Middle East.
Gallup has an interesting historical question about American public opinion on the Palestinian issue. In February 1947, Americans were asked: "What should the United States do about the Palestine problem?" The answers were:
32% - Help settle things, act as arbitrator
17% - Work through the United Nations
9% - Find a place for the Jews to live
5% - Prompt England to open its doors to the Jews
Should the United States take one side or the other in the conflict?
Gallup has asked the public six different times whether the United States should take Israel's side, the Palestinians' side, or not take either side in the Middle East conflict. In all cases, the significant majority of Americans respond that the United States should not take either side. Most recently, over the weekend, 71% of Americans took this option, while 22% preferred taking Israel's side and 2% the Palestinians' side. Right after Sept. 11, the number saying taking Israel's side jumped to 27%, but the responses have now settled back into the more traditional pattern.
About a third of Americans say that the U.S. government supports Israel "too much". The rest say that the United States supports Israel at about the right level, with another 10% saying not enough.
There is some political difference in response to this support question. Republicans are least likely to say that the United States supports Israel "too much" – at 24%. At the other end of the spectrum, 44% of independents say that the United States supports Israel too much, compared to 35% of Democrats.
The American public generally appears to be behind President Bush's recent calls for action in the Middle East. A majority (71%)support President Bush's demand that Israel withdraw from the Palestinian territories it occupies on the West Bank and a vast majority (92%) supports President Bush's demand that the Palestine Authority quit encouraging suicide bombers.
What about sending U.S. troops into the Middle East? Americans generally are not strongly positive about this option. Only a fourth of Americans (26%) favor the use of U.S. troops to help bring about peace, while about half (48%) would support the idea of using U.S. troops in the future as part of a peacekeeping force.
Interestingly, back in October 1947, Americans were asked: "If England pulls her troops out of Palestine and war breaks out between the Arabs and the Jews, do you think the United States should send troops to keep the peace or should this be done by a United Nations volunteer army?" At that point, the majority -- 65% -- favored the use of the United Nations army option. Just 3% of Americans favored the U.S. troops option in response to the question.
Is President Bush getting support from the American public for the way he is handling the Middle East situation?
Generally, Americans rate President Bush's handling of the Middle East situation positively. The latest poll shows 67% of the public approves of Bush's handling of the Middle East, which is down slightly from late March when 72% approved.
As noted above, the public strongly backs the demands Bush made on the two sides in his address last Thursday. Ninety-two percent of Americans approve of his demand that the Palestinians stop encouraging suicide bombings, and 71% approve of his demand that the Israeli army withdraw from Palestinian territories.
Nevertheless, the public is divided as to whether the Bush administration has a "clear and well-thought out policy on the situation in the Middle East," with 48% saying he does and 47% saying he does not. Prior to his statements last Thursday in which he announced his decision to send Secretary of State Powell to the region, some had criticized Bush for not doing more to attempt to resolve the conflict. While the results on this item are somewhat dependent on one's overall view of Bush, a substantial minority of those who otherwise approve of the job Bush is doing as president (36%) say his administration does not have a clear policy.
Bush's 67% approval rating for handling the Middle East situation is high when compared to the ratings received by other recent presidents on this issue. However, Lyndon Johnson's 35% approval rating on handling the Middle East in 1967, Jimmy Carter's 38% in 1978, and Ronald Reagan's 35% in 1983 were accompanied by substantial percentages of "no opinion" responses. The highest rating to date on a president's handling of the Middle East has been the 89% approval rating for the elder George Bush in March 1991, shortly after the conclusion of the Persian Gulf War. That fell to 69% by July of that year, however. Bill Clinton's highest rating for his handling of the Middle East situation was 56% in October 1994, though 78% approved of the way he handled the peace talks between Israeli Prime Minister Benjamin Netanyahu and Palestinian leader Yasser Arafat that led to the Wye River Accord.
Survey Methods
These results are based on telephone interviews conducted by Gallup with randomly selected national samples of adults, 18 years and older. The dates of the polls used in the analysis above are mentioned in the text. For results based on polls of Gallup's typical sample size of 1000 respondents, one can say with 95 percent confidence that the maximum error attributable to sampling and other random effects is plus or minus 3 percentage points. In addition to sampling error, question wording and practical difficulties in conducting surveys can introduce error or bias into the findings of public opinion polls.