Earlier this year, Gallup analysts noted that even when President George W. Bush's job approval rating was at stratospheric levels in the initial post-Sept. 11 period, the gap in racial attitudes toward the president persisted. That is, Bush's approval rating among blacks still tended to be 25 points lower than his approval rating among whites. In late September, when a record 90% of all Americans said they approved of the job Bush was doing, the figure was roughly two-thirds among blacks, compared to 92% among whites. It was a staggering rate of black approval for a Republican president, but predictable given the typical racial gap in political attitudes. Now that Bush's overall rating has fallen below 75%, one would expect his approval rating among blacks to slip below the 50% mark -- and it generally has.
Gallup's recent Minority Rights and Relations survey*, which included larger-than-normal samples of black and Hispanic respondents, finds just 41% of blacks approve of the job Bush is doing as president, while 48% disapprove. Support for President Bush among whites is quite a bit higher: 74% approve and just 20% disapprove. Support for Bush among Hispanics -- a group with a possible affinity for the Spanish-speaking Texan with family ties in the Hispanic community -- is nearly the same as it is among whites.
One note: Gallup has conducted three new national surveys since the Minority Rights and Relations poll was completed. In these new surveys, President Bush's approval rating among all adults has registered between 73% and 75%. His approval rating among blacks has averaged 49%. (Hispanic data that includes Spanish-language interviewing is not available from these surveys.)
Bush Housing Initiative Scores Bull's-Eye
The survey, conducted June 3-9, preceded the announcement of a new Bush initiative aimed at boosting minority homeownership. Bush made the demographic target of this effort clear when he stated: "There is a homeownership gap in America. The difference in homeownership between Anglo America and black and Hispanic America is too big."
Whether that plan succeeds in also boosting support for Bush's presidency remains to be seen, but, according to another finding from Gallup's recent Minority Relations poll, it was a savvy political move. The survey shows that, among several lifestyle factors rated -- including health, employment, physical safety and education -- satisfaction with one's housing most sharply divides white from black and Hispanic Americans. Nearly two-thirds of whites (64%) say they are very satisfied with their current housing, compared to fewer than half of blacks (44%) and Hispanics (49%).
In several areas -- family life, one's community as a place to live, and one's job -- black Americans are much less satisfied than Hispanics and whites. In other areas -- education and personal finances -- all three groups report low levels of satisfaction. Safety from physical harm or violence and the opportunity to succeed in life are two areas where whites tend to be more satisfied than both blacks and Hispanics, but not by as large a margin as with housing.
Whites and Hispanics Responsible for Bush's Elevated Ratings
Because this survey is an update of a poll conducted last June with similar oversamples of blacks and Hispanics, it provides a good mechanism for studying year-to-year changes in approval of President Bush among minority groups. This comparison reveals that the increase in Bush's overall approval rating over this period -- from 55% in June 2001 to 70% in June 2002 -- is mostly a result of the increase in positive attitudes among whites and Hispanics; black approval of Bush is only slightly higher today than it was last June. Bush's job approval rating is up 16 points among whites and 14 points among Hispanics, but only four points among blacks.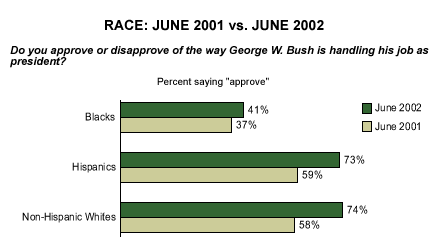 This comparison also shows that the high rate of approval for Bush among Hispanics today is clearly not new. Even before Sept. 11, Hispanics' support for Bush was much higher than blacks' support of Bush, and on par with Bush approval among whites.
Immigrant Families Don't Downgrade Bush
Although not strictly a minority group (defined as those afforded special protection under civil rights laws), immigrants to the United States are another group currently receiving considerable attention because of the nature of some new anti-terrorism proposals. The Minority Rights and Relations survey asked respondents to identify their country of origin, and that of their parents. This question revealed that about one in five respondents was either an immigrant or the son or daughter of an immigrant. Bush's approval rating among this group is no different than among respondents whose families have been in the United States for at least two generations.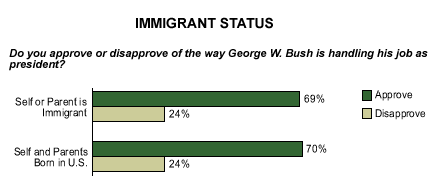 *These results are based on telephone interviews with a randomly selected national sample of 1,360 adults, aged 18 and older, conducted June 3-9, 2002. The survey includes a main sample of 1,010 national adults and oversamples of blacks Hispanics weighted to their correct proportion in the population. For results based on the total sample of national adults, one can say with 95% confidence that the maximum error attributable to sampling and other random effects is ±3%. Results based on the subsamples of 236 blacks and 263 Hispanics (including 58 conducted in Spanish) have a margin of sampling error of ±7%. In addition to sampling error, question wording and practical difficulties in conducting surveys can introduce error or bias into the findings of public opinion polls.