GALLUP NEWS SERVICE
PRINCETON, NJ -- George W. Bush's current job approval rating stands at 65%, his lowest rating since the Sept. 11 terrorist attacks. The Aug. 19-21 rating represents a continuation of the gradual decline in Bush's job approval observed since its high point of 90% in September; however, his current rating is still higher than any he received prior to Sept. 11. This most recent approval rating is 11 percentage points lower than it was just two months ago.
George W. Bush's Job Approval Rating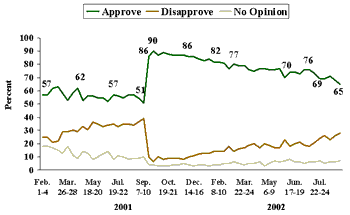 The steady decline in Bush's overall job approval rating can be attributed in large part to changes in the opinions of Democrats. Over the last 11 months, Bush's level of approval among Democrats has decreased from the mid-80% to the 50% range.
The most recent poll also shows a significant decline among political independents. Earlier this month, 65% of independents approved of the way Bush was handling his job as president. Now, 56% of that group approves, by far the lowest rating from independents since September 2001.
Bush's rating among Republicans remains in the middle 90s, where it has been since September 2001.
George W. Bush's Job Approval Rating: By Party
Survey Methods
These results are based on telephone interviews with a randomly selected national sample of 801 adults, aged 18 and older, conducted Aug. 19-21, 2002. For results based on this sample, one can say with 95% confidence that the maximum error attributable to sampling and other random effects is ±4%. In addition to sampling error, question wording and practical difficulties in conducting surveys can introduce error or bias into the findings of public opinion polls.
Do you approve or disapprove of the way George W. Bush is handling his job as president?
| | | | |
| --- | --- | --- | --- |
| | Approve | Disapprove | No opinion |
| | % | % | % |
| 2002 Aug 19-21 | 65 | 28 | 7 |
| | | | |
| 2002 Aug 5-8 | 68 | 26 | 6 |
| 2002 Jul 29-31 | 71 | 23 | 6 |
| 2002 Jul 26-28 | 69 | 26 | 5 |
| 2002 Jul 22-24 | 69 | 24 | 7 |
| 2002 Jul 9-11 | 73 | 21 | 6 |
| 2002 Jul 5-8 | 76 | 18 | 6 |
| 2002 Jun 28-30 | 76 | 19 | 5 |
| 2002 Jun 21-23 | 73 | 21 | 6 |
| 2002 Jun 17-19 | 74 | 20 | 6 |
| 2002 Jun 7-8 | 74 | 18 | 8 |
| 2002 Jun 3-6 | 70 | 23 | 7 |
| 2002 May 28-29 | 77 | 17 | 6 |
| 2002 May 20-22 | 76 | 17 | 7 |
| 2002 May 6-9 | 76 | 19 | 5 |
| 2002 Apr 29-May 1 | 77 | 20 | 3 |
| 2002 Apr 22-24 | 77 | 17 | 6 |
| 2002 Apr 8-11 | 75 | 20 | 5 |
| 2002 Apr 5-7 | 76 | 19 | 5 |
| 2002 Mar 22-24 | 79 | 17 | 4 |
| 2002 Mar 18-20 | 79 | 16 | 5 |
| 2002 Mar 8-9 | 80 | 14 | 6 |
| 2002 Mar 4-7 | 77 | 18 | 5 |
| 2002 Mar 1-3 | 81 | 14 | 5 |
| 2002 Feb 8-10 | 82 | 14 | 4 |
| 2002 Feb 4-6 | 82 | 14 | 4 |
| 2002 Jan 25-27 | 84 | 13 | 3 |
| 2002 Jan 11-14 | 83 | 13 | 4 |
| 2002 Jan 7-9 | 84 | 12 | 4 |
| 2001 Dec 14-16 | 86 | 11 | 3 |
| 2001 Dec 6-9 | 86 | 10 | 4 |
| 2001 Nov 26-27 | 87 | 8 | 5 |
| 2001 Nov 8-11 | 87 | 9 | 4 |
| 2001 Nov 2-4 | 87 | 9 | 4 |
| 2001 Oct 19-21 | 88 | 9 | 3 |
| 2001 Oct 11-14 | 89 | 8 | 3 |
| 2001 Oct 5-6 | 87 | 10 | 3 |
| 2001 Sep 21-22 | 90 | 6 | 4 |
| 2001 Sep 14-15 | 86 | 10 | 4 |
| 2001 Sep 7-10 | 51 | 39 | 10 |
| 2001 Aug 24-26 | 55 | 36 | 9 |
| 2001 Aug 16-19 | 57 | 34 | 9 |
| 2001 Aug 10-12 | 57 | 35 | 8 |
| 2001 Aug 3-5 | 55 | 35 | 10 |
| 2001 Jul 19-22 | 56 | 33 | 11 |
| 2001 Jul 10-11 | 57 | 35 | 8 |
| 2001 Jun 28-Jul 1 | 52 | 34 | 14 |
| 2001 Jun 11-17 | 55 | 33 | 12 |
| 2001 Jun 8-10 | 55 | 35 | 10 |
| 2001 May 18-20 | 56 | 36 | 8 |
| 2001 May 10-14 | 56 | 31 | 13 |
| 2001 May 7-9 | 53 | 33 | 14 |
| 2001 Apr 20-22 | 62 | 29 | 9 |
| 2001 Apr 6-8 | 59 | 30 | 11 |
| 2001 Mar 26-28 | 53 | 29 | 18 |
| 2001 Mar 9-11 | 58 | 29 | 13 |
| 2001 Mar 5-7 | 63 | 22 | 15 |
| 2001 Feb 19-21 | 62 | 21 | 17 |
| 2001 Feb 9-11 | 57 | 25 | 18 |
| 2001 Feb 1-4 | 57 | 25 | 18 |