On a good Sunday, Presbyterian minister James Barr drives 20 miles to a small, rural church in Orient, N.Y., to deliver a much-welcomed sermon to 25 Methodists. The following week, fellow "circuit rider," Methodist minister Fred Moore, drives 60 miles to the same church and hopes for a similar turnout. Since 1989, both men have shared the responsibility of keeping Orient's small Methodist church alive. Declining attendance, a graying membership, and shared pastors are a familiar phenomenon for today's rural churches. Yet according to Gallup's 2002 Index of Leading Religious Indicators*, Americans who say they live in rural communities have much higher levels of religiosity -- 686 out of a possible 1,000 -- than their urban and suburban counterparts.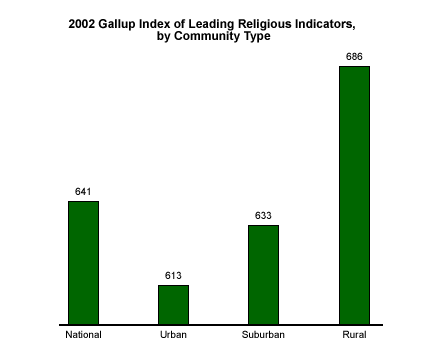 Not only do rural respondents have the highest levels of religiosity overall, they also give ratings that are equal to or higher than those urban or rural respondents on each of the specific items that make up the Index.
The widest margin between rural respondents and other respondents is on the question of confidence in organized religion. More than half (56%) of rural Americans say they have "a great deal" or "quite a lot" of confidence in the church or organized religion, compared with 38% of urban dwellers and 44% of suburbanites. Rural Americans are also more likely to feel that religion is "very important" in their lives and can "answer most of today's problems," and slightly more likely to rate the ethical standards of the clergy as "very high" or "high."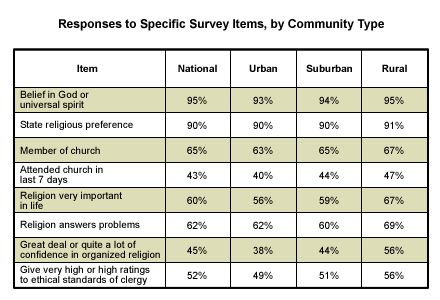 It comes as no surprise to Barr that rural Americans tend to be more religious than other Americans. "My parishioners pastor one another and then reach out to members outside the church community. There's no wall around a country church," he commented.
Although it seems likely that suburban churches would have many advantages over rural churches -- e.g., diverse populations and large numbers of families, ensuring vibrant youth programs and built-in growth -- suburbanites lag 53 points behind rural dwellers overall on the Index. Suburbanites' likelihood to say they believe in God, as well as their patterns of church membership and attendance, are statistically the same as those in other communities -- but they are slightly less religious when it comes to attitudes and beliefs. Fifty-nine percent of suburbanites feel that religion is "very important" (compared to 67% of rural dwellers) in their lives and 60% trust religion to "answer most of today's problems" (compared to 69% of rural dwellers).
Urbanites tend to be the least religious of the three groups. Their belief in God and levels of membership and attendance are identical to those of suburbanites and rural residents, but their attitudes toward religion are lower. Just 56% of urbanites feel that religion is "very important" in their lives, 62% believe religion can "answer most of today's problems," and 38% have "a great deal" or "quite a lot" of confidence in organized religion. One notable exception here is the high level of overall religiosity found among black churches, many of which are located in urban areas. (See "Black Churches: Has their Role Changed?" in Related Items.)
Love Thy Neighbor
Partnerships between urban and suburban churches are already strong in many U.S. cities. For example, organizations such as Cooperative Metropolitan Ministries (CMM) in the greater Boston area have been connecting inner-city churches with their suburban counterparts since 1996. CMM's mission is "to bring people together across economic, religious, racial, and ethnic boundaries so that, in partnership, we can work more effectively for a just society." It may be worth considering ways to extend that concept to include rural churches in which religiosity is extremely high. Tapping into the unique gifts of people in different areas -- from the vibrancy of the inner-city black church to the unwavering dedication of rural churches to their community -- can go a long way to promote mutual support and strengthen resources for all churches.
*The 2002 Index of Leading Religious Indicators was compiled from surveys of national adults, aged 18 and older, conducted throughout the year.