GALLUP NEWS SERVICE
PRINCETON, NJ -- The National Restaurant Association reports that Mother's Day is the second most popular occasion to eat out (birthdays being the first, and Valentine's Day being third). Thus, many Americans can be expected to fill the nation's restaurants this Sunday. But even on a normal day, dining out is a regular part of life for most Americans.
According to an April 14-16 Gallup Poll, most Americans ate dinner at a restaurant at least once during the week before the survey was conducted. In fact, the public can be divided into rough quartiles according to its dining frequency: a quarter ate dinner out once, another quarter dined out twice, and another quarter-plus ate out three or more times. Just a quarter did not eat dinner out even one time.
How Many Times Did You Eat Dinner
Out at a Restaurant Last Week?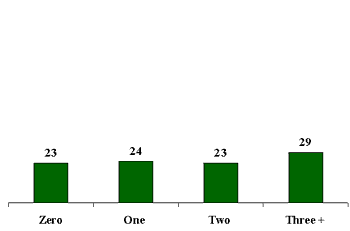 April 14-16, 2003
The frequency with which one dines out appears to be a function of both household income and age. Not surprisingly, people living in higher-income households eat out more often than those in lower-income households do. This ranges from 40% of those in households earning $75,000 or more annually who ate out three or more times, down to 19% in households earning less than $30,000. But even at the lower income level, a majority dined out at least once.
Restaurant Dining by Annual Household Income

$75,000

$50,000-$74,999

$30,000-$49,999

Less than $30,000

# of Times Ate Out in Past Week

3+ times

40%

34%

30%

19%

1-2 times

49%

47%

46%

49%

0 times

11%

19%

24%

32%

100%

100%

100%

100%
Running against this pattern, young adults (whose average incomes are lower than older adults' average incomes) are most likely to dine out. As is shown below, more than a third of 18- to 34-year-olds (37%) eat dinner at a restaurant three or more times a week. This contrasts with 29% of those aged 35 to 54, and 24% of those 55 and older.
Restaurant Dining by Age

18-34

35-54

55+

# of Times Ate Out in Past Week

3+ times

37%

29%

24%

1-2 times

45%

46%

51%

0 times

18%

25%

25%

100%

100%

100%
According to National Restaurant Association data, while younger adults may spend a higher share of their food dollars on food away from home, households headed by people in their peak earning years (35 to 54) spend the most money on food away from home. In other words, dining out doesn't necessarily mean fine dining. Young adults may eat out more frequently, but baby boomers are dining out more lavishly.
Changes in Dining Out Over Time
The nation's sluggish economy has not been kind to the restaurant industry. Economy.com reports that restaurant sales have been slow for the past six months or more, and that nearly a third of the nation's layoffs since January have occurred in the food service industry.
Despite this, Gallup's April 2003 survey shows no decline in dining out compared with April 2001. If anything, there has been a small increase in the rate of eating out. The percentage of Americans saying they ate dinner out zero times fell from 27% to 23%. At the same time, the percentage eating out two or more times rose from 47% to 52%.
Trend in Dining Out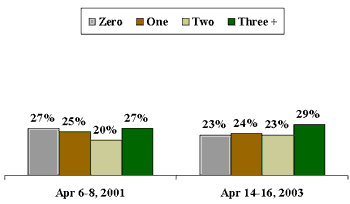 This could confirm the assumption that eating out has become less a luxury, and more a way of life, for many Americans. If restaurant sales receipts are down today compared with 2001, it could be that just as many people are going out to eat, but they are scaling back on their choice of restaurants, and skipping appetizers or dessert.
Survey Methods
These results are based on telephone interviews with a randomly selected national sample of 1,011 adults, aged 18 older, conducted April 14-16, 2003. For results based on this sample, one can say with 95% confidence that the maximum error attributable to sampling and other random effects is ±3 percentage points. In addition to sampling error, question wording and practical difficulties in conducting surveys can introduce error or bias into the findings of public opinion polls.
Thinking about last week, how many times did you eat dinner out at a restaurant of any kind?
| | | |
| --- | --- | --- |
| | 2003 Apr 14-16 | 2001 Apr 6-8 |
| | % | % |
| | | |
| 0 | 23 | 27 |
| 1 | 24 | 25 |
| 2 | 23 | 20 |
| 3 | 15 | 13 |
| 4 | 5 | 5 |
| 5 | 4 | 4 |
| 6 | 1 | 2 |
| 7 | 4 | 3 |
| | | |
| No opinion | 1 | 1 |
| | | |
| Mean (including zero) | 1.9 | 1.8 |
| Mean (excluding zero) | 2.5 | 2.5 |