Second in a three-part series examining modern Christianity in the United States
Comparisons to Islamic societies over the last two years have frequently raised questions about how closely American Christians follow the precepts of their own faith in their daily lives. Gallup recently conducted a study with The Center for Research on Religion and Urban Civil Society at the University of Pennsylvania, examining the following question: How and to what degree do Christians in the United States today follow Christ's Great Commandment from Luke 10:27, Love the Lord your God with all your heart, and with all your soul, and with all your strength, and with all your mind and Love your neighbor as yourself?
A previous article examined Christians' "love of God," while this segment will focus on "love of neighbor."
Christian "Love of Neighbor"
Survey respondents identifying themselves as Christians were given a list of 15 items relating to "love of neighbor" and asked how strongly each item applies to them. Only 3% of Christians scored each of the 15 items with a "5" on a scale of 0-5, indicating that each item "applies completely" to them.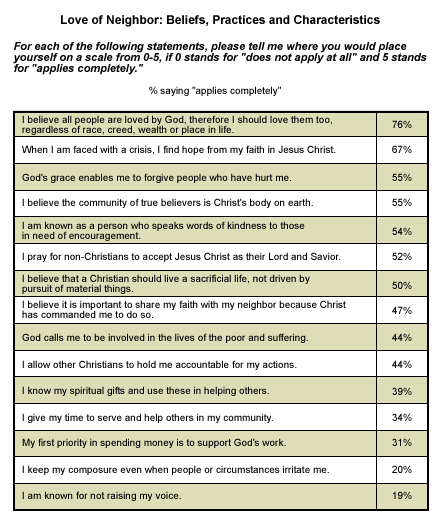 Of the 15 items, the statement, "I believe all people are loved by God, therefore I should love them too, regardless of race, creed, wealth or place in life," received the strongest response -- 76% of Christians said that this statement "applies completely" to them.
A substantial majority of Christians (67%) also said that the statement, "When I am faced with a crisis, I find hope from my faith in Jesus Chris," applies completely to them. Consistent with earlier findings, more than half of respondents (55%) say that "God's grace enables me to forgive people who have hurt me." A similar percentage (54%) say that they speak "words of kindness to those in need of encouragement."
Fifty-two percent of respondents say they "pray for non-Christians to accept Jesus Christ as their Lord and Savior," and nearly as many (47%) agree that it is important for them to share their Christian faith with their neighbor. In the Gospel of Matthew, Jesus' final words to his disciples after his resurrection were to "go and make disciples of all nations, baptizing them in the name of the Father and of the Son and of the Holy Spirit, and teaching them to obey everything I have commanded you..." (Matthew 28: 19-20)
Gap Between Beliefs and Practices/Characteristics
While solid majorities of Christians maintain central Christian beliefs, there appears to be a fall off on survey items dealing with Christian "practices." Less than half of survey respondents indicate that the following statements "apply completely" to them: "I allow other Christians to hold me accountable for my actions" (44%); "I know my spiritual gifts and use these in helping others" (39%); "I give my time to serve and help others in my community" (34%); and "My first priority in spending money is to support God's work" (31%).
The gap is also apparent in terms of personal "characteristics": 20% say the statement, "I keep composure even when people or circumstances irritate me," applies completely to them and 19% give the highest score to "I am known for not raising my voice."
The third and final article in this series will examine the relationship between "love of God" and "love of neighbor," shedding light on how people live out their faith in terms of changing their lives and reaching out to other people and society as a whole.
*The findings reported today are from a broader study conducted for The Center for Research on Religion and Urban Civil Society at the University of Pennsylvania by The Gallup Organization and the George H. Gallup International Institute. All persons in this study who said they consider themselves to be part of the Christian tradition (80% of the total sample) were asked to reply to 15 questions relating to "love of God" and 15 related to "love of neighbor." A total of 1,509 adults, 18 and older, were interviewed by telephone in June 2002. Of the total, 1,207 placed themselves in the Christian tradition.