Employment Branding
Explore Gallup's research.
What trends and topics shaped the workforce in 2017? Gallup editors share their picks for the top articles from the past year.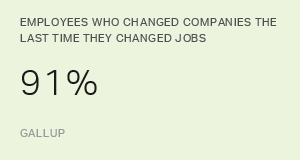 Reduce turnover and retain more of your workforce with four tips for "re-recruiting" high performers.
Millennials tend to shop around for the companies that offer what they want in a role and work environment.
Creating a strong culture that can support an organization's identity requires effort, measurement and management. Volkswagen should focus on four key priorities to begin repairing the organization from the inside out.
35% of U.S. Managers Are Engaged in Their Jobs
Frustrated job seekers may find temporary work on Twitter or Facebook as recruiters turn to social media to fill holiday positions. But is it the right tool for seasonal hiring?