Field salespeople often spend more time on the road than in an office with a manager who's down the hall. And it's not unusual for salespeople to function independently within their company, a notion reinforced by commission pay. Their working conditions are typically different from those of other employees, and unlike their colleagues who aren't in sales, their performance is measured by the amount of business they're bringing in. For all those reasons, it's usually assumed that salespeople are difficult to engage, and to a certain extent, this is true.
None of our field force people come to our office. The only people who come to the office are managers.

Employee engagement is an emotional attachment between an employee and his or her workplace. According to Gallup research, engagement hinges on fulfilling 12 human needs. For most employees, their manager plays a key role in ensuring those needs are met. (See graphic "The 12 Elements of Great Managing.")
Despite the assumptions, field salespeople are not impossible to engage. They have the same need to emotionally attach to their workplace as other workers do, and the best companies figure out ways to engage them regardless of how difficult it might be. Hindustan Unilever Limited (HUL), a division of Unilever based in India, has managed it since 2005 -- and under conditions that would challenge most managers.
In the field
HUL's sales team is hierarchical, which is typical. But unlike most sales organizations, HUL's realized four years ago that a cyclical feedback system is good for sales managers -- and the salespeople they manage. "It is highly important to give our feedback to the company from the employee side," says salesperson H.S. Arora. "We need to discuss all professional problems with [our line manager]; what we feel, what we think. The company should know -- it's good for the company and the employees."
In that spirit, in 2005 HUL asked Gallup to administer its employee engagement assessment, the Q12, to the organization's sales team. At the time, the Indian economy was booming, and insurance, retail, telecom, and IT industries were siphoning off HUL's salespeople. The company was looking for ways to boost engagement and increase retention. "[The Q12] helps to stem churn and attrition and keep line managers accountable," says Anish Singh, HUL business partner for human resources. "Disengagement makes any activity that you want to galvanize take more time and be less effective."
But HUL faces some unique problems in obtaining feedback from salespeople. India is a vast country -- 1.2 million square miles with 1.1 billion people -- and HUL's brands touch the lives of two-thirds of them. Those brands include soaps and detergents (44.3% of its revenues); personal care products (26.6%); beverages (10.5%); and foods, exports, and other products (18.6%). That amounts to 4 million tons of stuff, equaling Rs.13,718 crores (more than $289 million U.S.).
HUL has more than 15,000 employees, and approximately 1,300 of them are salespeople. You'll rarely see any of the salespeople at HUL's headquarters in Mumbai. Even though millions of Indians live in the country's big cities, 71% of India's population resides in rural areas, so HUL's salespeople fan out over the country, bringing shampoo and ice cream cones to one-sixth of the world's population.
"None of our field force people come to our office," says Singh. "The only people who come to the office are managers, and [the field force members] are spread all across the country. I can connect through SMS [text messaging] or phone or e-mail, and those are the only modes I can use to connect."
Outside the cities, salespeople are fortunate if they can find a place to hook up to the Internet. Sometimes, they're lucky to get a mobile connection. That means they're on their own much of the time. So how can they feel connected enough to their workplace or to their individual manager to develop a sense of employee engagement? They can because their company connects to them.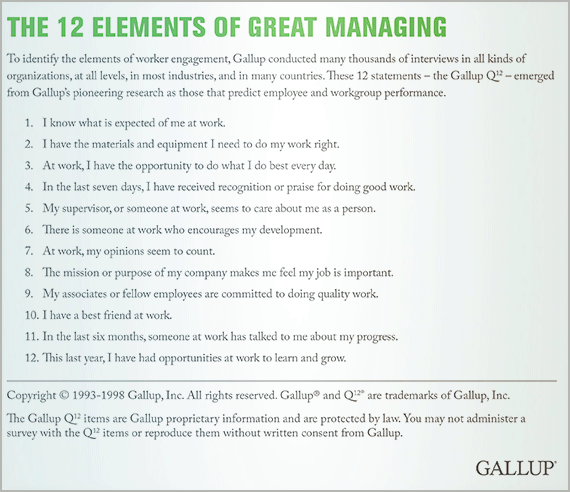 To learn how to build a culture that promotes employee engagement among a widely dispersed workforce, HUL managers underwent intense engagement training with Gallup consultants; they also reviewed each manager's follow-up action plan. Then they packed their bags and hit the road to talk to salespeople individually. One by one, managers explained what employee engagement is and why the company cares about its salespeople's engagement. They discussed the Q12 process and trained field rep managers on it. They showed salespeople what the results looked like and what higher-ups would do with the numbers.
They also talked at length about the Q12 survey and helped the teams through the first administration, which included answering questions from salespeople about the Q12 items and why those particular items are on the survey. "The first time [the Q12] was conducted, people were not able to understand the questions exactly," says Nikhil Sinha, an HUL salesperson. "But our [line manager] explained [the scorecard] a little -- we never thought about directly how having a 'best friend at work' [one of the Q12 items] helps performance, for example -- and we were able to understand much better." Thanks to the managers' efforts, HUL has achieved survey participation rates between 90% and 96% since its first Q12 administration in 2005.
Gallup research shows that engaged employees are more productive, more profitable, better at engaging customers, safer, and less prone to absenteeism. They're also 51% less likely to leave in low-turnover organizations and 31% less likely to leave in high-turnover organizations -- and sales is a notoriously high-turnover field. Engagement also links powerfully to financial performance, which is a saving grace when the world economy is in turmoil. When compared with their industry peers, organizations with more than four engaged employees for every one actively disengaged employee saw 2.6 times more growth in earnings per share than did organizations with a ratio of slightly less than one engaged worker for every one actively disengaged employee. (See "Investors, Take Note: Engagement Boosts Earnings" in the "See Also" area on this page.)
These numbers are a good way to capture the attention of people who are paid on commission. But performance metrics are not enough to engage anyone. For employees to feel engaged, they must have an emotional bond; they must feel for their companies. As Arora puts it, "Employees that are engaged will be working from the heart."
Check and recheck
How does HUL capture the hearts of people who are far from the corporate hub? HUL's formula works a lot like its engagement implementation program does.
"All the managers are definitely in office on every Monday and Friday, and those are the two days we communicate and work with them," says Manish Tiwary, HUL's vice president of modern trade, who has 720 people on his team. "And the remaining three days, everyone, including people like us, actually go to the field and meet up with the people working out there."
Sending line managers out to meet with the field force three days a week means that the managers must work very hard the two days they're in the office, yet their direct oversight of field reps is limited as salespeople work alone. That means managers must accept responsibility for engagement because they are the fulcrum of it.
"Ownership of engagement really goes to the manager," says Singh, "and he or she is the one who will drive this entire initiative. We have brought an element of [Q12] scores to the managers' appraisal system as well. This also helps because then [it's clear that] what is being tracked and what is being measured are [the managers'] responsibility."
To support those managers, HUL has scrupulously organized the mechanics of engagement. The Q12 survey is announced well in advance and conducted at the same time every year. Every month, the sales teams flock in for an area monthly operating cycle meeting with their managers; when it's time for the Q12 survey, they're joined by a Gallup data collection representative.
My manager came to us and he grabbed those things that were bothering us and he motivated us.

When the results are in, salespeople, managers, and executives receive the scores and examine them in detail. Then the salespeople and their managers begin extensive and highly focused action planning. Next, the team comes up with a list of things to do now and a list of things to focus on for the coming year. They also set goals they want to achieve. "This is the major advantage of team engagement," says Sinha. "My manager came to us and he grabbed those things that were bothering us and he motivated us."
Because the sales teams meet only once each month, their opportunities to discuss action planning in person are limited. Still, they don't allow their plans to be put on the back burner. Once a problem is identified and a corrective action is determined, the managers ensure that inertia doesn't hinder those plans.
For instance, when Senior Manager Prashant Sharma's Q12 assessment showed that a sizeable percentage of the 40 salespeople under him didn't feel they had the materials and equipment they needed, Sharma swung into action. He pulled aside a human resources manager, a pen, and a pad of paper. "We listed everything, absolutely everything, sales reps need, from forms to training. [Then] we made absolutely sure they had those things," he says.
To maintain high levels of engagement, HUL has established a continuous feedback cycle that moves from top leaders to sales reps and back so that action plans stay foremost in people's minds. Every quarter, human resources managers do what they call "pulse checks" -- they contact field managers and salespeople to see if the action plans are being followed and what progress has been made. (See graphic "Achieving World-Class Employee Engagement.")
That's going to be increasingly valuable in the days ahead. The global recession has affected India, and budget shoppers might take a hard line on snacks and fabric softener. It would be easy for HUL to pull back on its engagement efforts, but it hasn't. Instead, it's embedding them.
Engagement in tumultuous times
HUL salespeople have set themselves up to weather the economic storms. In 2005, HUL's first Q12 assessment showed that the sales organization's ratio of engaged to actively disengaged employees was a healthy 5.5 to 1. By 2008, the ratio was 23.7 to 1, a world-class level of employee engagement. In 2005, HUL's sales arm's overall Q12 score was above the 60th percentile in Gallup's employee engagement database; three years later, the sales organization's score was above the 80th percentile.
As HUL's employee engagement grew, its performance metrics moved as well. In 2007, HUL's sales team saw 9.8% sales growth and 20% sales growth in 2008. The 11 sales teams that showed the most improvement in engagement reached their sales targets an average of 34% more often than the six least engaged teams. In 2006, Tiwary's team had a 16.5% turnover rate. By 2008, his turnover had dropped to zero, while sales growth went from 8% to 26% over the same period.
Those numbers are impressive. But what's also important to the HUL sales team is what those numbers represent. "Scores by themselves don't mean much. What does mean something is business improvement," says Tiwary. "I have statistical evidence that the three [teams] that got the highest Q12 scores in my branch are by far the fastest growing areas in the company. But I have more than three thousand indirect employees. So if my [team is] not happy, those three thousand [people] are not happy."