Until fairly recently, the world looked to the West for the highest quality healthcare. Medicine in developing countries was not as advanced or as readily available as that found in Western countries. So those who wanted the best care -- and who could afford it -- booked flights to Europe or the United States.
Continent hopping is arduous even for the most hardy; for the very ill, it can be perilous.
But they don't have to anymore. As healthcare improves worldwide, consumers in many countries can be treated by local healthcare providers and receive care that is as good as or better than the care they'd receive in the West. Or they can choose to travel the world for the best quality healthcare at the best price. That's because world-class healthcare is becoming readily available internationally -- and often for very affordable rates.
This has not escaped the notice of healthcare consumers. The trend is so pronounced that it has a moniker -- medical tourism -- and a growing share of the world's healthcare dollars and euros. In America alone, an estimated 750,000 people went overseas for medical treatment in 2007, and an estimated 1.6 million could travel for their healthcare by 2012, according to a 2009 study by the Deloitte Center for Health Solutions. And Gallup research shows that 29% of Americans would consider traveling to another country for a variety of medical procedures, including heart bypass surgery, hip or knee replacement, plastic surgery, cancer diagnosis and treatment, or alternative medical treatments. (See "Americans Consider Crossing Borders for Medical Care" in the "See Also" area on this page.)
Traveling internationally with a debilitating medical condition can be difficult, but it may save money. For example, a heart bypass surgery that runs $54,000 USD or more in the United States costs less than $10,000 USD in India. A hip replacement in the United States costs, on average, $45,000 USD; in Turkey, it can be had for $10,750 USD. And many patients who travel internationally for treatment are receiving excellent care. Among hospitals accredited by the Joint Commission International (JCI), a division of the Joint Commission, medical attention meets or exceeds the international standard.
As the world market for healthcare develops, medical tourism has rattled healthcare providers. For one thing, there are genuine concerns about long-distance travel for medical treatment. Continent hopping is arduous even for the most hardy; for the very ill, it can be perilous. Consumers also need to be wary that their hospital meets certain standards -- facilities aren't required to be JCI accredited, after all. And even when the hospital provides excellent care and the treatment is flawless, after-care can be difficult to coordinate.
Those aren't the only concerns -- there's also the impact that medical tourism can have on a hospital's bottom line. A 2008 study by the Deloitte Center for Health Solutions, for example, projected what Americans would spend on medical tourism. The study estimated that in 2008, Americans would spend $2.1 billion to obtain healthcare outside the United States, which represents an opportunity cost of $15.9 billion for U.S. healthcare providers. Given that the number of outbound American medical tourists could reach 1.6 million by 2012, this could translate into a loss of billions of dollars in revenue for U.S. providers, according to the Deloitte study.
Significant barriers
With an excellent standard of healthcare combined with low prices, it's a wonder medical tourism isn't more common. In fact, more people probably would travel for their medical care if it weren't for several significant barriers:
Patients who require serious healthcare need reliable medical information, and it's not always easy to obtain such intelligence on hospitals outside one's home country.
In the United States, most insurance companies don't cover non-urgent medical care in other countries. So it doesn't make economic sense to travel for treatment.
Traveling internationally for surgery can be intimidating to coordinate. Many people don't want to face the difficulties of traveling to another country on top of the exigencies of recovering from surgery.
But given the widening market for healthcare, a number of businesses are helping consumers overcome these obstacles. Medical tourism is such a burgeoning industry that it has spawned subsidiary businesses that get, qualify, and publish data on the best hospitals worldwide. There are even travel agencies that do considerable legwork for patients, including providing information on hospitals, arranging travel and immediate post-care treatment, and coordinating after-care between patients' primary care physicians and the hospital abroad. So finding quality medical care, as well as getting after-care overseas or at home, is becoming less of a problem for consumers.
Many companies encourage medical tourism because it costs them so much less.
Increasingly, U.S. insurance companies are considering covering medical tourism, and some already do: BlueCross BlueShield of South Carolina, for instance, is stirring up the industry by adding several hospitals located outside the United States to its network and providing access to concierge services related to treatment. OptiMed Health/United Group has covered foreign medical care for more than a year, forgoing deductibles and co-pays and covering all travel expenses. Swiss Re's Commercial Insurance now recognizes medical travel coverage as part of its existing stop loss offering, which is offered through Westport Insurance Corp.
Some members of the business community aren't waiting for insurance companies to get around to covering healthcare overseas for their employees. Many companies, big and small, encourage (and pay for) medical tourism because it costs them so much less. Some have an informal, case-by-case policy offered more or less quietly. Others, such as the Hannaford Bros. Company, a grocery store chain based in Scarborough, Maine, are quite public, offering employees the option of getting hip and knee replacements in Singapore.
Engagement
So as quality healthcare becomes a global commodity -- and as patients and companies contemplate the benefits of traveling abroad for the most cost-effective care -- what can healthcare providers do to ensure that their patients are engaged and will return for service in the future? They can promote deep emotional bonds with their customers. This will make patients want to return for care -- and encourage their friends and family to do so too.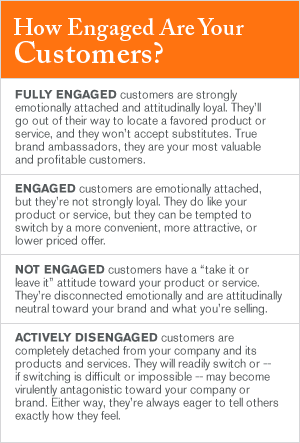 It goes without saying that patients can develop deep emotional bonds with the people who heal them. If they do, patients can become fully engaged with their healthcare provider and/or the hospital.
However, far too many healthcare facilities, regardless of where they're located, don't consider engagement when they think of their patient relationships. What most concern themselves with is patient satisfaction. U.S. hospitals in particular are well aware of their level of patient satisfaction. They have to be: The U.S. government mandates that hospitals survey patients about their satisfaction.
But satisfaction by itself isn't a good predictor of future customer behavior, as Gallup research has shown. Results from many case studies suggest that customers who provide the highest rating of overall satisfaction with a company's products or services -- or those who are extremely satisfied -- fall into two distinct groups:
Rationally satisfied customers are extremely satisfied with the company but lack the strong emotional connection of customers who are emotionally satisfied.
Emotionally satisfied customers are extremely satisfied with the products and services the company provides and have a strong emotional attachment to the company.
Emotionally satisfied customers deliver enhanced value to an organization by buying more, spending more, or returning more often to or staying longer with an organization. But rationally satisfied customers behave no differently than dissatisfied ones.
What does predict behavior is engagement, the profound psychological attachment customers develop for certain healthcare providers and medical centers -- and patients are customers. And what patient engagement predicts is exactly the sort of thing all healthcare providers care about: fully engaged customers who are passionate about their providers and who are much likelier to return, to visit more often, to spend more per visit, and to make recommendations to their friends.
In a global healthcare market, you shouldn't take your fully engaged patients for granted; you must continually look for ways to build and maintain engaged relationships. For example, 54% of U.S. patients are fully engaged -- and are far more likely to return for treatment to their American healthcare providers. But a $90,000 cost savings might be enough to make even a fully engaged patient think about traveling for more cost-effective treatment options -- and less-engaged patients could be researching their options for medical care on the Internet right now.
As the playing field for quality healthcare goes global, simply competing on quality or price is not enough. The hospitals that will thrive in this new global marketplace -- whether they are in North America, South America, Asia, Europe, or the Middle East -- will be the ones that go beyond merely satisfying patients to fully engaging them.