A walk through an automobile manufacturing plant can assault the senses. Thousands of moving parts whiz and whir, pieces and parts shift and shake, and the entire operation seems to be in a state of constant motion. Call centers often have an equally intense feel: They hum with the cacophony of hundreds of voices in one room, technology is running at full tilt, and there's often a rising sense of tension to match the commotion.
Managing a call center can be a lot like managing an auto manufacturing plant. There are seemingly thousands of moving parts to this complex operation, and all must be carefully tended to, from phone systems and voice-over-Internet calling to computer platforms and staffing levels, and much, much more.
But like the best auto plant supervisors, great call center managers know that the most important "moving part" is the people who work there. Managers who supervise high-performing call centers are realizing that the next step to success is focusing on human capital, because the customer experience happens one-on-one -- on the phone between the customer and the agent. And for employees to interact with customers in productive, positive ways -- and to keep those customers coming back -- employees need to feel good about where they work and what they do.
Conversations with managers of leading call centers reveal three key factors in increasing agents' dedication, enthusiasm, and customer focus: measuring employee engagement, hiring the right managers, and keeping things fun.
1. Measure employee engagement
Measuring the engagement level of call center employees can give management crucial insights about what helps and hinders them. Companies should take a baseline measurement to find out what hurts employee productivity, then enact change to correct any problems they uncover. According to Gallup Organization research, an improvement in worker engagement of just 5%-10% can result in an increase of approximately 1,227 to 2,454 more available call minutes per agent per year.
Another benefit to companies is that turnover decreases as engagement levels rise. For example, one Gallup client found that turnover among its least engaged employees (those in the bottom quartile, as measured by responses to a 12-item engagement survey, the Q12) was about 20 percentage points higher than turnover among its most engaged employees (those in the top quartile). This difference held true for full-time and part-time employees. This can mean substantial savings in hiring and training costs -- typically a major expenditure for call centers.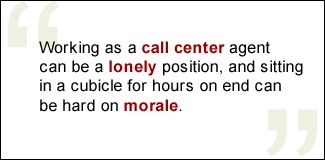 At the call center at ASB, a leading bank in New Zealand, listening to what employees have to say has resulted in changes that have dramatically improved the quality of life for employees. (See "ASB Bank: Good Isn't Good Enough" in the "See Also" area on this page.) For starters, the company began asking agents what changes they wanted to see. "Many managers don't want to ask because then you might have to actually follow through," says Logan Munro, national manager of business development. "That's not how we see it. We haven't got our heads in the sand. We want to know how the environment could be made better."
One example of how ASB is doing things differently is that they removed the leader boards that flashed how many calls were holding. Now, only the call center managers -- not the agents -- have call displays, and it is the managers' responsibility to get the right number of agents on the phones to reduce the customer wait time. This eliminates pressure on agents so they are free to deliver quality service to the customers -- a radical but effective solution for the call center industry.
2. Hire the right managers
Managers make all the difference in creating the right kind of environment at a call center. Working as a call center agent can be a lonely position, and sitting in a cubicle with nothing but a telephone and perhaps a few photos of friends and family for hours on end can be hard on morale. But when companies hire managers who can know each employee as an individual, and help them grow and develop as a team, the dynamic can change completely.
Gallup research shows that fostering the close relationships between call center location members pays off. When asked to rate the Q12 item "I have a best friend at work" on a scale of 1-5, locations with 10% or more employees who rated this item with a 5 were much more productive than locations with fewer than 10% of employees who rated this item a 5. Agents with the strongest response to this question answered .73 more calls per hour than their peers. This difference could result in substantial increases in productivity -- and decreases in costs -- for a call center.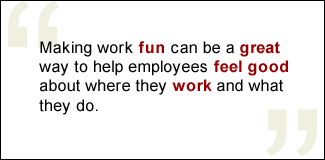 Tom Rogers, senior department manager for Discover Financial Services, actively promotes the idea of having a best friend at work by encouraging managers to get to know their employees. At Discover Financial Services, new front-line managers attend training to learn two things: "basic management skills 101" and how to become great managers by getting to know their employees individually. The first thing newly hired managers are taught is how to build a rapport and dialogue with their direct reports by learning employees' "hot buttons" and finding out what their best day at work would look like. "Establishing a relationship with your employees comes before everything else," Rogers says. "That is the foundation for engagement."
When Rogers seeks new managers, he looks for applicants who understand that people are messy. "Managers who are process- or project-driven get frustrated managing people because they're more focused on efficiency and getting the job done," he says. "People are never finished -- so these types don't make good managers." Instead, Rogers looks for people who are great at finding out what makes an individual tick, then developing that talent. "A manager's role is not to transform people into being different but to discuss what outcomes are needed and release [employees] to use their unique talents to reach those outcomes," he says.
For Rogers, managers can make all the difference in how employees feel about their workplace. "Most managers don't understand the significance they have in the lives of their employees, both inside and outside of work. The right kind of manager can make employees feel better when they leave to go home and feel better about coming back," he says. "They realize that every day is a day to make an impact on employees, either positively or negatively. And if that impact isn't positive, that's a day lost."
3. Don't forget the fun
Making work fun can be a great way to help employees feel good about where they work and what they do. At a call center, this can directly affect an agent's attitude and how he or she handles customers.
At ASB's call center, teams are encouraged to gather socially after work. For instance, some join in group sports such as cycling or kayaking. Attendance isn't required; employees go voluntarily. This is the "best friend" item in action. These team members are building relationships that extend beyond work -- they build trusted friendships and help employees make real connections with one another.
The managers at ASB take their work -- but not themselves -- seriously. Recently, they dressed in pink tutus and wings, in the spirit of a team event. Munro says he could never envision a business model where employee engagement didn't matter: "We want our customers to be engaged with us, so the only way to have that is through engaged employees," he says.
The big winner: your company
Creating a more pleasant atmosphere helps employees create bonds and enjoy their workplaces that much more -- an attitude boost that can have a significant impact on the level of customer service that employees provide. But ultimately, the big winners are companies, because taking these steps to create a great work atmosphere helps them retain more customers -- and improve the bottom line.