Jason Siffring is technology savvy, almost to a fault. A frequent traveler for his job as an information technology consultant for Fortune 500 companies, he was recently stranded in an airport when his flight to Chicago was cancelled. Jason reached for his "smartphone" (the Palm Treo) and wirelessly browsed the Web to find and book an alternative flight. He proudly turned to the woman next to him and said, "Look, I can book another flight using my phone." To which she replied, "So can I." Rolling her eyes, she flipped open her phone and pretended to dial a number.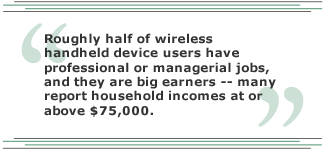 Jason is not alone in his pride in utilizing the very latest technology to solve everyday problems. He's part of a group of early technology adopters who could be signaling an important shift in the electronic marketplace. Backed by the proliferation of wireless Internet access in many buildings, use of wireless handheld devices like personal digital assistants (PDAs) and smartphones is increasing rapidly. And handheld device users -- and their self-reported behaviors -- tell a story about the future of electronic retailing.
Who are these people?
The Gallup Panel sampled nearly 2,000 of its members who say someone in their household uses a handheld device with Internet access, such as a BlackBerry or Treo. Examining these members' demographics shows some counterintuitive results. For example, these aren't just kids playing with new toys; the average age of wireless handheld device users is 38 years old. A majority of handheld users surveyed are married (62%). Additionally, while men are more likely than women to tote a Treo or similar device, the gender gap is not as wide as some might imagine (55% and 45%, respectively).
Occupationally, roughly half (48%) of wireless handheld device users have professional or managerial jobs, and they are big earners -- more than half report household incomes at or above $75,000.
Behavior reveals different kind of customer
Understanding the value of handheld device users is more than a matter of demographics, because they are at the leading edge of the electronic age. And perhaps more importantly, their reported purchasing behavior speaks volumes.
Almost universally, they say technology makes their lives easier (80% say so). Handheld owners are technology trendsetters; they are twice as likely as members of the general population to say they keep up on the latest styles and trends of electronic equipment.
They are also early adopters in every burgeoning technology service area. In the Panel study, handheld device users report being significantly more likely than the general population to do nearly everything online -- get directions, meet people, read Web logs (blogs), pay bills, manage investments, research travel, download music, or purchase tickets to events. They likely used TiVo before it became a verb or frequented YouTube.com before it was on Good Morning America.
When purchasing new electronics, handheld device owners are twice as likely as non-owners to buy online (33% compared to 15%). Not only do they say they are willing to pay more for a brand they trust (74%), they are also actually less likely to say they like to buy from a store that will help them install their consumer electronics (39% compared to 48% for nonowners).
For electronic manufacturers and retailers, wireless device ownership may be the right "credential" for testing and fostering the perfect electronics customer. They are willing to buy online, pay more for the right brand, and require less set up and support. So instead of examining customer demography like age, income, or profession, it may be a matter of just looking at a person's hip and the device hanging from his or her belt.