More than 80% of British workers lack any real commitment to their jobs, and a quarter of those are "actively disengaged," or truly disaffected with their workplaces. These are among the troubling findings of The Gallup Organization's Employee Engagement Index survey, which examines employee engagement levels in several countries, including Great Britain.
The fact is that the majority of Great Britain's 27 million employees -- who work the longest hours in Western Europe -- are uninspired at work. Gallup estimates that actively disengaged workers cost the British economy between ₤37.2 billion ($64.8 billion U.S.) and ₤38.9 billion ($66.1 billion U.S.) per year due to low employee retention, high absentee levels, and low productivity. What's worse, the situation hasn't improved over the past couple of years.
Gallup calculated the percentages within the total British workforce for three categories of employees: 19% are "engaged," or loyal, productive, and find their work satisfying; 61% are "not engaged" employees who aren't psychologically committed to their roles and may leave if an opportunity presents itself; and 20% are "actively disengaged," or disenchanted with their workplaces. Actively disengaged employees are often vocal or militant in showing their negative attitude toward their work and their employer.
Why are so many British employees disengaged? Poor management is the problem, according to the Employee Engagement Index survey. Workers say they don't know what is expected of them, their managers don't care about them as people, their jobs aren't a good fit for their talents, and their views count for little. The survey also found that employees feel they are far more productive if their supervisor focuses on their strengths and positive characteristics rather than their weaknesses.
Another worrying trend: Employees who have been with their companies for a long time are more likely than those with shorter tenures to be "not engaged" or "actively disengaged." So human assets that should increase in value with training and development instead depreciate as managers and companies fail to maximize this investment.
The effects of disengagement
Gallup's second Employee Engagement Index survey in Great Britain provides insights into how British employees responded to Gallup's Q12, a 12-question survey that measures employee engagement and links to important business outcomes, including retention, productivity, profitability, customer engagement, and safety. (See "Feedback for Real" in See Also.)
In Great Britain, on average, actively disengaged employees miss more than six days of work per year, while engaged employees miss less than three days on average. And actively disengaged employees are 10 times more likely to say they will leave their organizations within a year (48%) than their more engaged colleagues (4%).
What's more, only 13% of actively disengaged employees and 32% of "not engaged" employees would recommend their companies' products or services to others, compared to 78% of engaged employees. And although 67% of engaged employees actively advocate their organization as a place to work, only 19% of their not-engaged colleagues and a paltry 3% of actively disengaged workers would recommend their workplace to others.
Levels of engagement in Great Britain compare less favorably with those in the United States, where 27% of workers are engaged or fully committed to their jobs -- a difference of 8 percentage points. (See "Beyond the Dot-Com Bust" in See Also.) The percentage of engaged workers in Great Britain compares more favorably with engagement levels in Germany and France (12% each), Japan (9%), and Singapore (6%), which are markedly lower than those in Great Britain.
Most troubling of all is the fact that since Gallup first measured levels of employee engagement in Great Britain in mid-2001, there's been no significant change in engagement levels. In 2001, Employee Engagement Index survey results showed that 17% of employees were engaged, 63% were not engaged, and 20% were actively disengaged. This seems to be a startling condemnation of the countless employee initiatives that private and public organizations actively pursue. Innovative workspaces, rousing corporate mission statements, and even rising pay levels don't appear to motivate and sustain employee engagement.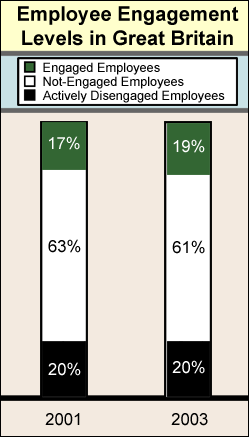 What's needed, according to Gallup workplace research, are the essentials of great management: setting clear expectations, caring for employees, providing recognition, and demonstrating to employees that their opinions count. But many organizations still view the quality of their managers' relationships with their employees as peripheral to financial success, so encouraging or requiring managers to engage their staff is not given a high priority.
Given the measurable business problems directly associated with low employee engagement -- absenteeism, low productivity, and high turnover -- it is perilous for organizations to assume that they can build a profitable and growing customer base if they can't develop strong relationships with their employees.
Results of this survey are based on a nationally representative sample of 1,004 employed adults aged 18 and older. Interviewing was conducted by telephone from Oct. 16-30 by The Gallup Organization. For results based on samples of this size, one can say with 95% confidence that the error attributable to sampling and other random effects could be ±3 percentage points. For findings based on sub-groups, the sampling error would be greater.