GALLUP NEWS SERVICE
PRINCETON , NJ -- According to a new Gallup Poll, conducted Oct. 4-7, 2007, President George W. Bush's job approval rating from the American public is an anemic 32%. That is slightly below his previous reading of 36% from mid-September, but is identical to his average approval score for all Gallup Polls conducted thus far in the second half of the year. Nearly two out of three Americans currently disapprove of Bush's job performance.
Public approval of the job Bush is doing averaged a slightly higher 35% in the first half of this year, peaking at 38% in April. His lowest score of the year thus far -- and also the lowest score of his presidency -- is 29%, and came in July.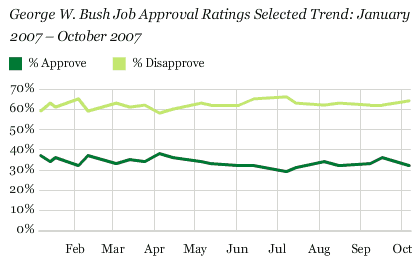 Bush's Conservative and Republican Base Giving Him Near Record-Low Support
President Bush continues to be rated approvingly by the two political groups that have traditionally formed his most supportive base: Republicans and Americans who define their political views as "conservative." But the level of approval from each of these is currently at or near the lowest points seen since he became president.
The 67% of Republicans approving of Bush today is slightly below the average 71% Republican approval since July, and approaches his term low-point of 65% approval from Republicans three months ago. Support from Bush's party is now significantly below where it stood at the beginning of the year (averaging 75% in January).
While Bush's ratings from independents and Democrats have varied during the year, they are currently quite similar to where they have been since the start of July. Independents have averaged a 26% approval rating since July and are now at 27%. Democrats have averaged a 7% approval rating, exactly where they are in this latest poll. Both groups' current approval ratings for Bush are very similar to what they were at the beginning of the year (29% and 8%, respectively).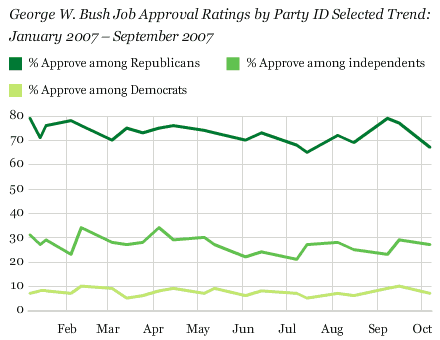 Similarly, just 51% of self-described conservatives approve of Bush today, the lowest of his presidency from this group (although it was a statistically indistinguishable 52% at one point earlier this year). His current 51% is below his 56% average approval rating from conservatives since the start of July, and 62% average approval in January.
Other Demographic Ratings are Stable
Approval ratings of Bush by gender, age, and region are fairly similar to what they have been in recent months.
Similar to the past few months, the new poll shows Bush's approval ratings are only slightly higher among men than among women. There are also fairly small differences by age, with young adults (18 to 29 years of age) being relatively less approving than those 30 and older.
As is typically the case, whites are more positive about Bush than is the much more Democratic-oriented nonwhite population (37% vs. 13%, respectively).
Throughout his presidency, Bush has typically received higher ratings in the South and Midwest than in the East and West, and that is seen in his average ratings since July. But in the current poll, only the South exhibits higher approval than the poll average, while the Midwest is similar to the East and West.
Bush Approval
by Demographic Subgroup

 

Oct. 4-7, 2007

Average for
July-Oct. 2007

 

%

%

Total

32

32

 

 

 

Men

34

36

Women

29

29

 

 

 

White

37

36

Nonwhite

13

17

 

 

 

18- to 29-year-olds

21

28

30- to 49-year-olds

36

35

50 years old or older

32

32

 

 

 

East

29

27

Midwest

26

31

South

38

38

West

30

30
Survey Methods
Results are based on telephone interviews with 1,010 national adults, aged 18 and older, conducted Oct. 4-7, 2007. For results based on the total sample of national adults, one can say with 95% confidence that the maximum margin of sampling error is ±3 percentage points. In addition to sampling error, question wording and practical difficulties in conducting surveys can introduce error or bias into the findings of public opinion polls.
3. Do you approve or disapprove of the way George W. Bush is handling his job as president?
 

Approve

Disapprove

No
opinion

 

%

%

%

2007

 

 

 

2007 Oct 4-7

32

64

4

2007 Sep 14-16

36

62

2

2007 Sep 7-8

33

62

5

2007 Aug 13-16

32

63

5

2007 Aug 3-5

34

62

4

2007 Jul 12-15

31

63

6

2007 Jul 6-8

29

66

5

2007 Jun 11-14

32

65

3

2007 Jun 1-3

32

62

6

2007 May 10-13

33

62

5

2007 May 4-6

34

63

3

2007 Apr 13-15

36

60

4

2007 Apr 2-5

38

58

4

2007 Mar 23-25

34

62

4

2007 Mar 11-14

35

61

4

2007 Mar 2-4

33

63

4

2007 Feb 9-11

37

59

3

2007 Feb 1-4

32

65

4

2007 Jan 15-18

36

61

3

2007 Jan 12-14

34

63

4

2007 Jan 5-7

37

59

4

2006

 

 

 

2006 Dec 11-14

35

61

4

2006 Dec 8-10

38

59

4

2006 Nov 9-12

33

62

4

2006 Nov 2-5

38

56

6

2006 Oct 20-22

37

58

4

2006 Oct 9-12

37

57

6

2006 Oct 6-8

37

59

4

2006 Sep 15-17

44

51

5

2006 Sep 7-10

39

56

5

2006 Aug 18-20

42

54

4

2006 Aug 7-10

37

59

4

2006 Jul 28-30

40

56

4

2006 Jul 21-23

37

59

4

2006 Jul 6-9

40

55

5

2006 Jun 23-25

37

60

3

2006 Jun 9-11

38

56

6

2006 Jun 1-4

36

57

6

2006 May 8-11

33

61

6

2006 May 5-7

31

65

5

2006 Apr 28-30

34

63

3

2006 Apr 10-13

36

59

5

2006 Apr 7-9

37

60

3

2006 Mar 13-16

37

59

5

2006 Mar 10-12

36

60

4

2006 Feb 28-
Mar 1

38

60

2

2006 Feb 9-12

39

56

4

2006 Feb 6-9

42

55

4

2006 Jan 20-22

43

54

4

2006 Jan 9-12

43

53

4

2006 Jan 6-8

43

54

3

2005

 

 

 

2005 Dec 19-22

43

53

4

2005 Dec 16-18

41

56

3

2005 Dec 9-11

42

55

3

2005 Dec 5-8

43

52

5

2005 Nov 17-20

38

57

5

2005 Nov 11-13

37

60

3

2005 Nov 7-10

40

55

5

2005 Oct 28-30

41

56

3

2005 Oct 24-26

41

56

3

2005 Oct 21-23

42

55

3

2005 Oct 13-16

39

58

3

2005 Sep 26-28

45

50

5

2005 Sep 16-18

40

58

2

2005 Sep 12-15

45

52

3

2005 Sep 8-11

46

51

3

2005 Aug 28-30

45

52

3

2005 Aug 22-25

40

56

4

2005 Aug 8-11

45

51

4

2005 Aug 5-7

45

51

4

2005 Jul 25-28

44

51

5

2005 Jul 22-24

49

48

3

2005 Jul 7-10

49

48

3

2005 Jun 29-30

46

51

3

2005 Jun 24-26

45

53

2

2005 Jun 16-19

47

51

2

2005 Jun 6-8

47

49

4

2005 May 23-26

48

47

5

2005 May 20-22

46

50

4

2005 May 2-5

50

45

5

2005 Apr 29-
May 1

48

49

3

2005 Apr 18-21

48

49

3

2005 Apr 4-7

50

45

5

2005 Apr 1-2

48

48

4

2005 Mar 21-23

45

49

6

2005 Mar 18-20

52

44

4

2005 Mar 7-10

52

44

4

2005 Feb 25-27

52

45

3

2005 Feb 21-24

51

45

4

2005 Feb 7-10

49

48

3

2005 Feb 4-6

57

40

3

2005 Jan 14-16

51

46

3

2005 Jan 7-9

52

44

4

2005 Jan 3-5

52

44

4

2004

 

 

 

2004 Dec 17-19

49

46

5

2004 Dec 5-8

53

44

3

2004 Nov 19-21

55

42

3

2004 Nov 7-10

53

44

3

2004 Oct 29-31

48

47

5

2004 Oct 22-24

51

46

3

2004 Oct 14-16

51

47

2

2004 Oct 11-14

48

49

3

2004 Oct 9-10

47

49

4

2004 Oct 1-3

50

48

2

2004 Sep 24-26

54

44

2

2004 Sep 13-15

52

45

3

2004 Sep 3-5

52

46

2

2004 Aug 23-25

49

47

4

2004 Aug 9-11

51

46

3

2004 Jul 30-
Aug 1

48

49

3

2004 Jul 19-21

49

47

4

2004 Jul 8-11

47

49

4

2004 Jun 21-23

48

49

3

2004 Jun 3-6

49

49

2

2004 May 21-23

47

49

4

2004 May 7-9

46

51

3

2004 May 2-4

49

48

3

2004 Apr 16-18

52

45

3

2004 Apr 5-8

52

45

3

2004 Mar 26-28

53

44

3

2004 Mar 8-11

50

47

3

2004 Mar 5-7

49

48

3

2004 Feb 16-17

51

46

3

2004 Feb 9-12

51

46

3

2004 Feb 6-8

52

44

4

2004 Jan 29-
Feb 1

49

48

3

2004 Jan 12-15

53

44

3

2004 Jan 9-11

59

38

3

2004 Jan 2-5

60

35

5

2003

 

 

 

2003 Dec 15-16

63

34

3

2003 Dec 11-14

56

41

3

2003 Dec 5-7

55

43

2

2003 Nov 14-16

50

47

3

2003 Nov 10-12

51

45

4

2003 Nov 3-5

54

43

3

2003 Oct 24-26

53

42

5

2003 Oct 10-12

56

40

4

2003 Oct 6-8

55

42

3

2003 Sep 19-21

50

47

3

2003 Sep 8-10

52

43

5

2003 Aug 25-26

59

37

4

2003 Aug 4-6

60

36

4

2003 Jul 25-27

58

38

4

2003 Jul 18-20

59

38

3

2003 Jul 7-9

62

34

4

2003 Jun 27-29

61

36

3

2003 Jun 12-15

63

33

4

2003 Jun 9-10

62

34

4

2003 May 30-
Jun 1

64

32

4

2003 May 19-21

66

30

4

2003 May 5-7

69

28

3

2003 Apr 22-23

70

26

4

2003 Apr 14-16

71

24

5

2003 Apr 7-9

69

26

5

2003 Apr 5-6

70

27

3

2003 Mar 29-30

71

26

3

2003 Mar 24-25

69

27

4

2003 Mar 22-23

71

25

4

2003 Mar 14-15

58

38

4

2003 Mar 3-5

57

37

6

2003 Feb 24-26

57

37

6

2003 Feb 17-19

58

37

5

2003 Feb 7-9

61

34

5

2003 Feb 3-6

59

35

6

2003 Jan 31-
Feb 2

61

35

4

2003 Jan 23-25

60

36

4

2003 Jan 20-22

58

36

6

2003 Jan 13-16

61

34

5

2003 Jan 10-12

58

37

5

2003 Jan 3-5

63

32

5

2002

 

 

 

2002 Dec 19-22

61

32

7

2002 Dec 16-17

63

33

4

2002 Dec 9-10

63

32

5

2002 Dec 5-8

64

29

7

2002 Nov 22-24

65

28

7

2002 Nov 11-14

66

26

8

2002 Nov 8-10

68

27

5

2002 Oct 31-
Nov 3

63

29

8

2002 Oct 21-22

67

28

5

2002 Oct 14-17

62

31

7

2002 Oct 3-6

67

28

5

2002 Sep 23-26

68

26

6

2002 Sep 20-22

66

30

4

2002 Sep 13-16

70

26

4

2002 Sep 5-8

66

30

4

2002 Sep 2-4

66

29

5

2002 Aug 19-21

65

28

7

2002 Aug 5-8

68

26

6

2002 Jul 29-31

71

23

6

2002 Jul 26-28

69

26

5

2002 Jul 22-24

69

24

7

2002 Jul 9-11

73

21

6

2002 Jul 5-8

76

18

6

2002 Jun 28-30

76

19

5

2002 Jun 21-23

73

21

6

2002 Jun 17-19

74

20

6

2002 Jun 3-6

70

23

7

2002 May 28-29

77

17

6

2002 May 20-22

76

17

7

2002 May 6-9

76

19

5

2002 Apr 29-May 1

77

20

3

2002 Jun 7-8

74

18

8

2002 Apr 22-24

77

17

6

2002 Apr 8-11

75

20

5

2002 Apr 5-7

76

19

5

2002 Mar 22-24

79

17

4

2002 Mar 18-20

79

16

5

2002 Mar 8-9

80

14

6

2002 Mar 4-7

77

18

5

2002 Mar 1-3

81

14

5

2002 Feb 8-10

82

14

4

2002 Feb 4-6

82

14

4

2002 Jan 25-27

84

13

3

2002 Jan 11-14

83

13

4

2002 Jan 7-9

84

12

4

2001

 

 

 

2001 Dec 14-16

86

11

3

2001 Dec 6-9

86

10

4

2001 Nov 26-27

87

8

5

2001 Nov 8-11

87

9

4

2001 Nov 2-4

87

9

4

2001 Oct 19-21

88

9

3

2001 Oct 11-14

89

8

3

2001 Oct 5-6

87

10

3

2001 Sep 21-22

90

6

4

2001 Sep 14-15

86

10

4

2001 Sep 7-10

51

39

10

2001 Aug 24-26

55

36

9

2001 Aug 16-19

57

34

9

2001 Aug 10-12

57

35

8

2001 Aug 3-5

55

35

10

2001 Jul 19-22

56

33

11

2001 Jul 10-11

57

35

8

2001 Jun 28-Jul 1

52

34

14

2001 Jun 11-17

55

33

12

2001 Jun 8-10

55

35

10

2001 May 18-20

56

36

8

2001 May 10-14

56

31

13

2001 May 7-9

53

33

14

2001 Apr 20-22

62

29

9

2001 Apr 6-8

59

30

11

2001 Mar 26-28

53

29

18

2001 Mar 9-11

58

29

13

2001 Mar 5-7

63

22

15

2001 Feb 19-21

62

21

17

2001 Feb 9-11

57

25

18

2001 Feb 1-4

57

25

18