GALLUP NEWS SERVICE
PRINCETON , NJ -- Americans' assessment of Congress, as well as the public's overall satisfaction with the state of the nation, are little changed this month, with both measures still at very low levels. Only about one in four Americans say they approve of the job Congress is doing at this time, and a similar percentage of respondents say they are satisfied with the way things are going in the country. By a wide margin over any other issue, Americans continue to say that the war in Iraq is the most important problem facing the country.
Congressional Job Approval
According to the survey, conducted Oct. 4-7, 2007, just 23% of Americans say they approve of the way Congress is handling it job, while 71% disapprove. Congressional job approval is essentially the same as it was last month but slightly higher than the 18% reading in August, which matched a 1992 rating as the lowest Gallup has measured since 1974. Even with the slight improvement during the last two months, ratings of Congress remain lower than they have been most of this year.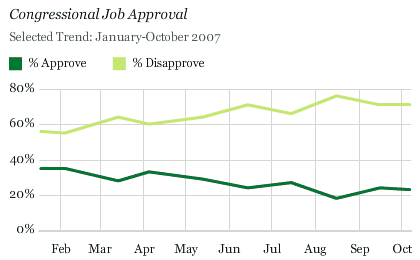 Since Gallup starting tracking the public's rating of Congress in 1974, the average approval rating has been 39%, with a high of 84% following the 9/11 terrorist attacks and a low of 18%. Americans' ratings of Congress have been below the historical average since March 2005.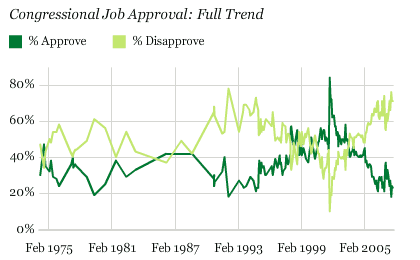 Partisan ratings of Congress have shown significant fluctuations this year. After the Democrats took control of both houses at the beginning of the year, Democrats were more likely than Republicans to approve of Congress. Then, ratings declined among both groups to the point that Republicans and Democrats were equally likely to approve of Congress. Following Gen. David Petraeus' testimony before Congress in September, Republicans' ratings increased (from 18% in August to 37% in September), while Democrats showed no change (21% to 23%). In the latest poll, Republicans (25%) and Democrats (26%) are again about equally likely to approve of Congress. Independents' approval is slightly lower, at 19% in the new poll.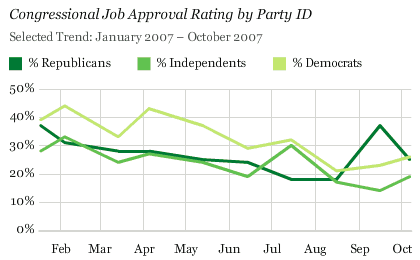 Satisfaction With the State of the Nation
Twenty-five percent of Americans say they are satisfied with the way things are going in the country at this time; 73% are dissatisfied. The public's satisfaction with the state of the nation has only shown modest fluctuation since May, ranging between 24% and 28% over the past six months. Satisfaction was slightly higher earlier in the year, between 30% and 35%.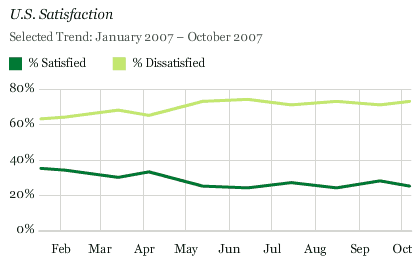 As is the case with congressional job approval, the public's overall satisfaction remains very low by historical standards. Since 1979, when Gallup first asked this question, satisfaction with the state of the nation has averaged 42%. The highpoint was in the economic boom years of the late 1990s, with a 71% rating in February 1999; the low point occurred in July 1979, with a 12% rating.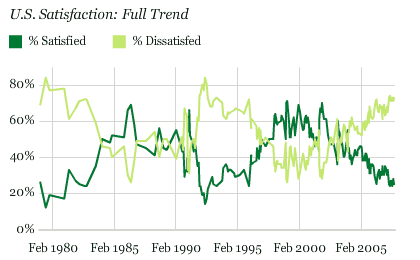 Republicans have consistently been more likely than Democrats and independents to say they are satisfied with the way things are going in the country throughout George W. Bush's presidency. In the current poll, 45% of Republicans say they are satisfied, compared with 21% of independents and just 11% of Democrats.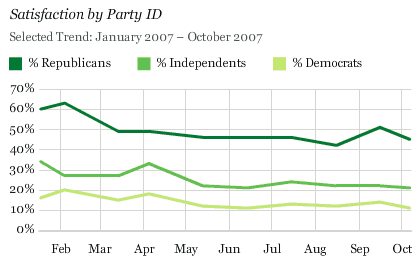 Most Important Problem
The new poll also updates Gallup's long-standing trend question that asks Americans to name, in their own words, the most important problem facing the country at this time. The war in Iraq continues to be the dominant problem in the eyes of the public, mentioned by 33% of Americans. Following next are healthcare issues (13%), the general state of the economy (9%), immigration (9%), and government corruption and dissatisfaction (8%). No other issue is mentioned by more than 5% of Americans.
What do you think is the most important problem facing this country today?

2007 Oct 4-7

%

ECONOMIC PROBLEMS (NET)

22

Economy in general

9

Unemployment/jobs

5

Federal budget deficit/federal debt

3

High cost of living/inflation

2

Fuel/Oil Prices

2

Taxes

1

Lack of money

1

Wage issues

1

Gap between rich and poor

1

Corporate corruption

*

Foreign trade/trade deficit

*

 

NON-ECONOMIC PROBLEMS (NET)

81

Situation in Iraq/war

33

Poor healthcare/hospitals; high cost of healthcare

13

Immigration/illegal aliens

9

Dissatisfaction with government/Congress/politicians; poor leadership; corruption; abuse of power

8

Ethics/moral/religious/family decline; dishonesty; lack of integrity

5

Terrorism

4

Education/poor education/access to education

4

Crime/violence

2

Poverty/ hunger/homelessness

2

Lack of respect for each other

2

Foreign aid/focus overseas

2

International issues/problems

1

National security

1

Judicial system/courts/laws

1

Children's behavior/way they are raised

1

Unifying the country

1

Drugs

1

Environment/ pollution

1

Social Security

1

Welfare

1

Election year/presidential choices/election reform

1

Race relations/racism

1

Lack of military defense

*

The media

*

War/conflict between Middle East nations

*

Medicare

*

Care for the elderly

*

Lack of energy sources; the energy crisis

*

Abortion

*

Overpopulation

*

Natural disaster relief effort and funding

*

 

Other non-economic

5

 

No opinion

3

 

NOTE: Percentages add to more than 100% due to multiple responses

* Less than 0.5%
The war in Iraq has consistently ranked at the top of this list since the spring of 2004. Beyond that issue, there has been little change as to which issues Americans say are the most important facing the country right now. Americans' views that immigration is the top problem peaked at 19% in April 2006 and have gradually declined since then. And, as immigration faded, Americans' perceptions that healthcare was the top problem gradually increased.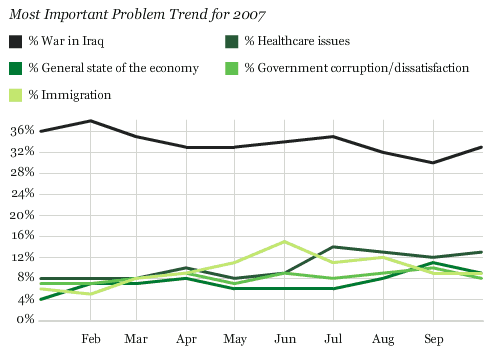 Republicans, independents, and Democrats agree that the war in Iraq is the nation's most important problem at this time. However, Democrats (43%) mention the war much more frequently than do Republicans (24%). Thirty-three percent of independents name the war as the top problem in the latest poll.
Democrats are also more inclined than Republicans to name healthcare issues (19% to 10%) and the economy (14% to 7%), while Republicans more often mention immigration (13% to 4%) and ethics and morality (9% to 1%). The two party groups are equally likely to mention terrorism, government dissatisfaction and corruption, education, and unemployment.
Most Important Problem By Party ID
Oct. 4-7, 2007

Republicans

Independents

Democrats

%

%

%

Situation in Iraq

24

33

43

Immigration/illegal immigration

13

10

4

Healthcare issues

10

11

19

Ethics/morality/family decline

8

7

1

General state of the economy

7

7

14

Terrorism

6

5

2

Government dissatisfaction and corruption

6

9

8

Education

5

4

4

Unemployment/jobs

3

4

7
Survey Methods
Results are based on telephone interviews with 1,010 national adults, aged 18 and older, conducted Oct. 4-7, 2007. For results based on the total sample of national adults, one can say with 95% confidence that the maximum margin of sampling error is ±3 percentage points. In addition to sampling error, question wording and practical difficulties in conducting surveys can introduce error or bias into the findings of public opinion polls.