PRINCETON, NJ -- Public approval ratings of President George W. Bush and the United States Congress haven't budged from their most recent December readings. Both figures continue to be extraordinarily weak, approaching historical low points in Gallup trends. While President Bush at least enjoys majority support from members of his own Republican Party, disapproval of Congress is a bipartisan affair. The Democratic-controlled Congress is rated no better by Democrats than it is by Republicans.
Gallup's latest national poll, conducted Jan. 4-6, finds 32% of Americans approving of the job Bush is doing as president and a mere 23% approving of the job Congress is doing. The previous figures were 32% and 22%, respectively.
More generally, Bush's approval rating has bobbed between 31% and 34% for almost the entire period from May 2007 through today, averaging 33%. It fell outside this range only three times: 29% in July (the lowest reading of Bush's presidency), 36% in September, and 37% in early December. It averaged a slightly higher 35% in the first few months of 2007.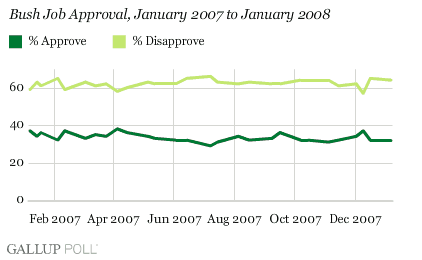 Over the same period, Congress' approval has varied between 18% (tied for the lowest congressional approval in Gallup records) and 29%, although it has consistently been on the low end of that range since November.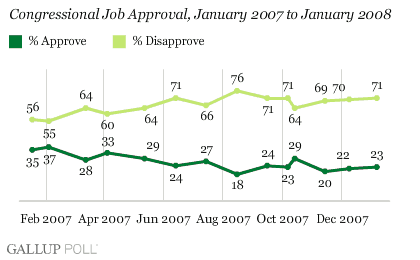 Republicans Back Bush
Three-quarters of Republicans (76%) currently approve of Bush's job performance, compared with 20% of independents and 7% of Democrats.
Support for Bush among Republicans today is comparable to what it was a year ago, when Bush's overall approval rating averaged 36%: 75% of Republicans approved of the job he was doing in January 2007 and 76% approve today. His minimal support among Democrats also hasn't changed. However, among independents, Bush's approval is lower today than it was a year ago: now 20%, down from 29%.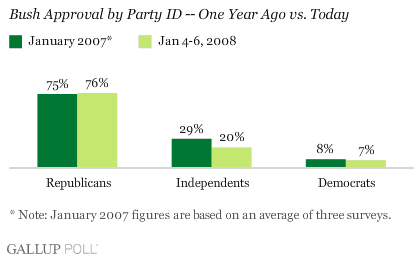 Republican approval of Bush dipped below 70% in two surveys in July 2007 -- possibly a symptom of Republican disagreement with Bush's support for the comprehensive immigration reform bill that died in Congress in late June.
He has clearly recovered from that period, but is still less well rated by members of his party than he was for much of the period from the beginning of his presidency in 2001 through about 2005.
Democrats Not Boosting Congress' Ratings
Despite the Democratic majority in Congress, rank-and-file Democrats are not nearly as supportive of the job Congress is doing as Republicans are of the job the Republican president is doing. Only 27% of Democrats currently approve of the job Congress is doing, nearly identical to the percentage of Republicans saying the same. A smaller number of independents approve (16%).
Congress enjoyed a slight boost in approval from Democrats in the first few months after taking control of Congress last year. From about February through July 2007, more Democrats than Republicans approved of the job Congress was doing. However, since August, ratings of Congress by members of the two parties have generally been similar.
Bush receives a higher approval rating than Congress from most major societal groups. The notable exceptions are young adults (aged 18 to 29) and groups that tend to be more Democratic in party affiliation, including residents of the East, West, and low-income households.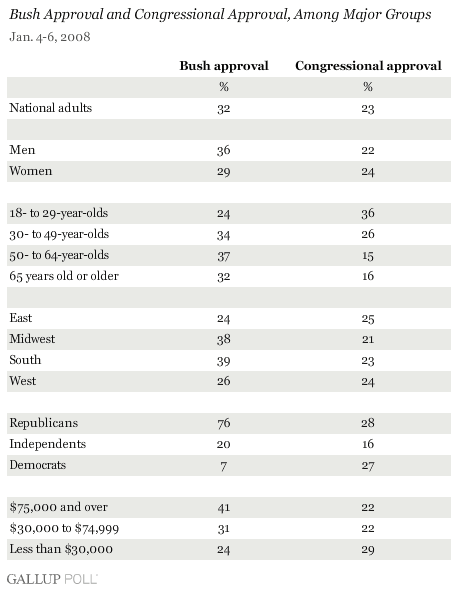 Survey Methods
Results are based on telephone interviews with 1,023 national adults, aged 18 and older, conducted Jan. 4-6, 2008. For results based on the total sample of national adults, one can say with 95% confidence that the maximum margin of sampling error is ±3 percentage points.
For results based on the sample of 423 Republicans or Republican leaners, the maximum margin of sampling error is ±5 percentage points.
For results based on the sample of 499 Democrats or Democratic leaners, the maximum margin of sampling error is ±5 percentage points.
In addition to sampling error, question wording and practical difficulties in conducting surveys can introduce error or bias into the findings of public opinion polls.