PRINCETON, NJ -- The Republican Party last carried a majority of seats in the U.S. House of Representatives in 2004, and Gallup polling conducted in the days preceding the election that year found 47% of likely voters planning to vote for the Republican candidate in their district. In 2006, with their final pre-election support at 44% of likely voters, the Republicans lost control of Congress. Today, even fewer likely voters say they will vote Republican.
According to the latest USA Today/Gallup poll, conducted Feb. 8-10, 2008, only 41% of adults likely to vote this November say they would support the Republican candidate running in their congressional district. Fifty-five percent say they would vote for the Democratic candidate.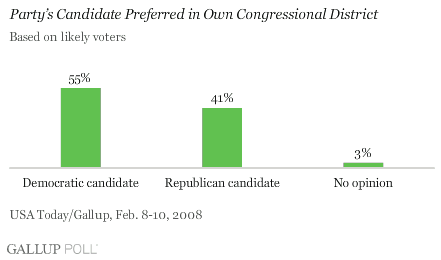 The current 14-point margin in favor of the Democrats among likely voters is one of the highest Gallup has seen in recent years, along with two others late in the 2006 campaign.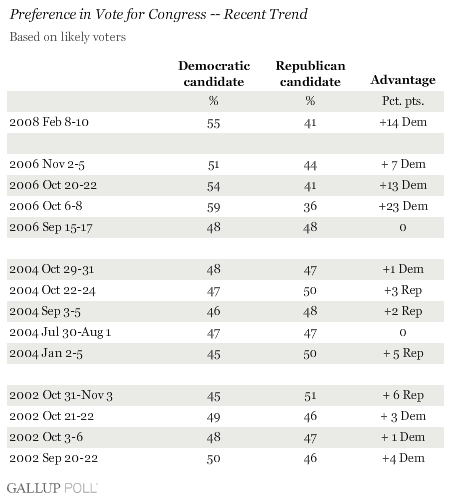 If the same result were found right before this year's Nov. 4 elections, it would almost certainly portend an increase in the Democrats' share of seats in the U.S. House of Representatives. However, as Gallup's long-term "generic ballot" trend shows, preferences on this question can shift substantially in the course of an election year, so it is far too soon to be making those kinds of predictions.
Implications
Voters' overall preference for Democratic congressional candidates mirrors the underlying Democratic advantage in Americans' current party identification. As Gallup has noted in recent months, the percentage of Americans identifying themselves as Democrats or as leaning to the Democratic Party far outpaces those identifying as or leaning Republican: 51% vs. 40% in 2007. (See "GOP Identification in 2007 Lowest in Last Two Decades" in Related Items.)
This deficit does not appear to be an insurmountable problem for the Republican Party in the presidential election -- Gallup finds the likely Republican nominee, John McCain, running about even with both Hillary Clinton and Barack Obama in general-election trial heats. However, party identification is typically much more closely related to national generic congressional-ballot preferences. The question is whether a popular Republican presidential candidate would cause Republican party identification to rebound enough to blunt Democratic gains in Congress, or even roll them back.
Survey Methods
Results are based on telephone interviews with 1,016 national adults, aged 18 and older, conducted Feb. 8-10, 2008. For results based on the total sample of national adults, one can say with 95% confidence that the maximum margin of sampling error is ±3 percentage points.
Results for likely voters are based on the subsample of 706 survey respondents deemed most likely to vote in the November 2008 general election, according to a series of questions measuring current voting intentions and past voting behavior. For results based on the total sample of likely voters, one can say with 95% confidence that the maximum margin of sampling error is ±4 percentage points. The "likely voter" model assumes a turnout of 60% of national adults. The "likely voter" sample is weighted to match this assumption, so the weighted sample size is 606.
In addition to sampling error, question wording and practical difficulties in conducting surveys can introduce error or bias into the findings of public opinion polls.