PRINCETON, NJ -- A new USA Today/Gallup poll finds a sharp drop in voter enthusiasm -- 48% of registered voters say they are "more enthusiastic than usual about voting," compared with 63% who said this in a poll conducted just after the Super Tuesday presidential primaries and caucuses in early February.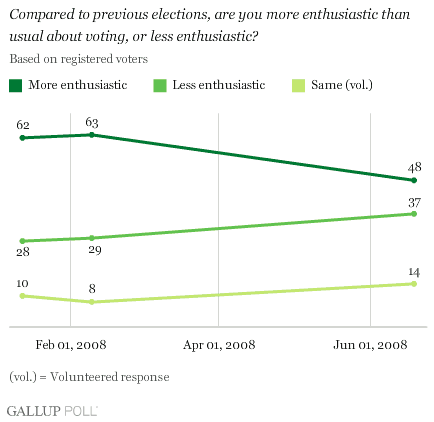 The drop has occurred among both Republicans and Democrats, though the decline has been greater among Democrats, in large part because Republican enthusiasm was relatively low to begin with. Democrats continue to hold a wide advantage (61% to 35%) on this measure.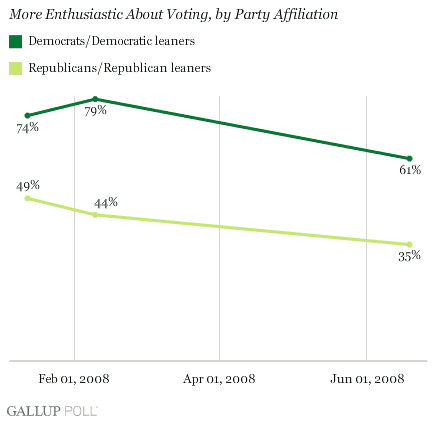 A post-primary voter hangover is not unprecedented, but Gallup did not observe as large a decline in enthusiasm in 2000 or in 2004 after the presidential nominees were largely decided.
Between January 2000 and March 2000, enthusiasm about voting dropped by six percentage points among both Republicans (from 51% to 45%) and Democrats (from 39% to 33%). In 2004, Democrats' enthusiasm dropped from late January to March (59% to 51%), while Republicans' enthusiasm basically stayed the same (53% to 52%). The lack of change in Republican enthusiasm in 2004 could have resulted from the fact that George W. Bush was running unopposed for the party's nomination.
The poll does not provide many clues as to why the drop may have been greater this year than in prior election years. For example, although polls have shown that the majority of Republicans and Democrats are satisfied with their parties' chosen nominees, it is possible those who strongly supported one of their challengers (such as Hillary Clinton or Mitt Romney) may be disappointed in the outcome and thus less excited about voting in November than if their chosen candidate had won the nomination. If that is the case, however, it is not apparent from the candidates' favorable ratings -- both John McCain and Barack Obama are viewed more favorably by those who identify with their party now than they were in February.
It is important to note that the overall drop in enthusiasm from February does not mean Americans are any less engaged in the campaign. In the new poll, 75% say they have given "quite a lot of thought" to the election, essentially the same as the 76% from February. At least 7 in 10 Americans have reported giving this high degree of thought to the election since late January.
In fact, the current "thought" levels are significantly higher than they were in June 2004 (an average of 67%) and especially in June 2000 (an average of 45%).
Enthusiasm in a Historical Context
At 35%, the percentage of Republicans who say they are more enthusiastic than usual about voting is the lowest Gallup has measured for Republicans at any time during the last three presidential election years. (It is just two points higher than the low for either party, 33% for Democrats in March 2000.) The prior GOP low was in the post-Super Tuesday poll earlier this year. Republicans were much more enthusiastic about voting in 2004 when George W. Bush was seeking re-election.
In February, a record 79% of Democrats said they were more enthusiastic about voting. Even with the decline to 61%, Democratic enthusiasm remains relatively high from a historical perspective.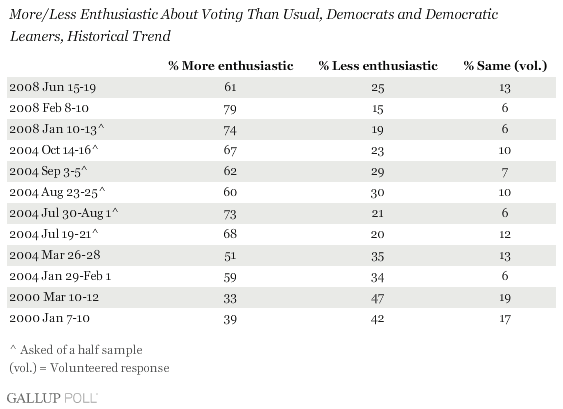 Implications
Though the public is still highly engaged in the election, that engagement is apparently more subdued than it was earlier this year, given the drop in the percentage of registered voters who report being more enthusiastic about voting than usual. Voter enthusiasm may well pick up again as the campaign moves closer to Election Day -- as occurred in 2004.
Gallup's long history of relating Americans' "thought" given to the election and turnout suggests 2008 will be another high-turnout election year.
Gallup has less historical data on the "more enthusiastic than usual about voting" question, and thus far, it has not established a strong link between enthusiasm and voter turnout. However, it generally has been the case in presidential and midterm election years that the party with the relative advantage on enthusiasm does better in the elections.
So even if Democratic enthusiasm has dropped since Obama clinched the party's presidential nomination, the fact that Democrats maintain a wide lead in enthusiasm over Republicans is a positive sign for the Democratic Party.
Survey Methods
Results are based on telephone interviews with 1,625 national adults, aged 18 and older, conducted June 15-19, 2008. For results based on the total sample of national adults, one can say with 95% confidence that the maximum margin of sampling error is ±3 percentage points.
For results based on the sample of 1,460 registered voters, the maximum margin of sampling error is ±3 percentage points.
Interviews are conducted with respondents on land-line telephones (for respondents with a land-line telephone) and cellular phones (for respondents who are cell-phone only).
In addition to sampling error, question wording and practical difficulties in conducting surveys can introduce error or bias into the findings of public opinion polls.
To provide feedback or suggestions about how to improve Gallup.com, please e-mail feedback@gallup.com.