PRINCETON, NJ -- In a year when approval of Congress has reached a new low, just 36% of U.S. registered voters say most members of Congress deserve re-election. This is among the lowest ratings Gallup has measured in a recent presidential or congressional election year.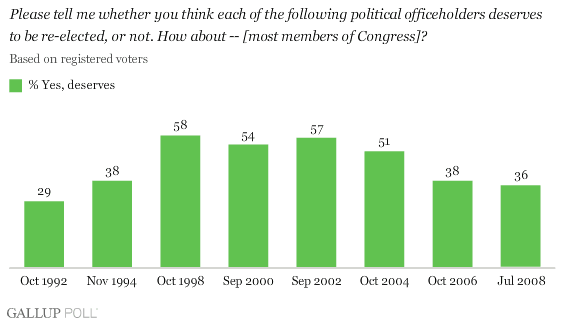 These results are based on a July 25-27 USA Today/Gallup poll of 900 registered voters nationwide. The poll was conducted before Congress began a month-long recess late last week.
Gallup has found ratings in the neighborhood of the current 36% in three other election years -- 1992, 1994, and 2006. All of these years brought about significant change in the membership of Congress.
In the 1994 and 2006 midterm election years, when 38% of registered voters said most members of Congress were deserving of another term, enough seats switched party hands that control of Congress switched from one party to the other -- from the Democrats to the Republicans in 1994 and from the Republicans to the Democrats in 2006.
In 1992, as few as 29% of registered voters said most members deserved re-election. Congress did experience a great deal of turnover that year, though Democrats retained party control and the actual change in the party composition of Congress was much less than in 1994 or 2006. That could be because a large number of incumbent members retired rather than run for re-election in 1992. But it also could be the fact that the congressional elections were overshadowed by the presidential election that year.
Does Your Member Deserve to Be Re-Elected?
Voters are usually much more charitable when asked whether their own member of Congress deserves to be re-elected (as opposed to most members), and that is also the case in the latest poll. Fifty-seven percent of registered voters say the U.S. representative from their own congressional district deserves to be re-elected. That, too, is on the low end of what Gallup has measured historically for one's own member, slightly higher than the 1994 (54%) and 2006 (54%) readings, and somewhat better still than the all-time low of 48% in 1992.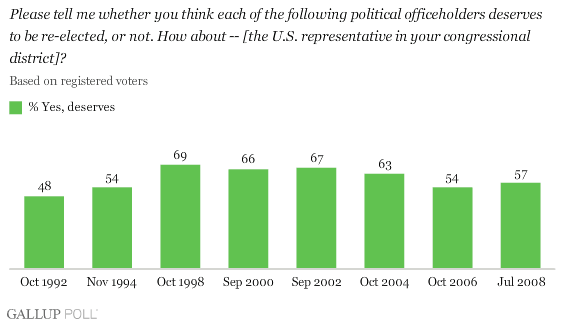 Both items (most members and your member) seem to show similar changes from one poll to another, and low ratings tend to presage significant turnover in Congress. Thus, congressional incumbents may be in for a bumpy ride during this fall's campaign, as many try to hold on to their seats in a year when voters are looking to change the government.
On a variety of measures, 2008 looks like a better year for Democrats than for Republicans. But at the same time, Democrats hold party control of the House (as well as the Senate). So it is not immediately clear which party's incumbents might be more vulnerable if voters want to change Congress. The poll sought to get some traction on the issue by asking voters to report whether their member of Congress is a Republican or a Democrat. That gives a sense of whom voters have in mind when they say their member of Congress does or does not deserve re-election.
A fairly large proportion of voters (35%) are unsure whether their member of Congress is a Democrat or a Republican. But among those who are aware, the data suggest that Democratic members might be a little safer this year than Republicans.
Among voters who report that their member of Congress is a Democrat, 64% say he or she deserves re-election. That compares to the 57% who say their (Republican) representative deserves another term. Among the roughly one in three voters who are unsure whether a Republican or a Democrat represents their district, barely half (51%) say their member deserves to be re-elected.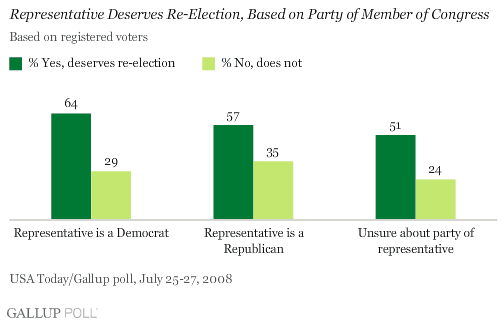 Implications
One major theme of the 2008 election thus far has been "change." Most of the presidential candidates sounded that theme during their campaigns, but voters apparently are in the mood to change Congress as well. Typically, when lower percentages of voters say their member of Congress and most members of Congress deserve re-election, the membership of Congress is shaken up on Election Day.
There are, however, countervailing forces that make the direction of the change somewhat unpredictable this year -- the Democrats hold the majority of seats in Congress in a year when Congress is historically unpopular, but the political environment in 2008 seems to favor the Democrats. These data suggest the favorable political environment may be the stronger force at work, given that voters with a Democrat representing them are more likely to say that representative deserves another term than are voters with a Republican representing them.
Survey Methods
Results are based on telephone interviews with 900 registered voters, aged 18 and older, conducted July 25-27, 2008. For results based on the total sample of registered voters, one can say with 95% confidence that the maximum margin of sampling error is ±4 percentage points.
Interviews are conducted with respondents on land-line telephones (for respondents with a land-line telephone) and cellular phones (for respondents who are cell-phone only).
In addition to sampling error, question wording and practical difficulties in conducting surveys can introduce error or bias into the findings of public opinion polls.
To provide feedback or suggestions about how to improve Gallup.com, please e-mail feedback@gallup.com.