PRINCETON, NJ -- Barack Obama's appeal to younger voters and John McCain's support among older voters may have created a situation where the outcome will turn on the preferences of middle-aged voters -- particularly those in their 40s.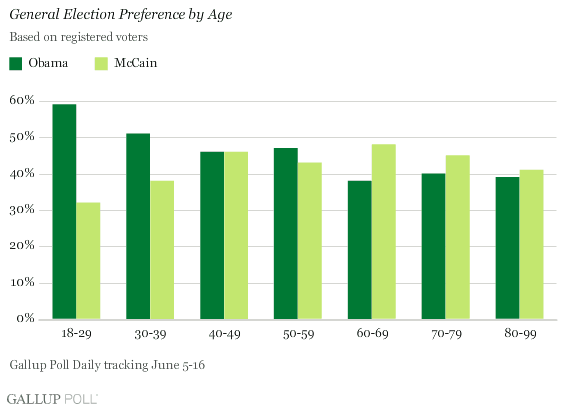 Since Hillary Clinton suspended her campaign earlier this month, McCain and Obama have tied at 46% support among registered voters between the ages of 40 and 49, according to an analysis of Gallup Poll Daily tracking data from June 5-16. During that time, Gallup interviewed nearly 10,000 registered voters nationwide, including 1,637 in their 40s. Obama led McCain by an average of 47% to 42% among the entire sample of registered voters.
In addition to their exact tie among voters in their 40s, the candidates are also competitive among voters in their 50s, with Obama holding a slight 47% to 43% advantage.
Obama currently holds a commanding lead among younger voters, beating McCain 59% to 32% among voters under 30 and by 51% to 38% among voters in their 30s.
Currently, McCain's highest support is found with voters between the ages of 60 and 69, among whom he leads Obama by 10 percentage points, 48% to 38%. McCain also currently holds a slim edge among voters in their 70s and 80s.
Forty-something voters are a politically interesting group because some of the common political divides in the U.S. electorate are not evident within this particular age group.
For example, there is almost no gender gap in voting preferences among those in their 40s.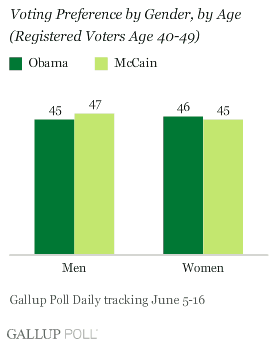 Similarly, the two fare equally well among college graduates (normally a strong Obama group) and those without college education (a better group for McCain).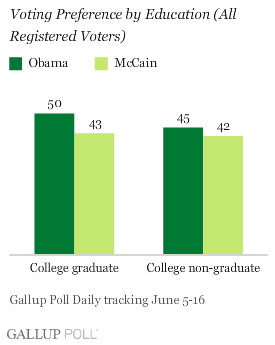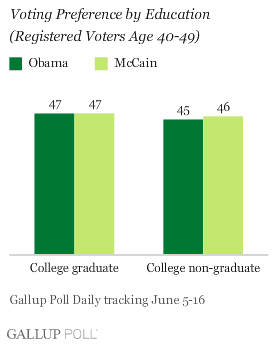 That is not to say that the normal political differences do not apply to this group -- Obama still leads overwhelmingly among Democrats, liberals, and non-whites in their 40s, while McCain has the edge among Republicans, conservatives, whites, and higher-income voters between the ages of 40 and 49.
And voter preferences may vary more by marital status among those in their 40s than among all voters. In these data, McCain held a 53% to 39% advantage among married voters in their 40s (compared with 49% to 40% among all registered voters who are married), while Obama had a commanding 62% to 28% lead among unmarried voters in this age bracket (compared with a 56% to 32% lead among all unmarried voters).
Implications
The Obama and McCain campaigns will do all they can turn out their solid supporters -- which will include younger voters for Obama and older voters for McCain. But their efforts at persuading voters may be most fruitful if targeted at middle-aged voters, particularly those in their 40s.
Survey Methods
Results are based on telephone interviews with 9,686 registered voters, aged 18 and older, conducted June 5-16, 2008. For results based on the total sample of national adults, one can say with 95% confidence that the maximum margin of sampling error is ±1 percentage point.
For results based on the sample of 1,637 registered voters between the ages of 40 and 49, the maximum margin of sampling error is ±3 percentage point.
Interviews are conducted with respondents on land-line telephones (for respondents with a land-line telephone) and cellular phones (for respondents who are cell-phone only).
In addition to sampling error, question wording and practical difficulties in conducting surveys can introduce error or bias into the findings of public opinion polls.
To provide feedback or suggestions about how to improve Gallup.com, please e-mail feedback@gallup.com.