PRINCETON, NJ -- President George W. Bush's job approval rating has dropped to 28%, the lowest of his administration. Bush's approval is lower than that of any president since World War II, with the exceptions of Jimmy Carter (who had a low point of 28% in 1979), and Richard Nixon and Harry Truman, who suffered ratings in the low- to mid-20% range in the last years of their administrations.
Bush's lowest job approval rating had been 29%, reached in a July 2007 Gallup Poll. Since that time, Bush's approval ratings have been generally in the low 30% range, averaging 32.5% across the eight polls conducted this year before the most recent poll, conducted April 6-9.
Bush's average for his first seven years in office was 52%, a tenure marked by a slide from high ratings in his first two years to the very low ratings in his sixth and seventh years, and in the first months of 2008. Bush's highest job approval rating is 90%, recorded in September 2001, just after the Sept. 11 terrorist attacks, and is the highest job approval rating in Gallup history.
On a year-by-year basis, Bush's ratings have gone from 68% and 71% averages in his first two years to 33% in his seventh year.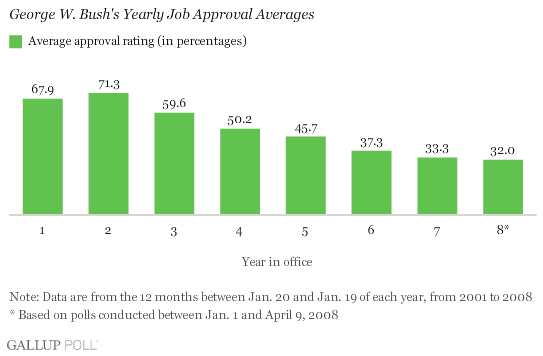 Bush's low rating in the current poll is the result of an extraordinarily low average approval rating from Democrats, a low level of support from independents, and support from just two-thirds of his base of Republicans.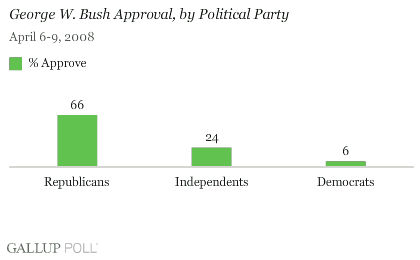 When Bush received a 29% rating in Gallup's July 6-8, 2007, poll, the party approval ratings were similar to today's: 68% approval among Republicans, 21% among independents, and 7% among Democrats.
Historical Comparisons
Bush's current 28% job approval rating is at the very low end of the spectrum of approval ratings Gallup has recorded across the 11 presidents in office since World War II. The average presidential job approval rating during that time has been 55%. The highest reading, as noted, is the 90% for the current President Bush in September 2001; the lowest is the 22% for Truman in February 1952.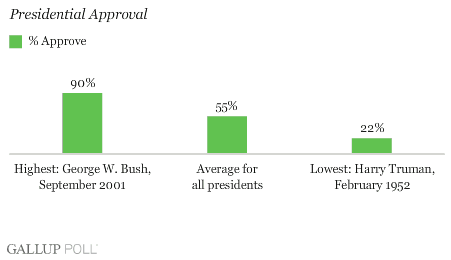 Only three presidents in Gallup's history have received job approval ratings of 28% or lower:
Carter's low point of 28% was measured in late June and early July 1979, as the country underwent significant gas shortages and amid perceptions of a failing economy.
Nixon had a number of readings below 28% in 1973 and 1974 prior to his leaving office as a result of the Watergate scandal.
Truman recorded a number of readings below 28% in 1951 and 1952 as his administration was beset, similar to the current situation for Bush, with problems relating to the economy and an unpopular war (in Korea).
Of note is the fact that George W. Bush has now descended below the low point of his father's (George H.W. Bush's) administration. The senior Bush had a reading of 29% in July and August 1992. The former president also recorded a high point of 89%, the highest on record until his son's 90% in September 2001. Both Bushes, in short, have undergone radical 60-point drops in job approval in the course of their administrations.
Implications
Presidents who receive job approval ratings in the 20% range are generally beset by economic concerns, wars, or scandals. Truman, who has the dubious distinction of obtaining the lowest job approval rating in Gallup Poll history, had the triple whammy of a bad economy, an unpopular war, and hints of scandal in the last years of his administration. Nixon, of course, was primarily laid low by Watergate, although he had been the steward of an unpopular war for most of the years after he took office in January 1969. Carter was in the middle of a bad economy and sharply rising gas prices when he suffered a 28% job approval rating in the summer of 1979.
Now, Bush, the current president, has obtained a 28% job approval rating at a time when Americans are extraordinarily worried about the economy, when gas prices have risen to historical high points, in the middle of a war that the majority of Americans say was a mistake, and at a time when only 15% of Americans say they are satisfied with the way things are going in the United States.
Survey Methods
Results are based on telephone interviews with 1,021 national adults, aged 18 and older, conducted April 6-9, 2008. For results based on the total sample of national adults, one can say with 95% confidence that the maximum margin of sampling error is ±3 percentage points.
Interviews are conducted with respondents on land-line telephones (for respondents with a land-line telephone) and cellular phones (for respondents who are cell-phone only).
In addition to sampling error, question wording and practical difficulties in conducting surveys can introduce error or bias into the findings of public opinion polls.