PRINCETON, NJ -- George W. Bush averaged a 31.3% approval rating in his most recent quarter in office (spanning Jan. 20-April 19), a new low for his presidency.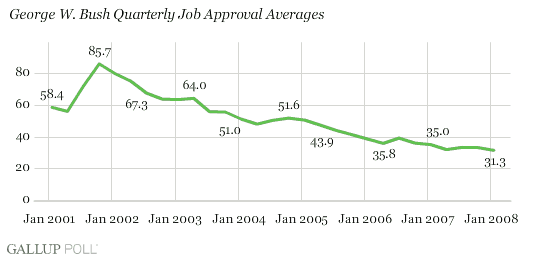 The quarter included the new-low individual Bush approval ratings, 28% in the April 6-9 and April 18-20 polls, the latter of which was accompanied by a Gallup Poll-high 69% disapproval rating.
Although this is the worst quarterly average so far in Bush's presidency, it is not the worst in Gallup's history. Gallup has computed quarterly averages for all presidents since the Harry Truman administration, a total of 250 quarters. Bush's current average ranks No. 239, with Truman and Richard Nixon receiving most of the worst averages in the latter parts of their presidencies, and the remaining one belonging to Jimmy Carter during the gas crisis in 1979.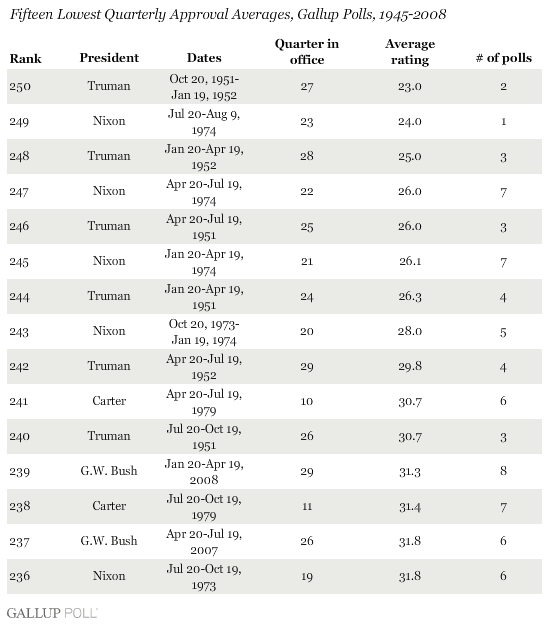 Bush is now dealing with record-high gas prices -- one possible reason his already-low approval ratings have shown further decline in recent weeks. He has not had an approval rating at or above 40% since September 2006, and has not been at or above 50% since very early in his second term (May 2005).
The trend in Bush's approval ratings shares similarities with that of Truman's ratings. Both had record-high approval ratings early in their first terms following major rally events -- with Truman receiving an 87% rating after the U.S. victory in Europe in World War II (shortly after Truman took office upon Franklin Roosevelt's death) and Bush earning an all-time high 90% approval rating following the Sept. 11 terrorist attacks. After winning hard-fought re-election battles, both presidents had low approval ratings throughout most of their second terms, with Truman averaging below 40% approval during the final three years of his presidency and Bush on his way to matching that.
The most recent quarter was Bush's 29th in office, a tenure achieved by only five post-World War II presidents. Dwight Eisenhower and Bill Clinton were relatively popular in that late stage of their presidencies, with average approval ratings above 60%. Bush and Truman were highly unpopular, with approval ratings around 30%. Ronald Reagan ranked in the middle, with an average 50% approval rating.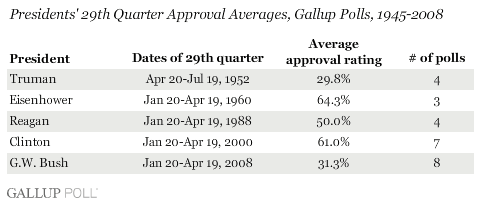 Bush's current 28% approval rating ranks among the lowest in Gallup's polling history. The worst from an individual poll was Truman's 22% in February 1952, and Gallup recorded several measurements between 23% and 27% for Nixon and Truman. The looming threat of even higher gas prices in an already-struggling economy -- in an environment where highly visible Democratic presidential candidates attempt to remind voters of the nation's struggles -- suggests the potential for further decline in Bush's approval rating in the coming months.
Survey Methods
Results are based on averages of eight Gallup Polls, each consisting of telephone interviews with approximately 1,000 national adults, aged 18 and older, conducted between Jan. 20 and April 19, 2008. For each poll, one can say with 95% confidence that the maximum margin of sampling error is ±3 percentage points.
Interviews are conducted with respondents on land-line telephones (for respondents with a land-line telephone) and cellular phones (for respondents who are cell-phone only).
In addition to sampling error, question wording and practical difficulties in conducting surveys can introduce error or bias into the findings of public opinion polls.
To provide feedback or suggestions about how to improve Gallup.com, please e-mail feedback@gallup.com.