PRINCETON, NJ -- Although Americans continue to say the war in Iraq should be the top priority for the president and Congress, the latest Gallup Panel poll finds Americans increasingly likely to mention the nation's economy as the area most in need of government attention. The percentage mentioning healthcare issues, though little changed since last month, is at its highest point since Gallup initiated this measure in April 2006. The 62% who mention the war in Iraq is on the low end of what Gallup has measured in the past year.
Overall Results and Trends
Each month, Gallup asks Americans to name, in their own words, what "one or two issues should be the top priorities for the president and Congress to deal with at this time." In the Oct. 25-28, 2007, poll, most Americans (62%) tell Gallup the top priority should be the war in Iraq. No other issue is mentioned nearly as frequently as Iraq, including healthcare (29%), the general state of the economy (18%), and immigration (11%). Other issues mentioned by at least 3% of Americans include fuel prices, terrorism, the environment, natural disaster relief, the federal budget deficit, education, taxes, and national security.
In your view, what one or two issues should be the top priorities for the president and Congress to deal with at this time?

 

Oct. 25-28, 2007

%

Situation in Iraq/War

62

Poor healthcare/ hospitals; high cost of healthcare

29

Economy in general

18

Immigration/Illegal aliens

11

Fuel/Oil prices/Lack of energy sources/The energy crisis

5

Terrorism

4

Environment/Pollution

3

Natural disaster relief/funding

3

Federal budget deficit/Federal debt

3

Education/Poor education/Access to education

3

Taxes

3

National security

3

Social Security

2

Poverty/Hunger/Homelessness

2

International issues/problems

2

Unemployment/Jobs

2

High cost of living/Inflation

2

Foreign aid/Focus overseas

2

Poor leadership/Corruption/Dissatisfaction with government/ Congress/ politicians/candidates

1

Abortion

1

Medicare

1

War/Conflict in the Middle East

1

Lack of military defense

1

Judicial system/Courts/Laws

1

Ethics/Moral/Religious/Family decline; dishonesty; lack of integrity

1

Unifying the country

*

Election year/Election reform

*

Crime/Violence

*

Trade deficit/Foreign trade

*

Gap between rich and poor

*

Wages

*

Lack of money

*

Way children are raised

*

Welfare

*

Homosexual issues/Gay marriage

--

Cancer/Diseases

--

Care for the elderly

--

Guns/Gun control

--

 

Other

2

No opinion

3

* Less than 0.5%

Percentages add to more than 100% due to multiple responses.
All told, 30% of Americans currently mention some aspect of the economy -- such as general mentions of the economy but also fuel prices, the federal budget deficit, jobs, and unemployment -- as top priorities for the president and Congress. Total mentions of the economy have shown a gradual increase in recent months and are at their highest level since May. The average percentage of economic mentions this year has been 26%, and the high of 44% came in May 2006. Gallup began asking this question regularly in April of that year.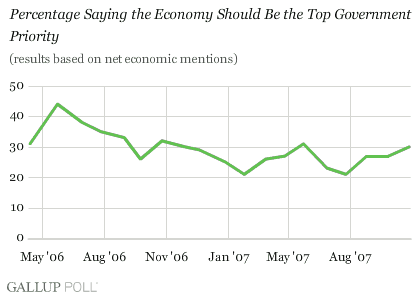 The 29% of Americans who say healthcare should be the nation's top priority is the highest Gallup has ever measured, although not significantly higher than it was last month. The perception that healthcare should be the top priority has increased over the course of the year, particularly at the beginning of the summer.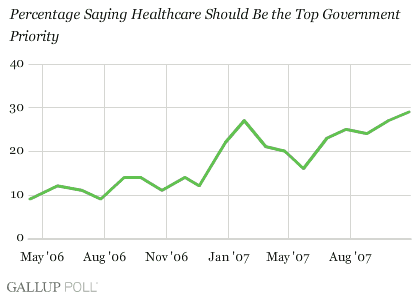 The war in Iraq has been the top issue each time Gallup has asked this question going back to April 2006. But the percentage mentioning the war has fluctuated from poll to poll. Although the current results are similar to what they have been at other points this year, the 62% who mention Iraq is the lowest since September 2006.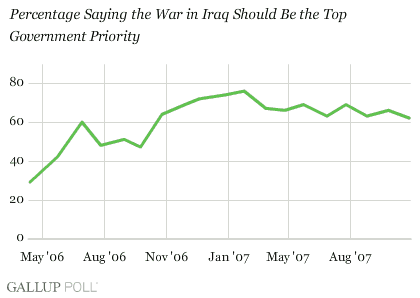 Survey Methods
Results for this panel study are based on telephone interviews with 1,000 national adults, aged 18 and older, conducted Oct. 25-28, 2007. Respondents were drawn from Gallup's nationally representative household panel, which was originally recruited through random selection methods. For results based on the total sample of national adults, one can say with 95% confidence that the maximum margin of sampling error is ±4 percentage points. In addition to sampling error, question wording and practical difficulties in conducting surveys can introduce error or bias into the findings of public opinion polls.