PRINCETON , NJ -- In the national standings of the Democratic presidential candidates seeking their party's nomination next year, New York Sen. Hillary Clinton continues to hold a strong 27-point lead over second-place rival Illinois Sen. Barack Obama, according to a new Gallup Poll. Former North Carolina Sen. John Edwards remains further behind in third place.
According to the Nov. 11-14, 2007, poll, 48% of Democrats say they are most likely to support Clinton for the party's presidential nomination in 2008, followed by Obama at 21% and Edwards at 12%. No other candidate garners more than 4% support.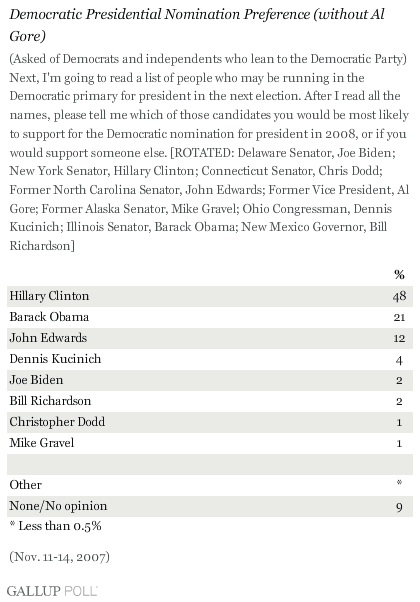 Democrats' preferences for the nomination have shown little significant change since August. In every poll since then, Clinton has maintained at least a 20-point lead over Obama, with her support fluctuating between 45% and 50% over this period. Her biggest lead occurred in mid-October, when 50% supported Clinton and 21% Obama. From a longer-term perspective, in all but one survey this year, Clinton has had a statistically significant lead over the other leading contenders.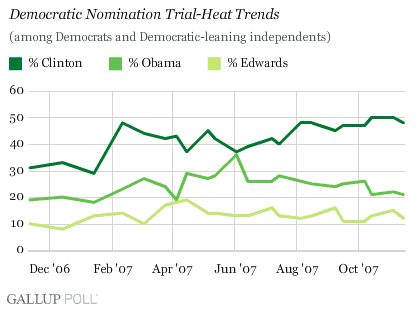 There is little difference in the dynamics of the Democratic race among the 58% of Democrats and Democratic leaners who say they are "extremely likely" to vote in next year's Democratic primaries or caucuses -- 48% support Clinton, while 23% support Obama and 11% Edwards. None of the other candidates garner double-digit support.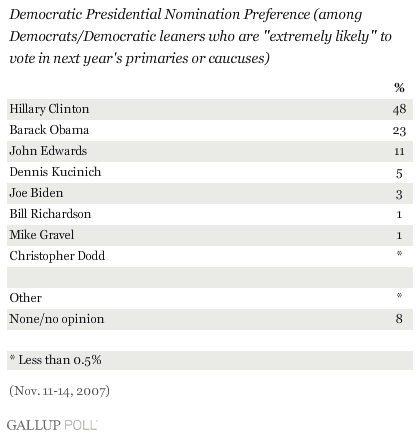 Clinton 's support is slightly lower among Democratic-leaning independents than it is among core Democrats, but she still commands a strong lead among both groups. Across the two surveys conducted this month, 52% of Democrats support Clinton for the nomination, compared with 45% of Democratic-leaning independents. None of Clinton's competitors fares better among Democratic-leaning independents than among Democrats; rather, several candidates -- Obama, Edwards, Biden, and Kucinich -- are at most four points higher among the former group.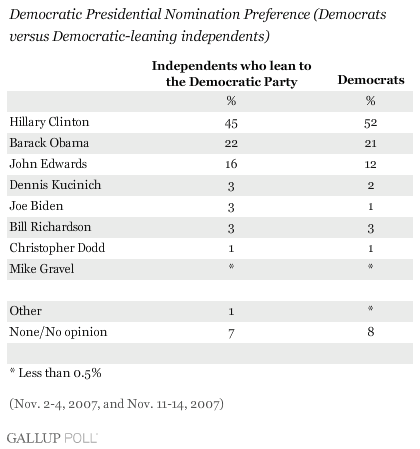 If former Vice President Al Gore were to enter the race to win the Democratic nomination -- something he has repeatedly said he has no plans to do -- he would be tied with Obama for second place. Clinton would still have a substantial lead over both Gore and Obama, with 42% of Democrats supporting Clinton to win the nomination. Seventeen percent would support Gore, 16% Obama, and 9% Edwards.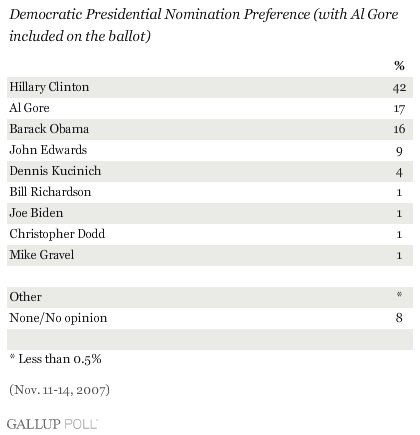 Survey Methods
Results are based on telephone interviews with 485 Democrats or Democratic leaners, aged 18 and older, conducted Nov. 11-14, 2007. For results based on the total sample of national adults, one can say with 95% confidence that the maximum margin of sampling error is ±5 percentage points. In addition to sampling error, question wording and practical difficulties in conducting surveys can introduce error or bias into the findings of public opinion polls.