PRINCETON, NJ -- A new Gallup Poll finds about one in six Americans, including similar proportions of Republicans and Democrats, indicating they would not support their party's nominee for president if that person were a Mormon.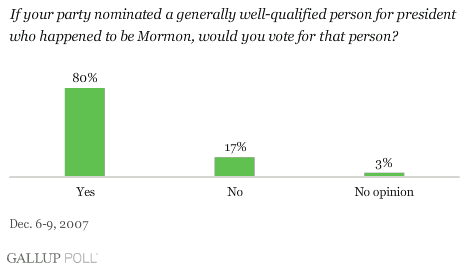 The poll was conducted in the days immediately following a major speech by Republican presidential candidate and former Massachusetts Gov. Mitt Romney, in which he attempted to quiet voter concern about his Mormon religion. The speech appeared to be a response to the political situation in Iowa, where former Arkansas Gov. Mike Huckabee, who has made his Christian faith a centerpiece of his Republican presidential campaign, has taken the lead in the Iowa caucus polls.
According to the Dec. 6-9 Gallup survey, Americans are about as likely today (80%) as they were in March (77%) to say they would vote for a Mormon if their party nominated someone of that faith for president. At that time, 19% said they would not vote for a Mormon presidential candidate. However, in early February, just before Romney officially declared his candidacy for president, the percentage saying they would not vote for a Mormon was somewhat higher, at 24%.
Longer term, attitudes have changed little on this question, with 17% in 1967 and 1999 saying they would not support their party's nominee for president if that person were a Mormon. The 1967 poll was conducted as Romney's father, former Michigan Gov. George Romney, was himself seeking the presidency.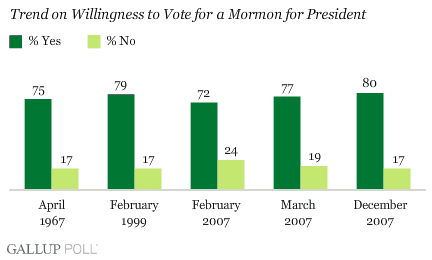 The current 17% unwilling to support a Mormon is similar to the 22% of Americans in August 2007 telling Gallup that being Mormon is an "undesirable" characteristic for the next president to have.
In a late February poll, 16% of Americans said they had a very unfavorable opinion of the Mormon religion.
Partisan Differences in Supporting Mormon Candidates
At this point, Romney may care most about how his speech played among Republicans in Iowa; however, nationally, Gallup's post-speech survey finds no difference between Republicans and Democrats in their reaction to a Mormon presidential candidate.
Eighteen percent of both groups say they would not vote for a Mormon, similar to the 20% to 21% saying this in March. Republicans showed more widespread opposition to voting for a Mormon candidate in Gallup's February 2007 poll, at which time 30% of Republicans, compared with 23% of Democrats, expressed this view. However, the current results for both parties are similar to those from February 1999.
Bottom Line
Up to 14% of Republicans have supported Romney for his party's nomination at various times since June 2007. Still, he clearly faces some anti-Mormon opposition to his candidacy within the Republican Party as well as among the general public. Various Gallup measures put the national figure at around 20%.
Public reaction on the Mormon issue may have been harshest when Romney first entered the race -- when Republicans, in particular, were especially likely to resist the idea of supporting a Mormon as their party's nominee. But that has simmered down, and attitudes are now no different toward a Mormon candidate such as Romney than they were in March.
While a potential problem for Romney, particularly in some primaries, the Mormon liability has to be considered in the context that other biases are potentially harmful to other candidates in the race from both major parties. Four percent of Americans (including 3% of Republicans) say they would not vote for a Catholic, 5% would not vote for a black, 12% would not vote for a woman, and 12% would not vote for a Hispanic. Earlier this year, Gallup found 28% of Americans saying they would not vote for someone who is on his third marriage, and 40% would not vote for someone who is 72 years of age.
Survey Methods
Results are based on telephone interviews with 1,027 national adults, aged 18 and older, conducted Dec. 6-9, 2007. For results based on the total sample of national adults, one can say with 95% confidence that the maximum margin of sampling error is ±3 percentage points.
In addition to sampling error, question wording and practical difficulties in conducting surveys can introduce error or bias into the findings of public opinion polls.