PRINCETON, NJ -- As Pope Benedict XVI prepares to make his first U.S. visit as pope, a recent Gallup Panel survey finds Americans with a mostly positive view of U.S. Roman Catholics as a group.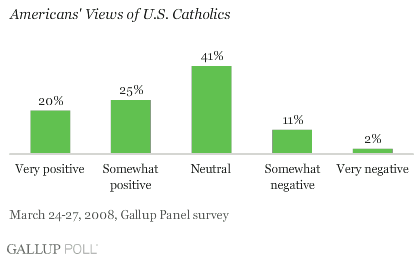 With 45% of Americans saying they have a positive view of U.S. Catholics and 13% reporting a negative opinion, the net positive score for Catholics is +32. A substantial proportion of Americans, 41%, say their view of Catholics is neutral.
These results are based on a March 24-27 Gallup Panel survey, which asked a representative sample of Americans whether they have a positive, negative, or neutral view of each of 10 spiritual or religious groups in the United States.
Pope Benedict will meet with President Bush, address the United Nations, meet with U.S. Catholic leaders, and celebrate public masses in New York and Washington, D.C., while in the United States.
Catholics are one of four U.S. religious groups tested in the survey with strongly positive ratings, along with Jews (+42) and two Protestant denominations, Methodists (+45) and Baptists (+35). The broader groups of "evangelical Christians" and "fundamentalist Christians" do not fare quite as well, but are still on balance rated more positively than negatively.
Americans are essentially split in their opinions of Latter-Day Saints or Mormons, with 24% viewing them positively and 26% negatively, for a net score of -2.
Three of the religious groups included in the survey are mostly viewed negatively, including Scientologists, atheists, and Muslims, with Scientologists having the lowest overall rating.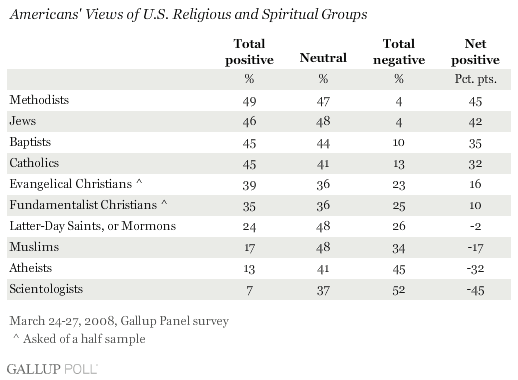 As the table makes clear, there is a considerable degree of ambivalence in ratings of religious groups, with substantial proportions of neutral ratings for each group, ranging from a low of 36% for evangelical and fundamentalist Christians to just under half of all ratings for Jews, Mormons, and Muslims.
Gallup first asked Americans to rate these religious groups in this fashion in an August 2006 panel survey, and since then, there have been declines in positive ratings for many of the more favorably viewed religious groups. For example, the net positive score for Catholics was +44 in the 2006 survey, compared to the current +32. But there were also declines in the net positive scores of Jews (from +54 to +42), Baptists (from +45 to +35), and Methodists (from +50 to +45).
It is unclear why the net positive ratings for most groups have declined, unless Americans are just less positive about religion overall today than they were two years ago. Groups such as atheists and Scientologists that rated negatively in 2006 are still rated negatively today, with similar scores over time in most cases. One exception concerns Muslims, who saw their net rating tumble from -4 in 2006 to -17 in the current survey.
Notably, the ratings of Mormons did not change since the last measurement, despite the presidential candidacy of Mitt Romney, whose campaign brought public attention to his Mormon faith. In 2006, the net score for Mormons was -1, compared with -2 today.
Implications
Certainly, one of the Pope's goals in visiting the United States will be to raise awareness and positive perceptions of the Catholic Church. Even though the church has been the subject of controversy in recent years -- most visibly with revelations of sexual abuse by priests -- Americans on balance view the church more positively than negatively.
Survey Methods
Results for this Gallup Panel study are based on telephone interviews with 1,005 national adults, aged 18 and older, conducted March 24-27, 2008. Gallup Panel members are recruited through random selection methods. The panel is weighted so that it is demographically representative of the U.S. adult population. For results based on this sample, one can say with 95% confidence that the maximum margin of sampling error is ±4 percentage points.
In addition to sampling error, question wording and practical difficulties in conducting surveys can introduce error or bias into the findings of public opinion polls.