PRINCETON, NJ -- While Gallup's annual Healthcare survey shows that a majority of Americans say they are satisfied with the amount they pay for healthcare, the survey also reveals that a substantial minority of respondents report postponing medical treatment for themselves or a member of their family in the past year because of cost. Moreover, a majority of Americans who have put off treatment say it was for a "very" or "somewhat serious" medical condition or illness.
The Nov. 11-14 survey shows that 30% of Americans say they or a family member have put off medical treatment because of cost, up from 22% in 1991, when Gallup first asked the question. Since 2003, the percentage has increased gradually, and has been 30% in each of the last two years.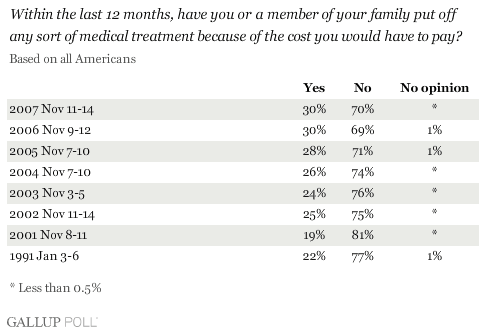 Out of those who report postponing treatment, 60% say it was for either a very serious (15%) or somewhat serious (45%) condition while 38% say their condition was either not very serious (28%) or not at all serious (10%). In the 1991 survey, just over half of those postponing treatment (52%) said they did so for either a very or a somewhat serious condition.
The net result is that 18% of all Americans report putting off treatment for a serious condition in the past year, up from 11% of all Americans in 1991.
Who Postpones Treatment?
According to the findings, some demographic groups are more likely than others to report that in the past year, they put off treatment because of cost. Forty percent of Americans with children under the age of 18 -- compared with 24% of Americans who do not have children under the age of 18 -- report postponing medical treatment because of the cost they would have incurred. Similar gaps in this area between parents of minor children and those with no minor children have been typical in past Gallup Health surveys.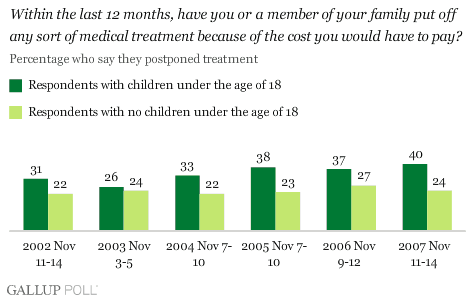 As one might expect, wealthier Americans are less likely to have to go without treatment because of cost. Americans whose household incomes are under $50,000 (39%) are more likely than those whose incomes are at least $50,000 (23%) to say that they or a family member put off treatment.
Younger respondents are also more likely than older ones to say that in the past year, they put off medical treatment. Thirty-seven percent of Americans aged 18 through 49 versus 22% of those aged 50 and older report deferring treatment. And one-third of women compared with 26% of men also report holding off on medical treatment in the past year.
Bottom Line
According to the Kaiser Family Foundation, since the late 1980s, with the exception of a brief dip in the mid-1990s, the increase in health insurance premiums has outpaced not only inflation but also growth in workers' earnings. Coincident with the rise in healthcare costs is a rise in the percentage of U.S. households reporting that they had to put off treatment because of cost. While some demographic groups are more likely than others to report deferring medical treatment, whether for surgery, prescription drugs, or medical tests, such difficult decisions can not only have serious health consequences for individuals, but may end up costing more later on.
Survey Methods
Results are based on telephone interviews with 1,014 national adults, aged 18 and older, conducted Nov. 11-14, 2007. For results based on the total sample of national adults, one can say with 95% confidence that the maximum margin of error is ±3 percentage points. In addition to sampling error, question wording and practical difficulties in conducting surveys can introduce error or bias into the findings of public opinion polls.